Making rapid and good progress on the three phases of HS2
In his annual update of HS2 developments for European Railway Review, Chief Engineer and Technical Director Professor Andrew McNaughton this time covers progress made to the project's three phases including details about amendments to the Bill such as a revised plan for the London terminus at Euston and recommendations for a major route change between north Nottinghamshire and South Yorkshire.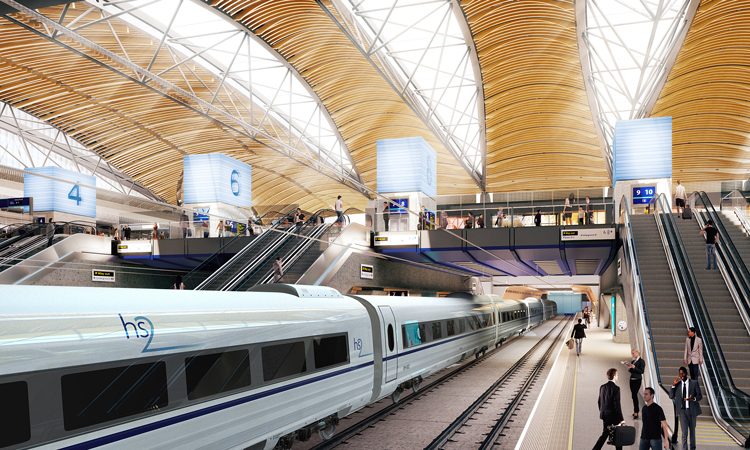 Copyright: HS2 Ltd/Grimshaw
There have been some big changes to British public life since my last update a year ago1. After the May 2015 general election, the government carried out an extensive review of spending priorities, including HS2. In the autumn statement that same year, it confirmed HS2 as a fully supported programme, with strict limits on total funding. Also it has been very important that the new government team has re-affirmed their support for the programme itself, as well as the wider economic change it will help bring about – rebalancing the economy between London and the great cities of the Midlands and the North.
To recap, the plan for HS2 is for a high-speed rail network improving connectivity between eight of the 10 largest city regions of Great Britain. The project will provide major new transport capacity and connectivity: capacity, because British transport demand is growing, and existing long-distance road and rail networks are nearly full up; and connectivity, reducing journey times between cities help join up their economies. HS2 will also have important secondary benefits, such as creating a reliable infrastructure that is resilient in the event of extreme weather and, especially, releasing capacity on existing rail networks for freight and commuter expansion.
The initial network is being created in three phases. Phase One, from London to north of Birmingham, is the core. Phase 2a is a short extension of this to Crewe. The rest of Phase Two carries the network on to Leeds and Manchester, with links to allow HS2 trains to run to the North East and Scotland on existing main lines. In the past year, we have made rapid and good progress on all three phases.
Phase One: Preparing for construction
Planning approval for Phase One is taking place by an Act of Parliament. This involves scrutiny of physical plans and profiles, and all the impacts of the programme, listed in a 55,000-page Environment Statement. Our proposals were deposited as a hybrid Bill in Parliament in November 2013. Since then, the House of Commons has been examining our plans metre-by-metre, hearing more than 2,000 petitioners seeking changes, further protection or compensation. That process was completed in March 2016. The Phase One Bill then went to the House of Lords which is now reviewing it with its own committee, and hearing more than 500 new or repeat petitions.
As a result of the Commons committee feedback, we submitted five amendments to the Bill, called Additional Provisions (APs). Four of the APs covered specific local changes, involving new or different environmental impacts. But one, AP3, was more significant – a revised plan for the London terminus at Euston.
We worked up our original plans for Euston during 2012/2013. Since then, rail traffic into Euston has grown at more than 5% each year, both commuter and long-distance. While this is excellent news for rail generally – and reinforces that HS2 cannot come soon enough – this meant that our assumptions about taking over part of the station as surplus to requirements were no longer valid. So we have revised our proposal to build the HS2 Euston station in two halves: six platforms ready for Phase One services to begin in 2026, and, with long-distance travellers now using HS2, building the remaining five platforms in time for Phase Two in 2033. Building the station this way means we will minimise the impact of HS2 construction on the growing number of rail travellers. This difficult decision is an example of the constant balancing act between impacts on different groups of people that is the core element of creating a new railway in one of Europe's most densely populated countries.
We are aiming for the Phase One Bill to become an Act of Parliament by the end of 2016. This will give us the power to acquire land, construct and operate the railway, according to the plans as approved. We will be doing so in accordance with several thousand Undertakings and Assurances made throughout the Parliamentary process, on matters as diverse as construction noise, lorry routes, land reinstatement, highway improvements and visual appearance at specific locations.
We have been gearing up to begin land purchase, utility diversions and construction once the Act is passed. To enable detail design, we have started what is probably the biggest programme of ground investigation in British history, on sections of Phase One where we have land owner consent. We are also progressing contracts to start growing seven million trees of various native species, which will be planted as part of Phase One mitigation.
However, the biggest step will be tendering the main civil engineering works packages, which will be let as two-stage design and construction contracts on a geographical basis. The contracts will include a first design stage, aimed at agreeing sufficient detail to agree a target price for the final design and construction activity in each contract area. Tendering documents will shortly go through the consortia shortlisted in a first stage of bidding, which was completed in early-2016. After the main works civil engineering design and build contracts, similar contracts will follow for the stations on Phase One. Next will come the railway systems contracts, for track, overhead lines, power and the ETCS Level 2 control system and associated telecoms and control management layer. Finally, the specification for rolling stock will follow, to allow award in 2019. We are finalising the exact nature of these contracts – including the extent of responsibility for whole life maintenance and availability – based on market sounding of potential manufacturers from 2015.
To help deliver this huge project, we have been growing our team to project manage the construction of Phase One. Part of that has been contracting an Engineering Delivery Partner to help us. This was won by a consortium of CH2M, Atkins and Senner, which is now mobilised and supporting the huge contract tendering and award workload. We also need to help prepare the next generation of rail professionals. In May 2016, construction began on the new National College for High Speed Rail campuses at Birmingham and Doncaster, which will open in 2017. The college will help re-define what it means to work in the rail industry, attracting new people and providing the opportunity to create the diverse workforce to which the industry aspires.
Phase 2a: On track
In November 2015 the government gave the go-ahead to develop Phase 2a which extends HS2 60km north to Crewe. This section of route bypasses another congested section of existing railway, and further reduces the journey time between Manchester and Liverpool and London. Although Phase 2a is relatively short and has no new stations, it requires its own 'mini' Act of Parliament, which will go through exactly the same rigorous processes as Phase One. 
As Phase 2a is smaller, its time in parliament is expected to be a little shorter. The plan is to deposit a Phase 2a Bill in mid-2017 which will hopefully be passed as an Act in 2019. If that is achieved, Phase 2a could be constructed in parallel with Phase One, achieving efficiencies in construction management. Right now the dedicated Phase 2a team is preparing documents, refining the design to reflect public consultation, and doing all the surveys needed to assess and describe the scheme's impacts in an Environment Statement.
Phase 2b: Route design challenges
Work on the third and biggest phase, 2b, continues apace in parallel with all the other work.  Public consultation through 2013 showed that local changes were needed to the route alignment, but there were also more significant opportunities for improvement. I have shared many of these in previous updates, such as the status of proposals for stations in Manchester, Leeds and the East Midlands' new hub.
This left the question of how best HS2 should serve South Yorkshire and the route through that area. That question was answered in July 2016, when we recommended a major route change of around 60km between north Nottinghamshire and South Yorkshire, with a different approach to a South Yorkshire station.
The HS2 route in the revised proposal is east of the previous consulted route, which has the great advantage of moving it away from a geologically challenging section through former coal mining area, and onto firmer ground. At the same time, the station proposal had to change. In the new scheme proposal, Sheffield would be reached by a dedicated service from London, terminating in its current city centre station, which would be reached by a connection off the HS2 main line onto existing railway lines south of the city. 
Initial reaction to the proposed change has been positive but with understandable concerns from newly affected communities. In response to feedback from communities in South Yorkshire, we are examining options and the case for a separate station on the new through route, which could be conveniently accessed from the whole region by road. We are continuing our extensive programme of public engagement along the three phases of the route, reflecting their different stages of development. Engagement is a vital part of the HS2 programme, and will only become more important as we move towards construction.
Reference:
European Railway Review Issue 3 2015, Volume 21, June 2015 – back-issues are available to view online at europeanrailwayreview.com
Biography

Professor Andrew McNaughton FREng has been Chief Engineer and Technical Director of High Speed Two Ltd since 2009, developing the principles, network and specific route design for high-speed rail in Great Britain. Prior to that, from 2001 he was Chief Engineer of Network Rail responsible for the specification and development of the GB rail network, investment authorisation and overall system safety management. His career in the rail sector spans 40 years. Andrew is Honorary Professor of Rail Engineering at Nottingham University and a Visiting Professor of Engineering at both Imperial College London and Southampton University. Andrew is a Fellow of the Royal Academy of Engineering, the Institution of Civil Engineers, the Royal Geographical Society and the Chartered Institute of Logistics and Transport. Andrew has been Vice-Chair of the EU Transport Advisory Group, Chair of the UIC Infrastructure Commission and Chair of the EU Rail Research Council. He has lectured on the transport, land use and economic planning effects of regional, freight and long-distance rail developments worldwide. Andrew chairs the World Intercity and High Speed Committee.