ScotRail operate one of two wheel lathes in Scotland
National rail provider, ScotRail, operates one of two wheel lathes in Scotland at its Shields Depot in Glasgow. The underfloor lathe allows the train operator to re-profile wheelsets while they are still attached to the train. Willie Miller, ScotRail's Wheel Lathe and Level 5 Manager, highlights the importance of the wheel lathe and how it is used to ensure the maximum life of a wheelset.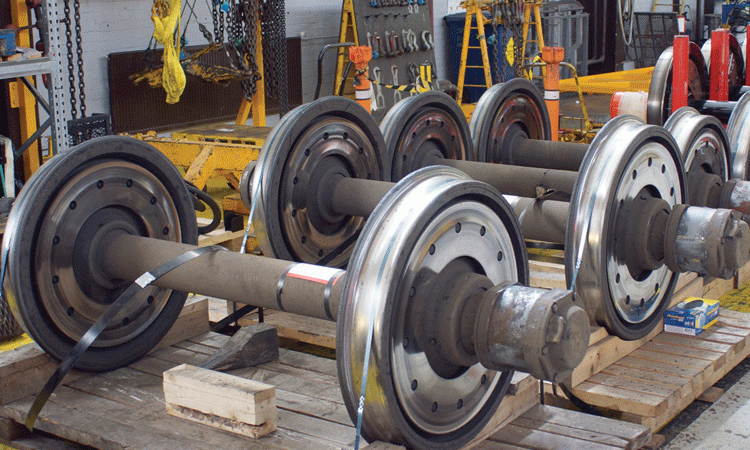 ScotRail manages four maintenance depots – Shields, Corkerhill, Haymarket and Inverness –maintaining a captive fleet comprising of diesel multiple units (DMUs) Class 156, 158 and 170s, plus electrical multiple units (EMUs) Class 314, 318, 320, 320/4, 334 and 380s.
The busiest depot is Shields, which was built in 1967 where a wheel lathe has been in operation ever since. It was replaced in 2009 when a new double-headed underfloor lathe was built and installed by Hegenscheidt. The user-friendly machine specialises in corrective maintenance and provides a fast, precise and cost-effective way to re-profile wheelsets.
When do ScotRail use the wheel lathes?
Wheelset inspection and gauging is carried out by ScotRail at each of its depots on mileage-based examinations. Defects are recorded and relevant information passed on to ScotRail's wheel lathe team at the Shields Depot.
The team assess the information provided – including wheel diameter details – and use this to identify whether it is a low, medium or high priority. They then allocate a date and time for the train to 'visit' the wheel lathe, informing ScotRail's Maintenance Control and colleagues at the train's 'owning' depot.
Wheelset defects
Visual inspections of wheelsets are carried out and typical defects include flats, cavities, rolling contact fatigue, rollover and pitting. Gauging involves measuring the wheelset diameter and toe radius. The flange thickness and height are also measured to determine whether they fall within allowable limits – between 24mm-28.5mm for thickness and 30mm-36.5mm for height.
If the wheel diameter is measured at such a size – which means it cannot be re-profiled – then the wheelset will be scheduled for renewal and new wheelsets ordered.
Wheelset defects can also be recorded through GOTCHA activations which were introduced to protect infrastructure by detecting the force applied by each wheel on every train to the rail. There are three GOTCHA sites on the ScotRail network that are operated by Network Rail: Braidwood and Howwood in the Glasgow area, and Philipston in the Edinburgh area. The maximum force acceptable is 350kN. If the force exceeds this value then the train must be withdrawn from service as there is a possibility that the train could damage the rail.
An alert is triggered when a force of 220kN is registered and ScotRail's wheel lathe team are notified by Network Rail. The team then allocate, accordingly, trains whose wheelsets require re-profiling. Typical wheel defects that trigger activations are wheel flats, cavities, rolling contact fatigue, and radial run out (which occurs when the wheel starts to form an oval shape).
Wheelset re-profiling
ScotRail carries out wheelset re-profiling for its entire fleet at the Shields Depot to ensure any worn profiles are machined back to their original shape.
The train operator's Class 170 units have their wheelsets re-profiled every 140,000 miles.
All other units are re-profiled on a reactive basis when defects are found through regular inspection, gauging, GOTCHA activations and train crew reports. When this information is collated, priorities are identified and wheelsets are planned for re-profiling.
For each wheelset that is re-profiled on a train, the wheel diameter's start and finish size is recorded on a database along with the date and reason the re-profiling took place.
ScotRail also re-profile wheelsets on vehicles that are leased from other train operators on a contractual basis.
Wheelset renewals
Every year each ScotRail depot plans which wheelset renewals are required for their fleet before the next financial year. At the Shields Depot the team carries out an analysis of the wheel lathe database as well as the wheelset renewal database, which records details of every renewal including dates, serial numbers, position on vehicle, and reason for renewal.
Upon completion of analysis, the team determines which trains require wheelset renewals and when. A comprehensive plan is then produced for the next financial year which is passed on to the ScotRail procurement team who order the wheelsets and arrange delivery for one or two weeks prior to the scheduled renewal date.
The facilities at the Shields Depot for lifting trains include three sets of Matterson/Somers jacks – each set consists of four jacks and one set of Mechan synchronised lifting jacks, which comprises 16 individual jacks. This enables a train with up to four carriages to be lifted together without uncoupling the coaches. The Shields Depot also has a drop pit that allows one bogie or two wheelsets to be removed without uncoupling coaches.
Occasionally, unplanned wheelset renewals take place. This is normally due to a wheelset developing tread damage and cannot be re-profiled due to the wheelset diameter being close to the last cut size, worn flanges, defective axle bearings or worn brake discs.
In 2015 ScotRail renewed 294 wheelsets across their EMU fleet.
Ensuring the maximum life of a wheelset
Throughout 2015 the train operator swapped 168 wheelsets during classified examinations on their Class 334 fleet, which involved renewing the bogie – the part of the train that holds the wheelset under the unit. This means the original wheelsets were removed and fitted to an overhauled bogie before further testing was carried out.
This renewal process – known as de-scoping wheelsets from classified exams – is currently being studied at the Shields Depot as it can ultimately prolong the life of each wheel, gaining the maximum life of a wheelset.
Ultrasonic Axle Testing
The wheel lathe team at ScotRail plan and carry out Ultrasonic Axle Testing (UAT) at the Shields Depot to detect any cracks in the axle of a wheelset. This takes place on every train that the depot maintains and is performed on each vehicle every 125,000 miles. This equates to an average of three trains per week.
Each axle tested receives a certificate of compliance as it is a mandatory stipulation that all axles fitted to trains have a valid UAT certificate to enable them to run on Network Rail's infrastructure.
At the Corkerhill, Haymarket and Inverness depots, other members of ScotRail's engineering team carry out UAT on their respective fleets – this takes place as and when required, according to their vehicle maintenance instructions.
How is ScotRail's wheel lathe maintained?
The wheel lathe at the Shields Depot is maintained and calibrated – a calibrated wheelset is held on site – on a monthly basis by ScotRail's wheel lathe team and on a six-monthly basis by Hegenscheidt.
The train operator is responsible for all consumable parts which include tool tips, tool tip holders, drive rollers, oils and greases. Non-consumable parts are the responsibility of Network Rail.
The wheel lathe team at ScotRail
ScotRail's wheel lathe team is based at the Shield depot and consists of nine operators plus a team leader who works a three-shift system – day, back and night – which includes weekend working.
They also employ six team members plus one team leader at the depot, who are responsible for wheelset renewals.   
Overall, as is evident, the teams are kept extremely busy with the high number of trains passing through the depot on a regular basis. 

Willie Miller is ScotRail's Wheel Lathe and Level 5 Manager at Shields Depot and he joined the railway in 1978 as an Apprentice Electrician with British Rail. He qualified as an Electrical Fitter in August 1982 before becoming Wheel Lathe Supervisor in 1992. Willie was appointed the role of Wheel Lathe and Level 5 Manager in 1998 and is currently responsible for managing wheelset re-profiling for all of ScotRail's fleet and other train operating companies, as required. Willie also manages the planning of wheelset renewals for all of ScotRail's EMU fleet, traction motor, coupler renewals and underframe components. As a PCN Level 2 Engineer, Willie is responsible for Ultrasonic Axle Testing on all ScotRail fleet.
Issue
Related topics
Related organisations