Fostering innovative infrastructure maintenance
EIM, the association of European Rail Infrastructure Managers, promotes the interests and views of rail infrastructure managers in Europe. With 12 members and two associate members, EIM represents over 50% of the EU's railway lines. EIM members have a key role in developing, operating and maintaining the European railway network. But how will research and innovation shape future maintenance processes? EIM's Executive Director Monika Heiming and Technical Affairs Manager Ville Saarinen take a look.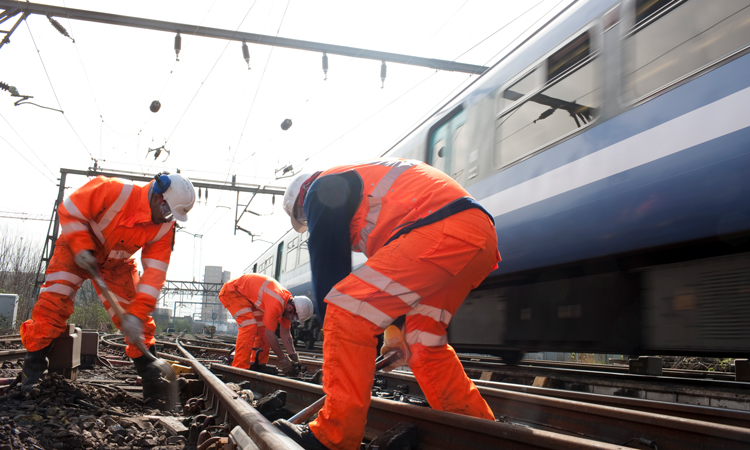 Maintenance with a holistic approach
Rail infrastructure managers have to offer safe, reliable and cost-effective track systems. As part of this mandate, they approach maintenance in a holistic manner, due to its interrelationship with the entire life-cycle of infrastructure management: funding, building, operations, maintenance itself and innovation.
Apart from impacting on their overall asset management, maintenance is also key in the performance of the infrastructure manager to deliver services to its customers. Hence, maintenance is one of the key functions of any infrastructure manager, and it will be amongst the first functions to be innovated and digitalised which is already being addressed in several EU initiatives.
Maintenance in EU legislation
Over 80% of national rail regulations find their origins in Brussels (BE) within the European Commission, or in Valenciennes (FR) as part of the European Railway Agency (ERA). ERA was set up to help create a safe and interoperable single European Railway Area via Technical Specifications for Interoperability (TSIs) and Common Safety Methods (CSM).
Infrastructure managers are involved via their sectoral body EIM (European Rail Infrastructure Managers1) in the preparatory works of these TSIs and CSMs while providing feedback on the experience from implementing them. A well drafted TSI and the accompanying Application Guide lays the foundations for an increase in cross-border traffic and a reduction in operational costs.
EIM provides a platform for its members to exchange experience working with the TSIs and to improve their implementation. The current objectives and focus of EIM's Technical Working Groups is to improve interoperability throughout the Union by closing the TSI open points with ERA in a cost-effective way. This objective is actively monitored and directed by the EIM Technical Steering Group in terms of EIM's daily operations.
One of the most relevant TSIs regulating maintenance and construction of track systems is the 'Infrastructure TSI', which covers:
Items related to track building and maintenance
Interfaces with the other subsystems and TSIs
Interoperability constituents subject to the EC verification in this subsystem, i.e. the rail, the rail fastening system and track sleepers.
EIM members, via EIM's Infrastructure Technical Working Group, have actively participated in the drafting of the currently applicable Infrastructure TSI which came into force 1 January 2015, bringing together the two former Infrastructure TSIs for conventional rail (CR) and high-speed (HS).
EIM's members have also influenced the content and drafting of the Infrastructure TSI Application Guide, published on 14 December 2015. A poor Application Guide could reduce the effectiveness of the TSI and cause a divergence in the national railway systems which should be heading towards interoperability. In addition, in some cases it may lead to unnecessary costs resulting from the execution of works not required in the TSI.
Maintenance trends   
Maintenance impacts the entire life-cycle of infrastructure management and it is also one of the largest cost drivers, making up some one third of the railway's operating costs2. Hence, mono- and multi-modal benchmarking, innovation and automation, predictive vs corrective or time-based maintenance will gain in importance for infrastructure managers to forecast the optimal time and way for maintenance and renewals.
Research and innovation will substantially shape current maintenance processes. A few of them include:
Automation
EIM is engaged vis-à-vis the European Standardisation Organisations to foster more innovative maintenance. In many countries, EIM members have installed advanced wayside monitoring equipment to monitor the condition of their customer's rolling stock operating on the network. So far, the identification of individual rolling stock was a time and resource-consuming process and the lack of automation did not allow compiling of effective condition reports. In the future, wheel defect evolutions can be identified to limit track damage and help speed-up corrective measures. The same applies to unbalanced or overweight axle loads impacting the safety of the track.
To address these problems, but also others, EIM is pushing for a standard for the Radio-Frequency Identification (RFID) in rail via the CEN process. EIM and the Finnish Transport Agency (FTA) will organise a kick-off meeting on the topic at the end of March 2016 in Brussels under the CEN umbrella.
Ultimately, automation will help the infrastructure managers to develop better deterioration models of their networks, thereby fostering safety and asset management of their tracks.
Resilience
Maintenance is also crucial in terms of contingency and congestion issues on the network following increased traffic or adverse weather conditions (torrential rainfalls, extreme winter or summer conditions). Both issues are addressed in EIM for rail but also across infrastructure modes.
In fact, being subject to adverse winter conditions, many countries design at least part of their system with a temperature range starting from -40°Celsius to +30°Celsius in the summer. This means, for example, that the tensioning devices of the catenary system are built to accommodate this temperature variance. The neutral temperature of the rails also reflect this by being lower in the Scandinavian region than in Central Europe. This detail showcases the difficulty in delivering a truly harmonised European single railway area.
These issues will have to be addressed from the supplier's side as well. Their components and systems need to have a more modular and interchangeable design approach helping the infrastructure managers to improve the system's down-times in the case of disturbances.
EIM's overall objective is more interoperable components in order to widen the supplier base and offer for its members; new actors, as IT companies have already seized this opportunity.
R&D on EU level (Shift2Rail)
The Shift2Rail (S2R) Joint Undertaking3 brings together the EU and the rail industry via a public private partnership.
S2R has identified: a) the aging infrastructure; and b) the increase of railway traffic as key challenges for the European railway system.
Furthermore, the existing station and terminals are reaching their maximum capacity in certain areas while the quality of the surroundings do not match customer's expectations. An increasingly important factor for the attractiveness of the railways is a functioning intermodal approach with a flawless multimodal passenger and freight transport chain.
Until 2025, members of S2R will address these issues. Infrastructure maintenance and innovative construction will be covered in SR2's innovation program (IP) 3 – Cost Efficient and Reliable High Capacity Infrastructure, also involving members of EIM.
Individual approaches
Individual members of the EIM address maintenance in parallel to the EU initiatives. Several of them have embedded innovative maintenance into their digital strategies, in order to be able to collect large amount of often non-digital data in order to analyse them for modelling and clustering with other functions. These processes are often coupled with investments in fixed assets and devices for automatic monitoring, supervision and data handling.
Over time, applications such as self-alerting switches or interconnected devices related to weather forecasts or automated maintenance planning will develop.
Conclusion
Maintenance is a key function for the life-cycle approach of rail infrastructure managers. It will be amongst the first functions to be innovated and digitalised. EU and individual research and innovation initiatives will foster this process. Overall, maintenance is key for a more resilient, predictive and safe infrastructure, able to host for future traffic growth.
EIM addresses these trends via several activity vectors, both within its organisation but also with several external stakeholders and partners.
References
Technical Strategy Leadership Group (TLSG): The Future Railway: The Industry's Rail Technical Strategy 2012
Biographies

Monika Heiming has been Executive Director of EIM since October 2011. Monika has been active in Brussels as a lobbyist and manager of international associations and groupings for a number of years. She studied languages at the University of Cologne, and holds a Master's degree in European Management from the University Faculties in Brussels and an Executive MBA from the Belgian Solvay Business School. Among her previous experiences, she helped develop UNIFE in Brussels from 1993 to 1997. She also managed and marketed the engineering activities of European engineering group Europengineers EEIG from 1999 to 2004, before being made Secretary-General of ERFA in January 2005.

Ville Saarinen is Technical Affairs Manager at EIM. He holds a Master of Science in Electrical Engineering and has a background in railway electrification, tunnel safety and dangerous goods. His specific fields of interest are railway interoperability and safety. In addition to his role in coordinating the EIM technical activities vis-à-vis the relevant EU institutions, Ville is actively involved in the European railway standardisation via the CEN/CENELEC process. During his career, Ville has applied the EU legislation in practice by consulting transport ministries in implementing the railway interoperability and safety directives into their national laws.