Metal theft: A daily concern for the rail sector and its customers
Despite the fact that serious efforts have been made to fight metal theft at national level and that metal theft has decreased in some countries in Europe over the last year, it still remains a daily concern for many services of general interest – such as railways, public transport, energy networks and telecommunications. Resulting in service disruption, metal theft negatively impacts the quality of these providers' services and causes huge economic losses – not only for their businesses and customers, but also for the whole of society across Europe. From the Community of European Railway and Infrastructure Companies (CER), Executive Director Libor Lochman, and Digital and Security Adviser Alena Havlova, voice their concerns and how the industry needs to respond going forward.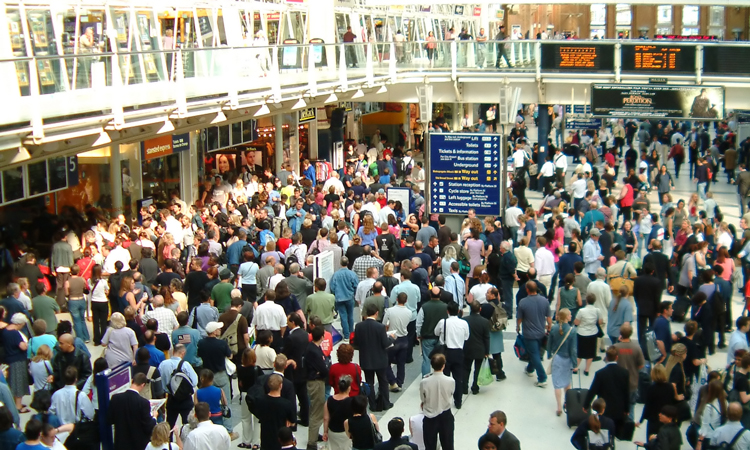 Metal theft occurs every single day across Europe and leads to the delay or cancellation of thousands of trains
The cross-border dimension to metal theft
In general, the criminals involved steal any items made from ferrous or non-ferrous metals, mainly copper, due to their monetary value. Even though metal prices have been decreasing over recent years, metal theft persists, above all, due to the availability and accessibility of metals and to the ease with which they can be sold. The problem is that the impact of metal theft on rail business goes far beyond the actual value of the stolen materials.
Metals and their alloys play an important part in rail infrastructure thanks to their unique characteristics such as strength, conductivity and durability. Criminals particularly target signalling, telecommunication and power cables, which are essential for the functioning, safety and the efficiency of rail services. Metal theft occurs every single day across Europe and leads to the delay or cancellation of thousands of trains, affecting millions of passengers and freight customers. In this sense, metal theft invariably results in the need to quickly repair the affected infrastructure in order to restore the disrupted services.
In the railway sector, considerable effort has been made to find the best solution to decrease the negative impact of metal theft on the quality of rail services and on customers. Different technical measures have been put in place by the railways to protect their infrastructure from metal theft. Also, certain cooperation mechanisms have been established at national level with law enforcement authorities, and other providers of infrastructure of general interest affected by metal theft, as well as the recycling industry, which have already proved to be the right way forward when fighting isolated incidents.
At European level, however, further emphasis should be put on metal theft carried out by organised cross-border criminal networks, who use sophisticated techniques and are involved in other criminal activities, as these have a wide European dimension and represent a threat to the internal security and economies of each EU Member State. Considering the scope of the problem, there is a need for additional and complementary EU policy actions.
The EU's response to metal theft
In 2010, the European Commission Directorate-General for Home Affairs (DG HOME) provided financial backing from the EU's Prevention of and Fight against Crime Programme to a three-year project called Pol-PRIMETT (Police-Private Partnership to Tackle Metal Theft). The aim was to improve collaboration between law enforcement agencies and the private sector in the fight against metal theft and to promote good practices across the EU, enabling the exchange of knowledge, skills and intelligence. This European project, which was then extended until September 2015, shows a good example of how a transnational public-private sector partnership can lead to positive results. Such initiatives should be supported and further developed across Europe.
The European Commission also expressed in the 2011 Transport White Paper, the need to find an appropriate European approach to land transport security. In order to develop policy and facilitate the exchange between the Member States and stakeholders of relevant experiences, policies and good practices, the Commission's Directorate-General for Mobility and Transport (DG MOVE) established a permanent Expert Group on Land Transport Security (LANDSEC) in 2013. As a member of this group, and together with representatives of other railway and public transport associations, the Community of European Railway and Infrastructure Companies (CER) proposed to add metal theft to the agenda as a topic which should be further discussed at EU level. This proposal was readily taken up by the Commission, which followed-up with several workshops tackling this issue.
In summer 2014, the Council of the EU presented property crime committed by mobile organised crime groups as one of the European Union's priority targets in the fight against serious and organised crime in 2014-2017. This was followed by the Italian Presidency of the Council of the EU's initiative on establishing a European operational network to counter metal theft, which advocated sharing analysis and knowledge on metal theft, exchanging good practices and monitoring the criminal groups involved in metal theft in order to develop successful strategic and operational activities for combatting the crime.
Building on the existing practices, strategies and approaches at national and European level, the international coordination and cooperation between law enforcement authorities and affected market operators has to be further intensified and extended. A more collaborative approach by the EU institutions, national authorities and private sector would enhance the effectiveness of their respective actions.
The European coalition against metal theft
In order to have an even stronger voice at EU level, CER established a joint coalition with several stakeholders representing public services highly affected by metal theft, such as public transport, railways and energy networks, as well as the recycling industry. A common statement was issued by this cross-sector coalition made up of eleven associations (CEDEC, CER, COLPOFER, EDSO, EFR, ENTSO-E, EURELECTRIC, EUROMETREC, GEODE, UIC and UITP) setting out the areas in which EU-wide action and cooperation is necessary to prevent and counter metal theft in Europe.
The coalition raises awareness about the negative effects of metal theft on the functioning and quality of services of general interest and its overall impact on public life. Its aim is to highlight the measures already in force at national level and initiatives already undertaken by the concerned stakeholders and to encourage EU policymakers to take complementary actions.
It draws attention to the issue of uncontrolled management of metal waste and scrap, which is a significant but sometimes overlooked contributing factor to the overall problem, and urges the EU policymakers to properly implement and enforce existing waste legislation across Europe. In order to ensure that minimum standards are respected, it is important that the European Commission ensure that Directive 2008/98/EC on waste is properly implemented by Member States. In particular, any waste management facility that is not registered or does not hold a permit, and/or is not running its business according to existing legislation, must face effective, proportionate and dissuasive penalties so that it is either forced to comply or closed down in a timely manner.
In addition, the European Commission has been asked to propose new measures requiring all metal waste and scrap buyers to keep a record of all purchased material as well as who it was purchased from. This information would allow for more efficient and effective investigations by law enforcement authorities, leading to the prosecution of metal theft criminals.
Effective law enforcement actions require further enhanced international coordination and cooperation between police forces and a better exchange of data and intelligence at national and European level to tackle the cross-border nature of metal theft and its ties to organised crime. This must be accompanied by ever more effective EU police and judicial cooperation in criminal matters so that police forces and judicial authorities in different Member States can respond quickly and efficiently. In this regard, appropriate awareness-raising campaigns and training sessions should be promoted for judicial and law enforcement authorities throughout the EU.
Last but not least, the European Commission together with the Member States should introduce common definitions and sanctions for crime targeting services of general interest, such as metal theft crime against public services, to make foreseen penalties proportional to the actual impact and cost of the crime. In some Member States, metal thieves are punished only based on the value of the stolen material, while the real impact of metal theft on the businesses affected, their customers and society at large is not taken into account at all.
CER and their coalition counterparts are relying on the EU policymakers to reflect carefully on these concerns and respond with appropriate and concrete actions.
Biographies

Libor Lochman has been Executive Director of the Community of European Railway and Infrastructure Companies (CER) since 1 January 2012. Libor graduated at the Transport University in Zilina and has a doctorate in electronics from the West-Bohemian University Plzen. He has a strong background in Control-Command and signalling systems. Prior to his role as CER Deputy Executive Director and Lead of Technical Affairs (2007-2011), Libor acted as Director of the Railway Test Centre – a facility for testing European rolling stock, infrastructure and signalling components in Prague (2000-2005). Libor joined the Editorial Board of European Railway Review in January 2013.

Alena Havlova has been Security Adviser at the Community of European Railway and Infrastructure Companies (CER) since 1 March 2013. Alena holds a Master's degree in Political Science from the University of Vienna and a Master's degree in European Interdisciplinary Studies from the College of Europe (Natolin campus, Poland). Prior to joining CER, Alena completed a traineeship at the Land and Maritime Security Unit at the European Commission's DG MOVE. Prior to that, she gained valuable experience through work, inter alia, at the Permanent Representation of the Czech Republic in Vienna.