Bulgaria works hard to reduce level crossing fatalities
The total track length of the railway network of the Republic of Bulgaria is 6,529km and there are 790 level crossings managed by the National Railway Infrastructure Company (NRIC) of which 140 have manual barriers, 127 have electrical barriers, 108 operate with automatic block, 274 operate with automatic devices, and 141 are non-equipped level crossings. Furthermore, there are 165 level crossings on industrial lines. Biser Minchev, Chief Safety Inspector for the NRIC reveals how the company is implementing strategies and technologies to reduce the number of fatalities that occur at level crossings in Bulgaria.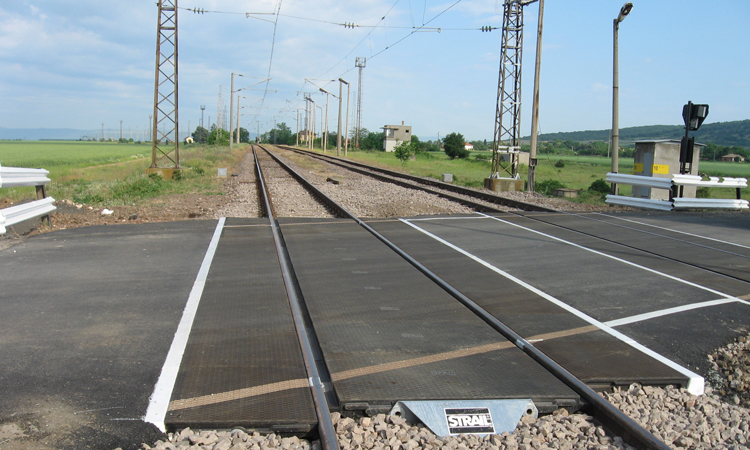 Unfortunately, despite the fact that Bulgaria is one of the top countries in the EU when it comes to the amount of protected level crossings it has, it is however a country that comes towards the top of lists for places that have the most accidents at level crossings.
Forty-seven per cent of level crossings in Bulgaria have barriers and 36% are equipped by signalling – in other words, 83% are actively protected level crossings and 17% are passively protected. The latter are mainly level crossings on roads with low traffic density and located on branch railway lines with lower train speeds. It should be mentioned that the share of actively protected level crossings on the Bulgarian network is higher than in some other European countries.
Irrespective of the NRICs active involvement with different campaigns over recent years – for example the International Level Crossing Awareness Day (ILCAD) – six accidents at level crossings were still recorded from the beginning of 2014 to 10 May 2014. These accidents were caused by road vehicle drivers.
Analysis of these most recent accidents confirms the trend of people breaching road traffic regulations and disrespecting railway signals. Even more alarming is that many of these violations have been carried out by professional truck drivers.
NRIC statistics on accidents at level crossings during the period from 2009 to 10 May 2014, due to a fault by a road vehicle driver, are shown in Table 1. 
The main target of the NRIC's investment programme to equip level crossings with all necessary modern technical devices is to of course witness a reduction in the number of accidents that result in fatal consequences.
The NRIC's investment strategy in this respect is based both on the funds allocated from the Bulgarian national budget and the European funds under the 2007-2013 Operational Programme 'Transport'.
As a company that takes safety as a priority, the NRIC is taking great efforts to reduce the number of accidents occurring at level crossings by replacing level crossing devices and building elastic crossing coverings which ensure smooth and comfortable passing of road vehicles across the level crossings.
The following core activities have been carried out for the modernisation work and the safety enhancement of level crossings under the NRIC investment programme:
Construction of automatic level crossing installations
In 2012, six automatic level crossing devices were built and put into operation, and in 2013 this number grew to 35 installations. In 2014, another 20 automatic level crossing devices will be in place. Introduction of these modern devices will eliminate the subjective human factor in level crossing closures; control is automatic with a high level of reliability; the safety level of the movement increases and operational costs are reduced. There is also no need to maintain manual barrier installations which are morally and physically obsolete.
Installation of signals
An activity took place to set the road crossing signals in compliance with the requirements of the Ordinance No 17 for road traffic regulation by light signals. This was done through the replacement of new signals with a third light of slow flashing white lights. This signal is to indicate to the road traffic that the automatic level crossing is working properly and that there is no approaching railway vehicle.
There are 232 level crossings set in compliance with the requirements of Ordinance No 17. In 2012, road crossing signals were replaced at 18 level crossing locations and in 2013 at another 16 locations.
Axle counters
An activity took place for the replacement of the existing track inductors 'short electronic rail circuit' with new modern technical equipment known as axle counters. In recent years, 78 level crossings have been equipped with axle counters.
Installation of the permanent video surveillance
In order to reduce road traffic accidents at the busiest level crossings, the NRIC is working on the installation of a permanent video surveillance system at the most traffic-intensive and problematic level crossings. In 2013, 20 level crossings equipped by automatic installations were secured with permanent video surveillance. In 2014, we plan to install video surveillance at another 10 level crossings. By increasing the numberofcrossingswithvideo surveillance we hopeto decreasethe number of incidents.
In parallel, by applying these technical and organisational measures, we also hope to achieve a reduction of the time during which the crossings are closed for the passage of vehicles.
With the modernisation and rehabilitation of the Plovdiv–Svilengrad, Plovdiv–Burgas and Sofia–Plovdiv railway sections financed under the Operational Programme 'Transport', new road facilities (overpasses and underpasses) will be built, thus road traffic will avoid crossing railway lines over tracks.
Our company has a technical, economic and organisational capacity and strives to successfully implement the tools necessary to reduce the number of accidents at level crossings, particularly those resulting in fatalities. The main direction in which the NRIC works is the systematic and consistent implementation of the long-term investment programme for technical equipment and re-equipment of the existing level crossings. At the same time we aim to construct more new road facilities resulting in a complete removal of some existing level crossings.
For the successful implementation of our policies, we use different sources of funding to help achieve our goals. In addition to funds that are provided annually from the national budget for the equipment of railway crossings, we expect the construction of major infrastructure projects to eliminate potentially-dangerous traffic crossings on major railway routes to be part of the next programming period of the Operational Programme 'Transport and Transport Infrastructure' 2014–2020.
Biography

Biser Minchev is currently Chief Safety Inspector at the National Railway Infrastructure Company of Bulgaria (NRIC). Before taking this position, Biser served as Chief Safety Inspector in the Railway Inspection General Directorate of the Ministry of Transport, Information Technologies and Communications. He also served as General Director of that same Directorate, as Safety Inspector for Electric Equipment in the company for signalling, telecommunication and energy and electro-mechanics in the electro-technical section Sofia – division of the NRIC.