The design and development of Crossrail's unique luminaires
FUTURE Designs discusses how its bespoke lighting solutions were selected by Crossrail, the design challenges this led to, and the complex testing that was required.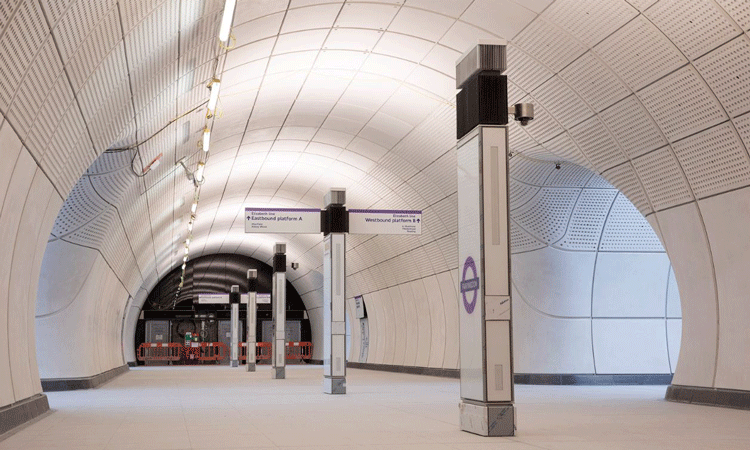 How did FUTURE Designs find itself working with Crossrail? What's the story behind your partnership?
We were approached by Crossrail direct to investigate whether in our opinion the architects concept design for the IKON uplight was feasible. After lengthy investigations and discussions within our R&D department the decision was made that we had the expertise to develop this unique luminaire. PLINTH development followed on from this as our relationship and confidence grew between the two of us.
Did FUTURE Designs have to learn anything new during the initial stages of this project? Is manufacturing lighting for use in a project like Crossrail very different to your core work?
FUTURE Designs are renowned for their expertise to produce bespoke lighting fixtures from concept to reality, however with Crossrail we saw the introduction of more stringent do's and don'ts. We were sent various standards relating to Fire Safety covering materials that can and cannot be used in this environment. All luminaires had to be independently assembled to confirm compliance to these Fire Safety standards. Omitting use of plastic lens/diffusers for glass panels were our main deviation. We also had to ensure that all exposed metal work was 316 stainless steel, and all unexposed metal work was powder coated with a special LU 1-085 approved paint. All sealants, gasket and glass panel interlaying material were restricted to this standard too. 
What bespoke lighting solutions did FUTURE Designs end up developing for Crossrail?
We manufactured three types of luminaires; IKON LED uplighter that were mounted on top of TOTEM signs (providing direction for passengers), which are located in the underground passageway and provide indirect lighting to the circulation areas. IKON Emergency luminaires, incorporated within the same TOTEM signs, mounted on all four sides of the sign providing emergency back-up lighting in the event of power failure, and the PLINTH escalator luminaire mounted within the deck area (located between each individual escalator) to enhance the light in this area for the passengers as they enter/exit the station. 
Did you come across any challenges when designing any of the bespoke lighting solutions?
The major challenge faced when designing the IKON LED uplighter was that it was the only luminaire in these circulation areas providing the main light source. By design an uplighter is an inefficient method to illuminate a space as it is used to project light upwards onto the ceiling and relies on the reflected light off the ceiling to illuminate the space. Therefore, to achieve the required lux levels on the ground, the TOTEM signs (which were mounted in large spacing's typically ranging from 7M to 9M) required a massive amount of light output offering just over 58,000 lumens – which is the equivalent of circa 100 typical small down lights combined in this one fixture. Conventionally an LED is downward facing with a heatsink on top, as heat ordinarily rises and therefore the heat management is relatively straightforward. As the IKON luminaire is an uplighter we had to develop a bespoke heat sink that would draw down the heat from the LED, reversing the conventional scenario above. The design of the heatsink became paramount and many tests and changes occurred until we eventually developed a heatsink capable of dissipating the excess heat whilst upholding the architect's initial design.
With regards to the emergency luminaires we had to achieve a minimum light level of 15 lux, however due to the large spacing between each TOTEM it quickly became apparent that the original design, using high level luminaires around the perimeter of the TOTEM, was not going to achieve the target performance. Our design team endeavoured to achieve the goal, however once we had proven the design would not work, we worked on a solution that would provide the light levels required and go on to be approved by Crossrail's Design team. Our solution meant we preserved 2No horizontal luminaires at high level on the 2No long sides, omitted the short horizontal luminaires and replaced these with 1No high level long vertical and 1No low level short vertical luminaire on each side. 
What was your involvement in making sure the fittings met both industry and Crossrail standards?
Each luminaire was broken down to its component parts confirming quantity, dimension, weight/mass and construction. A report of each luminaire was issued to an independent assessment company along with the completed manufacturing drawings and exploded views for analysis for LU 1-085. As all luminaires were bespoke we had to have independent photometry tests completed to provide evidence that our predicted luminaire performance was true and reliable data prior to manufacture. We manufactured numerous samples of each fixture for close scrutiny by Crossrail and their design team as well as performing heat tests on the products that included extensive soak test periods.
Did you have to prove that your lighting solutions were able to perform efficiently in emergency situations?
When designing special products we use a bespoke software which allows us to predict the performance of a luminaire using 3D modelling and an extensive database of materials. This allows us to construct models and perform lighting calculations without manufacturing physical products. We can then make changes to the product via the software to improve its performance where necessary. This we find a very reliable predicting software, offering us typically >95 per cent accuracy. Ultimately though, we had to build the final samples for photometry testing to prove the accuracy of our prediction which was done at an independent laboratory.
You recently showcased your involvement in the Crossrail project to an audience – how did this go?
We were delighted with the diverse attendees and the comments particularly from those outside the Crossrail network. Many viewers had never experienced lighting that was more akin to a motorbike engine than a light! The unique showcase displayed that if something that illuminates can be developed, FUTURE Designs can do it.
Has this project encouraged FUTURE Designs to investigate other areas of the rail industry where your bespoke lighting can be beneficial?
Without a doubt. To manufacture and supply these products under exacting requirements, to solve issues that were long term challenges to Crossrail and their Design Team was an achievement that should not go to waste. We have shown that we can provide solutions, we can manufacture in-line with rail industry requirements and more importantly we have shown our commitment to all these challenges. We need to showcase our abilities wherever and whenever possible and intend to ensure that this first opportunity is not the last. 

David Clements is Managing Director of FUTURE Designs. During his tenure he has overseen the operations and strategic planning of the organisation to its position today where it ranks in the top five privately-owned lighting specialists in its sector in the UK and trades throughout Europe the UAE and GCC region. David founded this international organisation 27 years ago.