How rail operators can reduce plastic waste and environmental impact
Mike Winter, CEO of MIW Water Cooler Experts, explores how railway stations can help promote sustainability and a reduced plastic environment.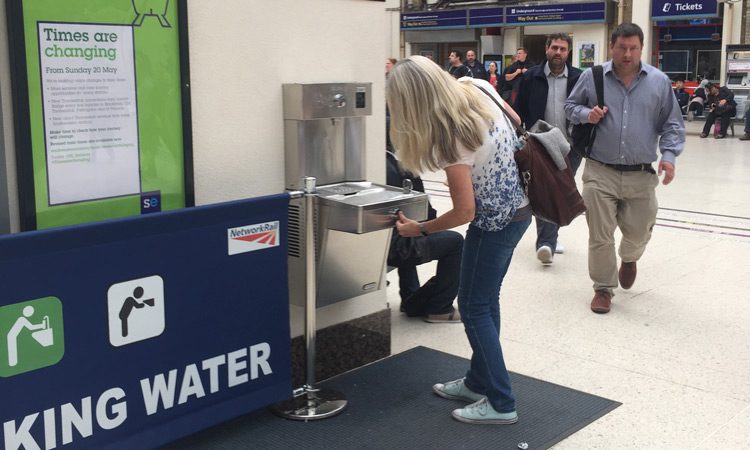 Climate activism around the world has been making headlines in recent months. The voices calling on governments to act fast on climate change and other environmental issues are getting louder and stronger and as public support for the movement grows, many countries are responding with ambitious policies. These include higher carbon taxes, green energy incentives, waste reduction and recycling programmes, and tighter controls on polluting industries including transportation.
Environmental factors are increasingly driving passengers' decisions on how to get where they are going. The 'Greta Thunberg effect' is seeing more people avoid flying where possible, inspired by the Swedish schoolgirl who kick-started the climate protests around the world. Train travel generates just 15g of CO2 per kilometre compared with about 100g for flying, and has been hailed by the International Energy Agency as among the most energy efficient modes of transport for freight and passengers, with the potential to lower transport energy use, cut carbon emissions and reduce local pollution.
Railways can do more
While the railway sector may be considerably less polluting than air travel, it still has a substantial environmental footprint, and in a post-Blue Planet II world the most conspicuous of waste materials is non-recyclable plastic. Since David Attenborough's hard-hitting documentary first aired over 18 months ago, enormous public pressure on governments and businesses has seen a raft of measures to reduce single-use plastics, from taxing plastic bags to plastic-free fruit and veg aisles.
The world's railways are no exception. As areas of high footfall and rapid passenger throughput, railway stations and operators produce huge volumes of waste. Many are now upping their recycling targets and pledging to cut volumes of waste to landfill. For example, Network Rail (the owner and infrastructure manager of most of the railway network in Great Britain) diverted 94 per cent of its waste away from landfill in 2018, while UK rail operator Greater Anglia has increased its recycling by 71 per cent over the past five years.
But with up to eight million tonnes of plastic debris reaching the oceans every day, we are always in urgent need of new and innovative solutions to tackle plastic waste.
Single-use drinks bottle
One of the top contributors to plastic pollution and emblematic of the global plastic problem is the single-use drinks bottle. Consumption of water in plastic bottles has doubled in the last 15 years, with 7.7 billion used annually in the UK alone – but tragically, only just over half of these bottles are recycled. This means that every day 16 million bottles are disposed of in landfill, are burnt or end up leaking into the environment and oceans, where they can take up to 450 years to break down.
As if that wasn't enough, much bottled water is transported hundreds of miles from its source. Altogether, the UK's bottle water industry releases 350,000 tonnes of carbon dioxide into the atmosphere every single year. 
Free-to-use public drinking fountains
One straightforward on-the-ground solution is to install free-to-use public drinking fountains. In the 30 years since founding MIW we have seen demand for public water fountains skyrocket – in fact, 78 per cent of people in the UK now want free tap water to be more readily available to the public. Meanwhile, global sales of longer-lasting, reusable bottles are expected to reach $10.4 billion by 2025, having risen sharply in the last few years.
These trends show no signs of slowing down and a free supply of drinking water allows passengers and other station users to refill reusable bottles rather than buy a new one. Installing a water fountain is a relatively small step that can make a huge difference to the amount of single-use plastics disposed of at railway stations, while consumers save money and benefit from staying hydrated on their journey. Today's best water fountains are robust and hygienic and can include data counters, so that the plastic waste reduction achieved can be reported to stakeholders.
Rail station water fountains
Railway stations in the UK are leading the way in this regard. Network Rail recently installed water fountains at its Charing Cross station with a view to rolling them out across its other managed stations. For Network Rail, this was an obvious step to reduce the impact of plastic waste at its stations, and part of its wider ambition to apply circular economy principles to reducing the two million tonnes of waste it produces every year. Drinking water fountains have also been installed in Greater Anglia railway stations and London's Liverpool Street Station through the London Drinking Fountain Fund.
Driving down long-term costs
With single-use plastics still very much front and centre on the public agenda, public water fountains are a simple but elegant solution to cutting single-use plastics while benefitting passengers. Not to mention that in today's climate of environmental awareness, a robust sustainability policy not only serves as a reputational boost; it also stimulates innovation and drives costs down in the long-term.
I hope to see many more railways around the globe follow in the footsteps of those stations and operators that are taking steps to reduce their impact. This is a unique opportunity to build on the momentum of climate-conscious travel by ensuring rail travel is in every way the most sustainable means to get from A to B.
Formed in 1989, MIW now supplies over 7,000 businesses and public sector organisations with Water Regulations Advisory Scheme (WRAS) approved public drinking fountains, bottle refill stations and water coolers, and is the UK's leading authority on outdoor drinking fountains. For the last 30 years MIW has been developing and building innovative, high quality products for some of the UK's leading public and private sector clients including Heathrow Airport, Gatwick Airport, London's Borough Market, ZSL London Zoo, Greater London Authority, Wimbledon Lawn Tennis Club, Chelsea Football Club, Scottish Water and The Bank of England.