Delivering Network Rail's next generation track maintenance
Network Rail's Head of Maintenance, Tim Flower, explains how track maintenance in Britain has been transformed over the past decade and how future performance improvements will be achieved through new technology and data-driven capability.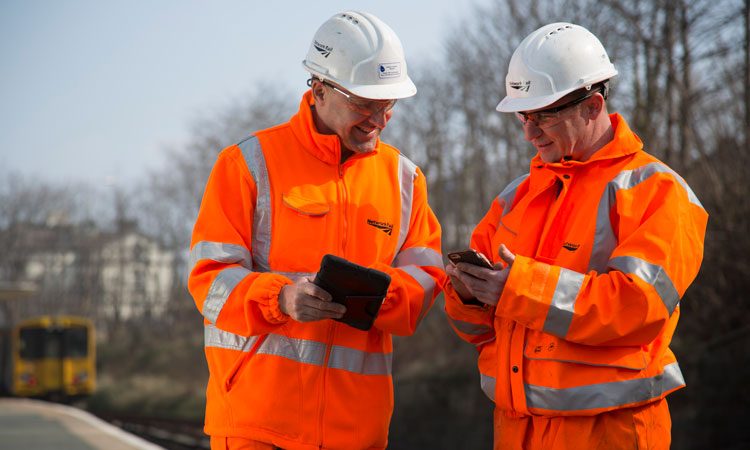 The current situation
Over recent years Network Rail has made significant progress in delivering efficient and effective track maintenance, providing the foundation for our forward strategy. A strong technology roadmap has been published and the Control Period 6 (CP6) research and development and Intelligent Infrastructure programmes are up and running, building on CP5 outputs. Standards are regularly reviewed and updated to exploit new technology and to reflect international best practice.
Recent results have shown continued improvements:
The end of CP5 saw the lowest track geometry faults per 100/km in our history with a 29 per cent improvement across the control period
Repeat track geometry twist faults (which increased in 2016/2017 because of increased measurement frequencies) have reduced by 21 per cent since their peak
In 2009/2010 there were 35,550 asset failures, but in 2018/2019 there were 25,458 – a reduction of nearly a third in a decade
Almost 9,000 miles of plain line track is automatically inspected using plain line pattern recognition increasing to 14,000 miles in next 24 months
Automated inspection of surface cracks using Eddy Current has been introduced and will be fully implemented by the end of 2020
Predictive technology to treat the causes of cyclic top and reduce temporary speed restrictions is now rolled out
Failure Modes Effects and Criticality Analysis (FMECA) is now the core of the process used to define and implement Reliability Centred Maintenance regimes.
But to meet our ambitious goals we still face several challenges. Today, we run one of the most congested railways in Europe, with passenger numbers increasing by more than one million over the past decade. Maintenance access to track is being squeezed and demand for passenger use is set to grow, which will only increase track degradation rates.
Understanding the condition of the infrastructure
Understanding the FMECA, as well as the emerging technology landscape, has allowed us to make progress with automation of inspection, measurement and testing.
Over recent years Network Rail has made significant progress in delivering efficient and effective track maintenance, providing the foundation for our forward strategy.
Train borne technology on plain line track measures geometry, rail profile, rail depth, rail flaws, rolling contact fatigue, the gauging envelope and ballast and formation condition as well as automated visual inspection of track components. Using a combination of GPS, distance travelled and inertial measurement units, these systems are overlaid onto a track centreline model to position the faults.
Track geometry technology has also been fitted to a specialist train that captures dynamic recordings of switches and crossings (S&C) at major junctions and stations, while plans are in place to expand the number of sensors on train to drive further automation.
Leveraging cross industry collaboration
Service vehicles are becoming smarter, and Network Rail needs to work more closely with the industry to leverage the opportunities this brings. The Intercity Express Trains on East Coast and Great Western, among others, are now fitted with a myriad of sensors with approximately 10 per cent of trains on each route able to measure full track geometry.
We are working to understand how best to exploit this vast increase in data frequency (in some cases from four-weekly to six times per day) to provide our front-line engineers with the insight they need to prioritise and the deliver their workbanks.
Currently, Network Rail uses Wheel Impact Load Devices (WILD) to protect the infrastructure from significant wheel flats, and there is an opportunity for operators to exploit this data as a proactive asset management tool, turning wheels based on condition with the expected outcome of increased wheel life.
Additional wheel lathes are being considered across the network to exploit additional benefits, including reduced stock down time, fewer empty stock moves and overall performance improvements through reduced congestion. Overall an improved average wheel condition will reduce wear and tear on the rail and ballast, improving the whole life cost of track – truly a whole industry benefit!
To fully deliver the opportunities presented through data sharing across the industry and with existing and new suppliers there is a burning need or the creation of a platform for securely sharing rail industry data – something that was confirmed in the Rail Sector Deal.
Delivering track maintenance
We are continually driving innovation in the supply chain to provide front line teams with the best possible solutions to safely maintain the infrastructure, providing automation wherever possible. In CP5 we introduced vertical hand tampers to treat discrete track faults in good quality and ballast and collaborated closely with the front line and the supply chain to create a Handheld Stoneblower to replace the time-consuming manual method of measured shovel packing.
We are continually driving innovation in the supply chain to provide front line teams with the best possible solutions to safely maintain the infrastructure, providing automation wherever possible.
Mobile maintenance trains were introduced during the last control period and are now being used to undertake maintenance activities across the network, transporting all equipment and materials to site and back again. It can work as a train in section and with adjacent lines open, giving the ability to have an extremely safe and well-lit working environment in the most challenging of work locations and pressured circumstances.
Network Rail is investing in on-track machines, bringing in the newest tamping equipment and running research and development to ensure that the outputs are delivered to the highest quality. We have brought in three new grinding machines, milling services and 2020 will see the introduction of Network Rail's first train borne milling machine. All the train borne services have been specified to improve rail profile quality, include auto detection and identification of defects, including eddy current systems and laser profile measurement, providing additional data into our predictive tools.
Delivering within access constraints
Running a safe, efficient railway is a continual balancing act, and difficult decisions must be made that require trade-offs, for example, choosing between:
Running more services or reliable services
Later and earlier services or having a bigger overnight window to carry out vital maintenance work
Running a regular service throughout the day or creating breaks in the timetable that allow recovery from disruption in time for the next rush hour
Running a service that serves all stations or providing a faster non-stop service.
Reliability Centred Maintenance and the transition to Risk-Based Maintenance
For several years Network Rail has used Reliability Centred Maintenance to develop bespoke maintenance regimes and FMECA's across most asset disciplines. However, the approach and the outputs have not been fully embedded across our asset management system, our fault management system (FMS) and our product acceptance (PA) process.
The PA process has recently been reviewed and all products requiring PA must provide evidence of meeting the new Design for Reliability (DFR) standard. The evidence to be provided includes FMECA tables to enable FMS coding of faults to load into FMS. The PA process also includes provision of a suggested maintenance schedule using Reliability Centred Maintenance.
As use of the Reliability Centred Maintenance matures, the application of Remote Condition Monitoring increases and existing data streams are collated into an intelligent dashboard then the transition to Risk-Based Maintenance can come into fruition.
The Intelligent Infrastructure Programme: Delivering the data-driven railway
Digital innovation is now a priority for Network Rail if it is to continue improving track performance, boost capacity, drive safety and deliver a truly data-driven railway.
Investment in predictive maintenance is one of the key developments taking place to achieve this ambition, and we are at the forefront of delivering this through the Intelligent Infrastructure Programme.
For the routes to meet the challenge of increased passenger and freight use we must drive further capability that allows them to know where assets are, how they are behaving, how they are degrading and when they are going to fail.
Launched in April 2019, this CP6 Programme will deliver this enhanced 'predict and prevent' capability through the development of automated network monitoring, advanced data analytics, aerial surveys and new decision support tools (DSTs). The Programme's workstreams include track, signalling, Ellipse (Network Rail's central database) Intelligent Infrastructure foundations, civils and operational property.
The Intelligent Infrastructure Programme will help the routes to move from time-based, fix-on-fail maintenance, to intelligence-led predict and prevent regimes; capture, analyse and exploit asset data to help the routes prioritise the most critical work; and drive a 10 per cent service affecting failure improvement.
Track DST
Currently in development – and due for delivery later in 2019 – is the Intelligent Infrastructure Programme's 'track decision support tool' (TDST).
Building on the existing TDST developed in CP5, this web-based tool will accelerate Network Rail's transition to 'predict and prevent' track maintenance and renewals. Exploiting the tool's consolidated view of asset data, and integrated data analytics, maintenance teams will be able to plan and carry out more effective work; reduce the number of failures and speed restrictions, and ultimately improve safety by reducing the volume of manual inspections and unplanned maintenance.
Using a single dashboard, the tool allows teams to drill down and extract key data to identify the root cause of a failure, identify precursors to track defects and prioritise work based on risk. This predictive capability will give track teams the evidence to carry out intelligence-led work, identifying faults and acting on them before they cause a failure or speed restriction.
It is now time for Network Rail to capitalise on the asset management transformation taking place and to drive ever-greater performance and reliability of the track asset.
The tool supports engineers with up-to-date data, identifying track with poor condition and performance and provides evidence to see trends through a range of clearly laid out data, including track quality, degradation rates, work history, geometry faults and switches and crossings condition.
The roll-out of the TDST will mark a significant development in Network Rail's track maintenance regimes. It will shift the business away from reactive work and allow track teams to focus on proactive work, creating greater confidence that teams are completing the right work to avoid repeat failures.
And with interest from overseas railways, the TDST has the potential to be applied worldwide – a sign of the UK's rail industry asserting itself as a world leader in digital, predictive technology.
Next steps
It is now time for Network Rail to capitalise on the asset management transformation taking place and to drive ever-greater performance and reliability of the track asset. The focus now must be on delivering the data our track teams need to carry out the right work, at the right time, in the right place; the Intelligent Infrastructure programme is at the forefront of this transformation.
The rail industry is changing, and it's changing fast – our customers demand it. The skills needed tomorrow will be vastly different from those used today. But one thing remains: Engineering expertise is at the heart of this change. The Intelligent Infrastructure Programme will drive and support the digital data engineers of the future, providing the information they need to carry out safe and effective work with absolute focus on delivering a better railway experience for our customers.

TIM FLOWER joined the rail industry in 2001, working on several asset and maintenance data roles before moving on to managing on track machine planning and maintenance performance. In 2009 Tim moved into Network Operations Programmes, delivering the Maintenance Effectiveness Programme, including Plain Line Pattern Recognition, and leading on resolution national maintenance issues. Tim was appointed as Head of Maintenance in July 2016, and in July 2017 took on the lead engineering role for the Network Rail Intelligent Infrastructure Programme.