Women Inspiring Rail: An interview with Porterbrook's Helen Simpson and Chandra Morbey
In August 2019, Porterbrook announced that Helen Simpson and Chandra Morbey had been jointly appointed to the role of Innovation and Projects Director to further enhance the rolling stock leasing company's ability to develop and deliver complex engineering projects. Here they discuss how their job-share career has brought them together in a variety of roles with increasing responsibilities, and how they enjoy working together to deliver projects that ultimately help move millions of people and tonnes of freight around Britain.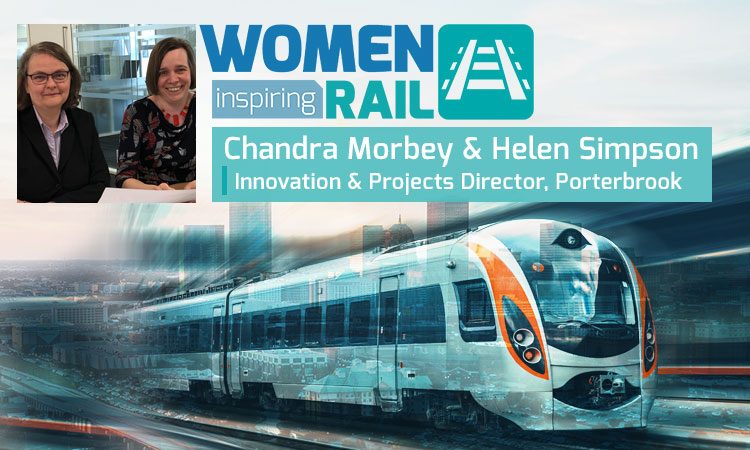 (L-R) Chandra Morbey and Helen Simpson
Helen Simpson and Chandra Morbey have very similar backgrounds in rail, but they didn't join forces in a job-share until their paths crossed at Interfleet Technology. But how did their careers in rail begin and what are they now responsible for at Porterbrook?
"I started as an Engineering Management Trainee with British Rail in 1992 and had various depot placements," explains Helen. "My background was working at Regional Railways depots – mainly Cardiff Canton and Tyseley depot in Birmingham. After the dust had settled from privatisation in 1997, I moved to Interfleet Technology working on maintenance and reliability issues across different fleets."
"Whereas Helen's initial training was with train operators, depots and maintenance, mine has focussed more on the manufacturing side," says Chandra. "I joined BREL as a Manufacturing Graduate Trainee with BREL (later ADTranz, ABB and then Bombardier) in 1991. Although I started in manufacturing, working on Class 158s and then on the Central Line Tube Stock, and reliability improvements on Class 16xs at Reading and Aylesbury, I soon developed a passion for project management. The first project I ran was the Classic project, an early innovation idea to fit a new bodyshell to the Mk1 underframe. After working on Turbostar and Electrostar builds in different roles, I moved to Interfleet's Project Management team in 2002."
Both Helen and Chandra progressed their careers at Interfleet separately but came together in 2006 to form a job-share when their children were young. They have had a variety of roles together with increasing responsibility, including leading a large Asset Management and Maintenance Services team of 35 people. After a period of franchise bidding work, Helen and Chandra applied for a joint-role at Porterbrook looking at engineering developments and innovation and were recently appointed as Innovation & Projects Director where they lead both new developments and deliver projects across Porterbrook's rolling stock fleets. Helen said: "We are responsible for a team delivering some of the most innovative rolling stock projects in the industry and absolutely love what we do."
Helen and Chandra both feel they have a huge variety of things to do each day but have slightly different favourite things to do, and state the job is never the same! 
We are driven to improve things, solve problems and tackle some of the big challenges facing the industry today.
Helen explains: "Engineers want to make things better, faster, cheaper and with more features and new ideas. We are driven to improve things, solve problems and tackle some of the big challenges facing the industry today. I'm no exception, I love thinking through problems, tackling difficult situations, coming up with new ideas or challenges – whether they are technical, commercial or involve developing people. I just like coming to work to feel that I've made the rail industry better in some small way. I don't think that's a unique view – it's just how engineers are wired!"
"I have a similar passion for delivering projects," says Chandra. "I think that the way in which a project is set up and run can make a huge difference to its success. I love thinking through the process of how something will be delivered, what needs to be done and enabling the team needed to do it. Structuring projects has the ability to lower costs, improve quality and see improvements implemented much quicker. I really love seeing a project mobilised and set up properly, checking on progress and seeing the end result – happy customers and a great product."
Helen continues: "Chandra is absolutely brilliant at subjecting my ideas and passion for innovation to reality checks – not just if they're good ideas, but also how we are going to make them happen. I don't know how anyone manages a job without a job-share partner!"
"With Helen around," Chandra explains, "there is always a steady supply of new ideas that need to be brought into reality. I never know what she'll come up with next!"
But what specifically is it about the rail industry that Helen and Chandra are passionate about?
"The rail industry is a fantastic place to work," asserts Helen. "Every day we help move millions of people and tonnes of freight around the country. We do this in a sustainable way that allows people to work or relax on their journey and take pressure off the road network. That's an amazing thing to be a part of."
The rail industry often gets negative press, but we have so much to celebrate.
Chandra continues: "The rail industry often gets negative press, but we have so much to celebrate. Since we started work, the UK rail network has become the safest in Europe through a huge focus on changing the culture and challenging accepted practices. We've also seen a huge improvement in passenger rolling stock, new trains introduced, and reliability significantly improved, and now we're continuing to see new developments on existing rolling stock with decarbonisation projects which will dramatically reduce, and in some cases, eliminate emissions. We should be very proud of what we've achieved and what we continue to achieve." 
Working together, Helen and Chandra have delivered some amazing projects, bringing them both a sense of great achievement and joint pride.
"I think the things I'm most proud of all relate to helping someone else succeed," explains Helen. "You can't beat the feeling of knowing you've nurtured, supported and developed someone else to deliver a project or take their career to the next level. It's probably one of the things that keeps me motivated."
Chandra continues: "I was really proud to deliver the Classic project as my first taste of project management, and the feeling when the first trains of a new fleet go into passenger service is great, as you see passengers on board for the first time. And at Porterbrook, there are many – the Class 144e project where we were part of the team that transformed a Pacer and made it PRM compliant; the WSP upgrade to the Class 15X units which had such a huge impact on autumn performance for many train operators; HydroFLEX running for the first time and the Innovation Hub. We were part of an amazing team with Porterbrook, suppliers and customers all working together."
"I joined British Rail at a time when there will still jokes about trains breaking down and the poor quality sandwiches!" adds Helen. "You honestly can't believe the transformation that has happened and how much better rolling stock is now. Train operators are so customer focused, services are much more reliable, and we've seen huge investments made in both the infrastructure and rolling stock. Delivering great projects is now (quite rightly) expected and we need to innovate to compete with short-haul flights by showcasing our green credentials. The decarbonisation of rail is now firmly on the political agenda and the next generation of travellers will demand that we have tackled these bigger issues. We're ready and I'm personally looking forward to the challenge."
Many companies are doing fantastically well in attracting a diverse workforce. The questions is really about how we encourage people to work with us. There are so many opportunities and so many interesting careers. We need to focus on this and really sell the industry.
"New build manufacturing was at a turning point when I joined the industry," explains Chandra. "New production line systems were just being introduced – things that you think of as standard today were innovative and different then. Workload and orders for a big manufacturing plant were heavily dependent on central government policy and there were enormous problems with a cycle of feast and famine orders. After 1992, there were no new mainline trains delivered until 1999. We've now got the franchising process which incentivises train operators to improve services, drive up performance and deliver passenger enhancements. That's meant a lot of new trains onto the network, but also some really great projects to upgrade and enhance existing trains."
During their careers, Helen and Chandra both say there are lots of people that have supported and encouraged them and they are grateful to individual people who recognised their potential at the early stages in their careers and gave them lots of opportunities to experience different aspects of the industry.  
"Looking back, we realise it was a bit of a risk taking us on as a job-share and we're thankful to the Interfleet management team (now SNCL) who appointed us together for the first time," reflects Helen. "Our current team is amazing – delivery of the HydroFLEX project for RailLive was an absolute highlight for us. Working with the University of Birmingham has been fun too and something that has absolutely inspired the next generation of railway engineers."
"My experience is that whenever you get a group of railway people together, you'll always generate lots of new ideas and energy," reveals Chandra. "The Innovation Hub project that brought SMEs together with lots of senior people from the rail community and government is a great example of the buzz there is in this sector. It's easy to be inspired when you see the creativity, collaboration and commitment in rail."
Both Helen and Chandra are keen advocates that the rail industry is a great place to work. But, is the industry doing enough to diversify their workforce? Helen replies: "Many companies are doing fantastically well in attracting a diverse workforce. The questions is really about how we encourage people to work with us. There are so many opportunities and so many interesting careers. We need to focus on this and really sell the industry. I think a common way of approaching careers in rail would be good – the environmental agenda is a really high priority for under 25s and we should absolutely be marketing this."
Chandra adds: "Come and work in rail – you can have fun, deliver amazing projects and reduce the carbon footprint of the UK as a whole. We all need to take responsibility for encouraging new people to consider rail as a career – there's so much to recommend it and we feel privileged to be part of it."
If you would like to take part in the Women Inspiring Rail series, or would like to nominate a colleague to part, please email: Craig Waters, Editor, Global Railway Review.