Schenck Process GmbH
+49 61 511 531 3431
Overview
Railtec: Derailment Protection, Trade & Trust, Workshop Test Equipment
Railtec – paving the way for increased safety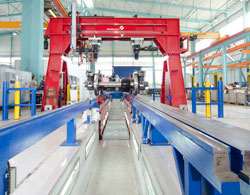 Global demand for mobility and transport is growing all the time, driven by both passenger transport (light rail, metro rail, regional and high-speed transport) and freight transport (cargo and heavy-haul rail). Detailed planning is carried out to make sure transport is affordable and above all safe, and to enable condition-based maintenance.
The aim is to achieve optimum utilisation of transport capacities. Safety, cost-effectiveness and customer satisfaction are the main priorities.
Choose the reliable option with state-of-the-art MULTIRAIL®technology from Schenck Process.
Derailment protection

The prevention of derailment is a priority issue. Wheel diagnosis at track speed is an essential requirement, because we don't leave safety to chance.
Our track-based systems measure the safety-relevant load status of a train and also detect force impacts which might be triggered by defective wheels. The measurement of noise emissions in compliance with standards helps rail companies to reduce disturbance in densely populated areas while identifying critical vehicle statuses in conjunction with measurements from defective wheels. The online measurement of vertical and lateral forces in loaded train sets helps to prevent derailment. Intelligent software solutions link on-track systems with higher-level control systems.
Trade & Trust

We make it our business to offer precise measurement and weighing for both static and dynamic B2B applications.
Our Trade & Trust product range includes systems for the dynamic and static weighing of coupled train sets for internal checkweighing as well as solutions that deliver legal-for-trade weight data as the basis for calculating the weight of individual wagons and train sets. We optimise the bulk loading process to meet the specific requirements of your application. Our software solutions can be used as a stand-alone solution or integrated combined application.
Workshop Test Equipment

Quiet, comfortable and low-wear rolling stock is the result of intensive development work by the vehicle constructor and day-to-day work in the maintenance workshops. We support both with reliable, standards-compliant measurement technology for bogie testing and corner load measurement of rail car and locomotive bodies. We also supply the technology to perform standards-compliant static and dynamic measurement of vertical wheel forces on rail vehicles. The measurement of Y/Q forces on test tracks provides important data for the design of new rail vehicles, helping engineers to optimise the design and minimise the risk of derailment.
Stationary and mobile sanding systems for rail vehicles help to transfer 'power to the rails' regardless of the vehicle type.
Schenck Process applications play a crucial role in rail safety – refuse to compromise.
Whitepapers / Case Studies
Articles
News