Britain's new high-speed rail network (HS2) is approved
Transport Secretary Justine Greening has announced details of the new national high speed rail network (HS2)…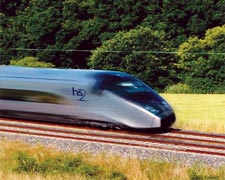 Britain will have a national high speed rail network providing vital new capacity and faster journeys across the country from 2026, Transport Secretary Justine Greening has announced.
HS2 will be a Y-shaped rail network with stations in London, Birmingham, Leeds, Manchester, Sheffield and the East Midlands linked by high speed trains conveying up to 26,000 people each hour at speeds of up to 250mph.
High speed trains will also connect seamlessly with the existing West Coast and East Coast main lines to serve passengers beyond the HS2 network in Edinburgh, Glasgow, Newcastle, Durham, York, Darlington, Liverpool, Preston, Wigan and Lancaster.
It will be built in two phases. The first will see construction of a new 140 mile line between London and Birmingham by 2026, the detailed route of which is published today. The second phase will see lines built from Birmingham to Leeds and Manchester by 2033. A formal consultation on second phase routes will begin in early 2014 with a final route chosen by the end of 2014.
The first phase of HS2 will include a connection to Europe via the Channel Tunnel. On completion of HS2 the network will include a direct link to Heathrow Airport.
Key points:
HS2 will increase dramatically passenger capacity along the key transport corridors of Britain with up to 26,000 extra passenger seats running each hour that will relieve congestion on existing intercity routes as well as roads and air routes.
HS2 will mean very substantial time savings between Britain's cities, reducing a Birmingham to Leeds journey from 2 hours to just 57 minutes and a Manchester to London journey from 2 hours 8 minutes to only 1 hour 8 minutes. Birmingham to London journeys will be almost halved from 1 hour 24 minutes to 45 minutes, 4 minutes less than the fastest 49 minute service featured in the consultation.
Even cities and towns off the HS2 network – like Edinburgh, Glasgow, Liverpool, Preston, Wigan, Lancaster, Newcastle, Darlington, York and Durham – will be served by high speed trains able to use both HS2 and existing intercity lines seamlessly to save up to an hour on journeys to London. HS2 will effectively act as a rail "motorway" network offering greater capacity and speed while not restricting train services to stations on the HS2 network.
There are no credible alternatives to a new railway line. Network Rail has judged that alternative packages of rail upgrades and improvement on existing lines are no substitute to the long-term and sustainable capacity increase that HS2 provides.
A high speed line will deliver £6.2bn more of economic benefits than a line running at conventional speed – and around £3.5 more revenues – at a cost of only £3bn more than building a conventional speed equivalent. HS2 will cost a total of £32.7bn.
The benefit cost ratio (including wider economic benefits) for HS2 is £1.80-2.50 benefits for every £1 spent on the cost of the project. The BCR has been revised downwards slightly due to the current economic climate but remains convincing.
A commitment to reducing the effects of HS2 will see 79 miles of the 140-mile line between London and Birmingham running in tunnels or cuttings. The 22.5 miles in tunnel announced today is a 55% increase in the amount of tunnelling in the consultation route.
HS2 runs through 13 miles of the Chilterns Area of Outstanding Natural Beauty (AONB) but fresh mitigation measures announced today mean that less than two miles will be at or above surface level.
HS2 will benefit rail, road and air users. It will free up capacity on existing rail routes for more commuter, regional and freight services. It will take an estimated 9m journeys off the road network and cut up to 4.5m air journeys each year.
HS2 trains will be up to 400 metres long with 1,100 seats, travelling at speeds of up to 250mph. Double decker trains could be introduced to run on the HS2 network and would be compatible with HS1 and the Channel Tunnel. Services using HS2 and existing rail lines will use standard-size non-double decker high speed trains.
Transport Secretary Justine Greening said:
"A new high speed rail network will provide Britain with the additional train seats, connections and speed to stay ahead of the congestion challenge and help create jobs, growth and prosperity for the entire country.
"HS2 will link some of our greatest cities – and high speed trains will connect with our existing railway lines to provide seamless journeys to destinations far beyond it. This is a truly British network that will serve far more than the cities directly on the line.
"HS2 will deliver up to 26,000 more seats for rail passengers each hour and journey times slashed by as much as half. By attracting passengers off existing rail lines, roads and domestic air services, its benefits will be felt far beyond the network. No amount of tinkering with our Victorian rail infrastructure will deliver this leap in capacity.
"It is not a decision that I have taken lightly or without great consideration of the impact on those who are affected by the route from London to Birmingham. I took more time to make this decision in order to find additional mitigation which now means more than half the entire 140-mile line will be out of sight in tunnels or cuttings. I am certain this strikes the right balance between the reasonable concerns of people living on or near the line, who will be offered a generous compensation package, and the need to keep Britain moving.
"More than a century ago the Victorians built railways that continue to serve us to this day and just over 50 years ago the post-war generation chose to invest in motorways, bringing higher road capacity and faster journeys to millions. Both transformed the economic and social fabric of this country: HS2 is our generation's investment in Britain and our children."
Confirmation that the new network will be built follows one of the largest public consultation exercises ever undertaken, which set out both a high level plan for a complete network and a detailed route for a first phase from London to Birmingham. Today, Transport Secretary Justine Greening has unveiled a package of alterations to the proposed London to Birmingham route to help ensure the lowest possible impacts on local communities and the environment. These include:
A longer, continuous tunnel from Little Missenden to the M25 through the Chilterns
A new 2.75 mile (4.4 km) bored tunnel along the Northolt Corridor to avoid major works to the Chilterns Line and impacts on local communities in the Ruislip area.
A longer green tunnel past Chipping Warden and Aston Le Walls, and to curve the route to avoid a cluster of important heritage sites around Edgcote
A longer green tunnel to reduce impacts around Wendover, and an extension to the green tunnel at South Heath.
The net result of the changes means that:
around 22.5 miles of the route will be completely enclosed in tunnel or green tunnel – compared to 14.5 miles for the consultation route;
around 56.5 miles will be in cutting – significantly reducing the visual and noise impact of the line;
around 40 miles will be on viaduct or embankment – around 10 miles less than the consultation route.
There will be significant improvements for those living near the route, specifically:
Fewer than five properties will experience high levels of noise
Only 60 dwellings will experience noise levels sufficiently high to qualify for statutory noise insulation, compared to 150 for the consultation route – a reduction of over 50%
The number of properties that would experience a noticeable increase in noise would be reduced by a third, from 4,700 to around 3,100
There will be four fewer residential demolitions than the route that went for consultation and there would be far fewer dwellings at risk of land take – reducing from 342 to 172
The network will be built in two phases with the line from London to Birmingham expected to open in 2026 with the onward legs to Manchester and Leeds opening in 2032-33. The Government estimates the cost of the complete 'Y' shaped network at £32bn and expects it to generate benefits of £47bn and fare revenues of up to £34 billion over a 60-year period.
The Department is writing to all those whose homes may be affected by the new railway and has today also announced a new package of measures to help those affected by the scheme. These include:
The introduction of a streamlined purchase scheme to simplify the statutory blight process for property owners
A sale and rent back scheme to give homeowners in the safeguarded areas more flexibility
The introduction of a streamlined small claims scheme for construction damage which will allow individuals and businesses who are entitled to compensation under existing law to claim it more quickly and simply
A Package of measures to reinforce confidence in properties above tunnels
A refreshed hardship scheme