ÖBB to modernise three stations in the Mattig Valley
ÖBB is able to convert the stations in Munderfing, Mattighofen and Mauerkirchen thanks to financial support from the state of Upper Austria.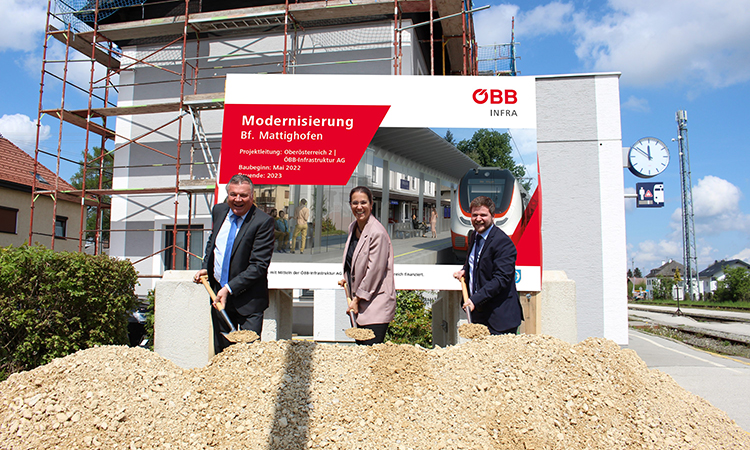 Credit: ÖBB - (Left to right) - Günther Steinkellner (Infrastructure Provincial Council of Upper Austria), Judith Engel (Chairman of ÖBB-Infrastruktur) and Martin Voggenberger (Mayor of Munderfing).
ÖBB is gradually renewing the approximately 40-kilometre-long Mattig Valley Railway, thanks to financial support of the state of Upper Austria. The conversion work on the three train stations in Munderfing, Mattighofen and Mauerkirchen is scheduled to be completed in 2023. With the new electronic interlockings previously installed, the three stations already have the prerequisites for putting the most modern security technology into operation.
"With the parallel conversion of the three stations, the switch to the climate-friendly ÖBB will be even more attractive," Judith Engel, Board Member of ÖBB-Infrastructure, said. "We build barrier-free platforms, install modern information systems and weatherproof waiting areas. The existing station buildings will be also slightly modified. Furthermore, level crossings are being modernised or closed, thereby increasing road safety."
The highlight of the infrastructure offensive on the Mattigtalbahn is the planned electrification of the route, an important contribution to climate protection and the decarbonisation strategy of the federal government.
"The Mattigtalbahn is an important infrastructure for our community, which is why I very much welcome the expansion of the station, the automation of the barriers and, as a result, the electrification," Martin Voggenberger, Mayor of Munderfing, said. "It is an important investment in public transport."
The Bradirn, Firschaumstraße and Wiesenham/Äpfelberg railway crossings will be equipped with new barrier systems and will be electronically controlled in the future. The Föhrenweg railway crossing will be closed.
 "Our train station will be made more attractive for citizens, commuters, and schoolchildren, the main aim is to increase the feel-good factor and to make the stay and waiting times as pleasant as possible," Sabine Breckner, Deputy Mayor of Mauerkirchen, said. "In this way, even more people in Mauerkirchen and the surrounding area should be persuaded to leave their cars at home and use public transport regularly."
There will be many benefits for rail passengers after the conversion these include barrier-free boarding thanks to the new island platform (level increase), new information systems always show departures/arrivals in real time (monitors and loudspeakers), covered waiting bunks offer protection from bad weather, new track and switch systems increase passenger comfort and electronically operated barriers increase safety at level crossings for all road users.