Bombardier Transportation switches to Saft MSX batteries
Saft's new generation MSX high power compact rail batteries have been selected by Bombardier Transportation…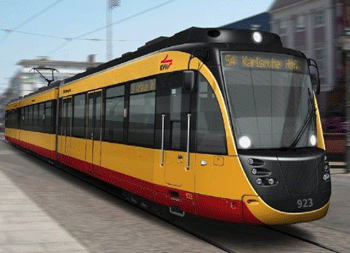 Karlsruhe tram-train
Saft's new generation MSX high power compact rail batteries have been selected by Bombardier Transportation to provide safety-critical onboard backup power for a fleet of 30 dual-system FLEXITY Swift tram-trains currently under construction for the German city of Karlsruhe. In addition to offering substantial savings in battery size and weight compared with lead-acid batteries, Saft's advanced nickel-based technology also provides Bombardier Transportation with total confidence that the onboard batteries will deliver the high power performance required by the tram-train's electro-magnetic braking systems, even in the coldest winter conditions.
The city of Karlsruhe was the first in Germany to link its street tramway and the main-line railway by running urban trams on both networks. This required the creation of dual equipment tram-trains with the capability to operate from both 750 V DC and 15 kV AC supplies. The 30 new FLEXITY Swift vehicles are being introduced to provide additional passenger capacity, to replace some of the older tram-train vehicles and to extend the route coverage of the existing network. The new 37 metre long vehicles consist of three modules, with the capacity to carry 244 passengers, and the interior is walkable throughout its entire length.
'High power performance and optimizing the overall size and weight of the roof-mounted battery package were the critical factors when we specified the onboard batteries for the Karlsruhe tram-trains, and the Saft MSX nickel-based batteries have proved to be the ideal solution in every respect,' says Uwe Donath, Bombardier Transportation's project leader for electrical integration. 'By switching from lead-acid batteries we are saving around 30 kg in weight and reducing the size by 25 percent, with complete confidence that the compact Saft batteries will deliver the very high braking loads we require even in winter temperatures that can fall as low as -25°C.'
Battery duty
To change their power supply from DC on the tram tracks to the AC used by the main-line trains (or vice-versa) the tram-trains have to pass a cut-off section of 50 to 250 metres in length where no external power is available. This requires the 24 V (nominal) onboard battery system to support all the vehicle electrical loads for a period of between 20 to 25 seconds, so battery reliability is a vital factor in ensuring that the Karlsruhe tram-train services run on-time.
In addition, the onboard batteries have to provide emergency backup power for the vehicle's critical systems (such as lighting, communication and door operation) for a minimum of 30 minutes if external power is interrupted, such as in the event of a failure of the two static converters. Even after this 30 minute backup period, the batteries must still be capable of delivering, in addition, at least 80 A for up to 12 seconds to operate the tram-train's electro-magnetic braking system.
MSX block batteries deliver high power capability and high cycling performance
Saft MSX block batteries are the ideal solution for this type of tram-train application as they have been developed specifically to deliver high power capability and high cycling performance over a very wide range of temperatures, from -30°C to +50°C. Furthermore, the MSX design incorporates an integral centralized water filling system that makes maintenance fast and easy, helping to meet train operator requirements for minimal maintenance.
The roof-mounted battery systems being installed on the FLEXITY Swift tram-trains comprise 19 Saft MSX 200 batteries with a nominal capacity of 200 Ah. In this application they ensure a minimum service-life of 15 years with no risk of sudden death failure, representing a 10-year increase in life compared with the equivalent lead-acid batteries that, together with their extended maintenance intervals, ensures a lower TCO (Total Cost of Ownership).