Images: HS2 complete Colne Valley Viaduct span during three-week road closure
HS2 engineers have completed the 40 metre Colne Valley Viaduct span over Moorhall Road between Denham and Harefield.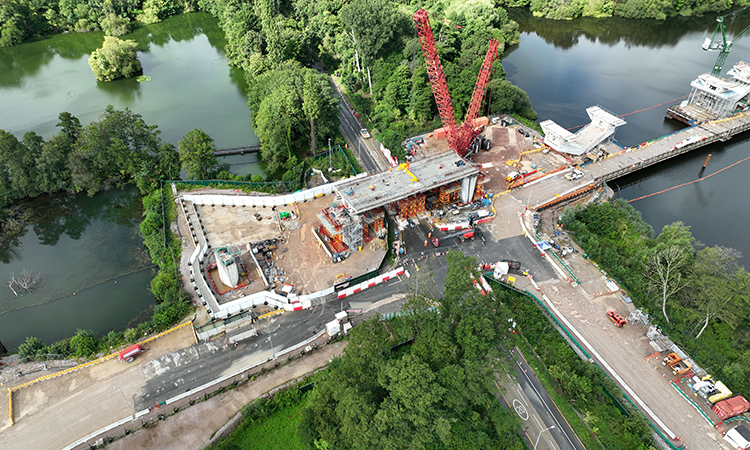 Credit: HS2
Harefield's Moorhall Road has reopened after HS2 engineers completed a key 40-metre span that will form part of the high-speed rail project's record-breaking Colne Valley Viaduct. The closure allowed HS2 to safely bring in cranes to lift eleven 115- to 130-tonne segments into position over the road. These were then strengthened with internal steel cabling to complete the span.
Once complete, the viaduct will be the longest railway bridge in the UK, stretching for more than two miles (3.4km) across the Grand Union Canal, River Colne, local roads and a series of lakes on the outskirts of London between Ruislip and the start of the Chiltern tunnels.
To allow for the gentle curve of the viaduct, each of the one thousand segments that form the arches and deck are slightly different – and all are manufactured at a temporary factory set up close by, with direct access to the M25. Most of these segments are slotted into place by a giant 700-tonne 'launching girder' – the only one of its kind in the UK. But the engineers used a different approach at Moorhall Road to allow the closure to coincide with the school summer holidays when traffic is lighter.
Construction of the HS2 project, which is designed to improve rail links between London, Birmingham and the north, will help boost the economy and provide a low carbon alternative to car and air travel. It is approaching the peak of construction activity, with more than 29,000 jobs supported by the project across the UK.
"HS2 will transform journeys across the UK, boosting the economy and unlocking more space on our existing rail network. But it's also important that we minimise disruption during construction," Billy Ahluwalia, HS2 Ltd's Senior Project Manager, said. "That's why we brought forward construction of this span, so it could be done during the school summer holidays when we knew traffic would be lighter. It's great to see the span complete and I'd like to thank everyone who worked so hard over the last 3-weeks to get it done."
Set low into the landscape, the widest spans are reserved for where the viaduct crosses the lakes, with narrower spans for the approaches. This design was chosen to enable views across the landscape, minimise the viaduct's footprint on the lakes and help complement the natural surroundings. The design was inspired by the flight of a stone skipping across the water, with a series of elegant spans, some up to 80m long, carrying the railway around 10m above the surface of the lakes.