Green energy boost for Horwich Parkway station
Horwich Parkway railway station will soon be powered by 'green' energy, thanks to the installation of a new wind turbine…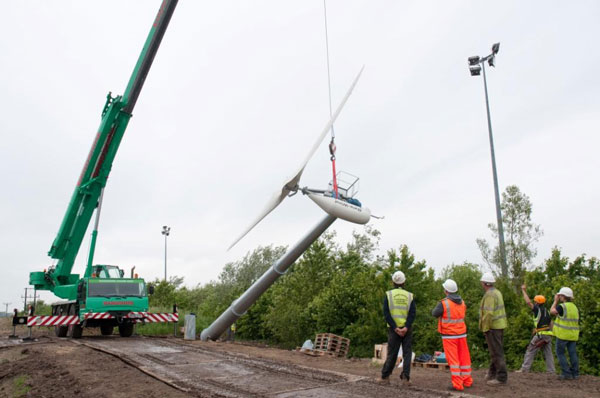 11-kilowatt high-efficiency turbine is installed at Horwich Parkway
Horwich Parkway railway station will soon be powered by 'green' energy, thanks to the installation of a new wind turbine.
Contractors working for Transport for Greater Manchester (TfGM), which owns the station, erected the turbine yesterday.
The 11-kilowatt high-efficiency turbine, which is just over 23 metres high, will harness wind power to cut carbon dioxide emissions by 289 tonnes over its lifetime, reducing the station's environmental impact.
The turbine will deliver electricity directly to the station, and any surplus energy produced will be sold back to the National Grid.
The project is part of Ticket To Kyoto, a European initiative to reduce carbon emissions in public transport, and is funded by the European Union's INTERREG IVB programme, Bolton Council, the Northwest Regional Development Agency and TfGM.
Peter Boulton, Head of Programme Management at TfGM, said: "Horwich Parkway is the only rail station in Greater Manchester owned by TfGM, and studies have shown that the site has a good wind resource – so it makes sense for us to invest in wind power to provide some of the energy needed to keep the station running.
"Rail is already a green travel choice, but projects like this one can help to make it even more environmentally friendly and mean that we can lead the way in green transport by reducing carbon emissions.
"The turbine was installed this week, as regular passengers have no doubt noticed, and will soon be providing an eco-friendly energy source for the station."