New operator for West Coast rail passengers
Rail passengers from London to Scotland will benefit from a package of improvements including more trains and more seats…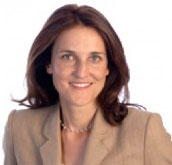 Rail Minister Theresa Villiers
Rail passengers from London to Scotland will benefit from a package of improvements including more trains and more seats, as Rail Minister Theresa Villiers unveiled First West Coast Limited as the new operator for the 'InterCity West Coast' franchise.
As part of the deal First West Coast Limited will introduce 11 new six-car electric trains which will enable more seats to be provided across the franchise, including greater capacity on the Birmingham to Scotland route. New services are planned from Blackpool, Telford, Shrewsbury and Bolton to London. First West Coast Limited has also committed to cut the cost of its 'Standard Anytime' fares by an average of 15% within the first two years.
The franchise stretches from London to Glasgow, connecting many of the UK's major cities including Manchester, Liverpool, Birmingham, Wolverhampton, Edinburgh, Lancaster and Chester. The franchise deal is worth £5.5 billion (net present value) over the lifetime of the contract.
Rail Minister Theresa Villiers said:
"This new franchise will deliver big improvements for passengers, with more seats and plans for more services. Targets to meet on passenger satisfaction will be introduced for the first time in an InterCity rail franchise and passengers will also benefit from smart ticketing and from investment in stations.
"The West Coast is the first of the new longer franchises to be let by the Coalition which has helped us secure real benefits for passengers by encouraging First West Coast Limited to invest in the future of the service."
Benefits the new franchise will offer passengers include:
More Seats: The new 11 six-car electric trains will deliver circa 12,000 extra seats a day, from December 2016 with the cascade of existing rolling stock to bolster capacity on West Coast routes. This is in addition to the 106 extra 'Pendolino' carriages which are currently being introduced into operation on to the franchise, which will deliver over 28,000 extra daily seats.
More Services: Initially First West Coast Limited will operate the timetable they will inherit from the current franchise but are seeking to introduce a number of new services including a London Euston to Blackpool service from 2013 and from 2016 services from London to Telford Central, Shrewsbury and Bolton.
Improved Services: Journey time improvements between London and Glasgow are planned, as well as additional services from London to Preston.
Fares: First West Coast Limited is changing its Standard Anytime fares and reducing them by an average of 15% over the first two years of the franchise.
Improved Stations: First West Coast Limited is taking over responsibility for maintenance at 17 of their stations and will spend at least £22m on a station investment programme.
Smart ticketing technology: First West Coast Limited will introduce ITSO based smart ticketing. This will offer speed and convenience as well as new ticket types more tailored to individual needs.
Related organisations
Related people