Alstom will supply 8 additional Coradia Nordic regional trains to the Swedish operator Östgötatrafiken
Alstom has received an order from Östgötatrafiken AB…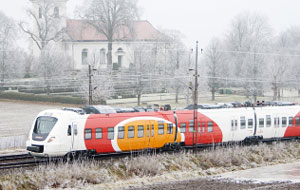 Alstom has received an order from the Swedish Public Transport Authority Östgötatrafiken AB for eight additional Coradia Nordic regional trains. This order worth €50 million is part of a frame agreement signed in 2008 between Alstom and Östgötatrafiken. It brings the total number of Coradia Nordic trains ordered by Östgötatrafiken to 13.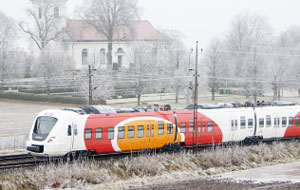 The new Coradia Nordic X61 regional trains will replace older trains on the Östgöta railway network. Delivery is planned for early 2015.
"The Coradia Nordic regional trains have proven themselves over the past seven years of service in Sweden" said Henrik Anderberg, Managing Director of Alstom Transport in Sweden. "With this new order, Östgötatrafiken will be offering modern, comfortable and efficient trains to its passengers. We are pleased of the renewed trust from the operator which reaffirms our leading position in the supply of regional trains in Sweden".
"The new and modern trains from Alstom have contributed to a higher level of customer satisfaction and we are looking forward to be able to increase the railway traffic in the area with these new trains" says Paul Hakansson, CEO, of Östgötatrafiken.
Coradia Nordic is a 4 car-train EMU type (Electric Multiple Unit) that can run at a speed of 160 km per hour. Built to stand up to rigorous winter conditions, operating at -35% C, Alstom Coradia Nordic regional train is particularly well-suited to Scandinavian climates. Equipment is installed on the roof to blast away snow and ice, which in turn, simplifies maintenance and reduces maintenance costs. Its distributed traction optimizes the braking and acceleration of each carriage reducing travel time and energy use. With an approximately 95% rate of recyclability, the train is environmentally friendly.
Coradia Nordic regional train is designed to meet passengers' requirements in respect to comfort, access and mobility. Its lower floors and absence of steps facilitate access to passengers, especially those with reduced mobility.
Coradia Nordic regional train for Östgötatrafiken will be manufactured in Alstom's competence center for regional trains in Salzgitter in Germany. Since 2002, Alstom has sold 247 regional trains in Sweden.
Related organisations
Related people