Stadler wins order for the delivery of 48 FLIRTs in Hungary
Stadler Rail has won a tender for the delivery of altogether 48 electric multiple units to Hungary…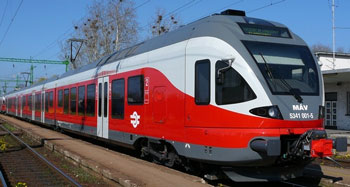 Stadler Rail has won a tender for the delivery of altogether 48 electric multiple units to Hungary. The public procurement was issued jointly by Hungarian State Railways MÁV and Austrian-Hungarian regional operator GYSEV in November 2012. The result of the tender was announced on 26 February, the delivery contract will be signed by the parties during the next 30 days. Within the frames of the contract Stadler will deliver 42 FLIRT units for MÁV and 6 units for GYSEV. The new four-part trains will be single voltage low floor vehicles with a seating capacity of 200 and a maximum speed of 160 km/h. The last train will have to be delivered by Stadler by Autumn 2015.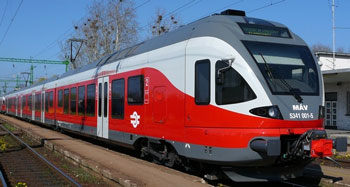 The current EMU tender is now the 3rd in row that Stadler wins in Hungary. The company received the first order in the country in 2005 for the delivery of 30+30 vehicles, which was followed by a successful tender participation in 2012 on a public procurement issued by GYSEV for the delivery of 4 EMUs. After the delivery of the current batch, altogether 112 FLIRT units will be operating in Hungary. The FLIRT has a very good reputation in the country, as the 60 existing vehicles have been operating with a very high availability in the last 6 years.
The successful market presence of Stadler in Hungary is paired with a series of investment too. Since the market entry Stadler established a maintenance centre in Pusztaszabolcs and an aluminium welding factory in Szolnok, having invested altogether EUR 40 million in the country and created around 400 workplaces. In line with this progress the company is currently conducting an expansion in the capacity of its aluminium carbody welding unit, and also establishes a centre in Hungary for the revision of train bogies. As a result of these developments, Stadler will create around 200 additional workplaces and thus employ altogether 600 people in Hungary soon. A significant part of the production of the current trains will also be made in the factory of Stadler in Szolnok. The allocation of exact activities regarding this project is currently being decided.