New technology helps install half barriers at Shiplake level crossing
The new technology, which has been successfully trialled at three sites…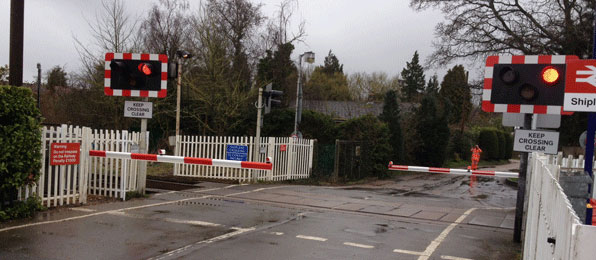 New half barriers at Shiplake level crossing
The new technology, which has been successfully trialled at three sites, two in Scotland and one in Cumbria, has allowed Network Rail to install half-barriers without making major changes at the crossing.
Traditionally, when installing barriers at a level crossing, Network Rail would have to rebuild the whole crossing and replace all crossing and signalling equipment. This new technology enables the barriers to be integrated with the current crossing system enabling the upgrade to be carried out a lot quicker.
Misuse at Shiplake
Shiplake is one of the crossings in the Thames Valley area that is particularly prone to misuse and the barriers will act as an extra deterrent. Network Rail have developed and successfully tested an affordable, innovative system that will improve the safety of open level crossings.
Network Rail are committed to improve safety on railways, and across the region we're upgrading level crossings or seeking to close them when possible.
Since 2009 there have been 46 reported incidents of misuse and 13 near misses with vehicles and pedestrians.
Improving level crossing safety
The new technology is set to be rolled out to other open level crossings in the Western route, which runs from London Paddington to Oxford, the Cotswolds, Swindon, Bristol and the West Country, although the programme of work is yet to be finalised.
Network Rail have a £130m investment programme to improve level crossing safety. This includes:
Replacing footpath crossings with footbridges
Installing warning lights as an additional safety measure at footpath crossings
A new schools programme – Rail Life – teaching both primary and secondary school children about how to stay safe when crossing the railway
Investing in new technology
Introducing new cost effective barriers to open crossings
Employing more than 100 new dedicated level crossing managers
Community safety managers who work closely with local groups, councils and schools to raise awareness
Read more about level crossings and how to use them safely.
Related topics
Related organisations