100+ events to raise awareness of level crossings dangers
Rail safety teams across the country are hosting more than 100 awareness events at level crossings across Britain…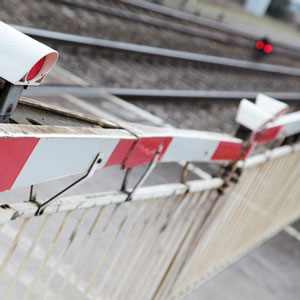 Rail safety teams across the country are hosting more than 100 awareness events at level crossings across Britain to help educate people about how to cross the railway safely and prevent accidents.
Level crossing safety in Britain is amongst the best in Europe. Despite this, nine people were killed at level crossings in the last year* and 453 people were involved in a near miss, either as a pedestrian or a motorist. There were 10 collisions between vehicles and trains and a further 33 vehicles struck and damaged barriers.
These new figures have been published today by Network Rail, one of 45 worldwide organisations supporting International Level Crossing Awareness Day on 7th May 2013.
Martin Gallagher, head of level crossings at Network Rail said: "Where a road or footpath meets the railway there will always be a risk – tragically, for a few people every year, this results in injury or loss of life. We want to reduce the chances of this happening as much as possible. The surest way to reduce risk at a level crossing is to close it and under our current safety programme we have successfully closed more than 700 in the last three years.
"If we're not able to close a crossing, we want to raise awareness of how to use crossings safely and the risks associated with getting distracted or ignoring warning signs. That's why our safety teams are out across the country as part of International Level Crossing Awareness Day to talk to people who use the crossings, listen to any questions they may have and help them better understand what we're doing to improve safety for them and everyone around the railway."
Superintendent (Territorial Policing) Phil Trendall of British Transport Police (BTP) said: "BTP works closely with all our rail industry partners and other police forces to educate users of level crossings as well as enforce road traffic legislation. International Level Crossing Awareness Day remains a key event in our calendar and BTP officers will be out and about at crossings around the country to promote that all-important safety message. Safety remains our primary concern and we will do all we can to contribute to the proper use of crossings, which must be treated with respect. However, the law related to crossings will be enforced and where necessary drivers prosecuted."
Network Rail is investing £130m to make level crossings safer by building footbridges, adding new barriers and new technology. In 2009 the company committed to closing 750 by spring 2014 and is well on the way to achieving that goal. A national television advertising campaign, based around the childhood game I Spy, will run from Sunday 5 May for three weeks across terrestrial, satellite and digital channels .
*Incident data from 01 April 2012 to 31 March 2013 – complied on behalf of the rail industry by RSSB (Rail Safety & Standards Board)
Related topics
Related organisations
Related people