Commuters to benefit from state-of-the-art electric trains
Southern signs £180 million deal for additional 116 train carriages with Bombardier…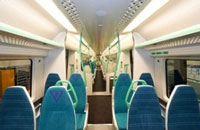 Southern signs £180 million deal for additional 116 train carriages with Bombardier.
Transport Secretary Patrick McLoughlin has welcomed an order for more than 100 new electric train carriages while seeing the first of a British-built fleet being readied for use at a London depot today.
Following an open procurement competition Southern has signed a second contract with Derby-based train builders Bombardier, worth £180 million, for an additional 116 carriages, which will serve some of the capital's busiest commuter routes from 2015.
Confirmation of the deal came as the Transport Secretary visited the Stewarts Lane Depot in Battersea where the train operator is currently preparing a new fleet of 130 carriages for use on its services from December. A further 40 vehicles will be delivered in the early part of next year.
Transport Secretary Patrick McLoughlin said:
"London's commuters deserve a first class rail network and comfortable modern trains, Southern is delivering that. This second order will also provide a further boost to the thousands of passengers who travel into London every day.
"A successful rail network is vital for the economic prosperity of the country and its standing in the global race. The fact that these trains are made in Britain also protects jobs outside of the capital."
The 116 new carriages will initially be used on the Thameslink route allowing the release of existing rolling stock to newly electrified routes across the country.
Southern Managing Director Chris Burchell said:
"We are delighted that the order we have signed today will help our industry grow. Southern has a great record in new train introduction and we are pleased to be able to offer our expertise in helping the Department for Transport deliver the benefits of the Thameslink programme."
Meanwhile, Southern is currently testing its new fleet of carriages ahead of their introduction on the network just 2 years after the deal with Bombardier was signed. This will allow up to 10 car trains to run on some of the operator's busiest Metro routes, including trains via Norbury, Streatham Hill and Hackbridge, boosting capacity by 10%.
Southern Fleet Director Gerry McFadden said
"Getting the trains built, tested and in service within a 2 year time scale is setting a new record for train delivery, but we and Bombardier are determined to provide our passengers with the longer trains they have been promised."
The Commercial Director for Bombardier Transportation UK, Des McKeon, said:
"It is great to see the first of Southern's 130 new carriages being delivered here today. Production of the rest of the order is progressing on time in Derby. We are confident of delivering the rest of the fleet in line with Southern's requirements and meeting their challenge of getting these units ready for passenger service later this year.
"The order underlines the strength of the relationship Bombardier has with Southern and the DfT – a relationship born out of our strong performance on existing contracts. It reinforces the quality of our products and our ability to deliver on time to demanding schedules. It is further evidence of the dedication and skills of our people in the UK."
Paul Francis Managing Director of Porterbrook which financed the 130 carriages being introduced in December, said:
"We're delighted to have been appointed financier for the purchase of these new Electrostar trains which will operate with the other 792 Electrostar vehicles we have on lease with Southern. We reiterate our hope that this is only the start of ongoing investment opportunities in new and existing rolling stock over the coming years as franchises are re-let."