Bombardier presents its new OMNEO Double-deck Platform in France: the Regio 2N
Bombardier adds a new product platform to its EMU double-deck portfolio…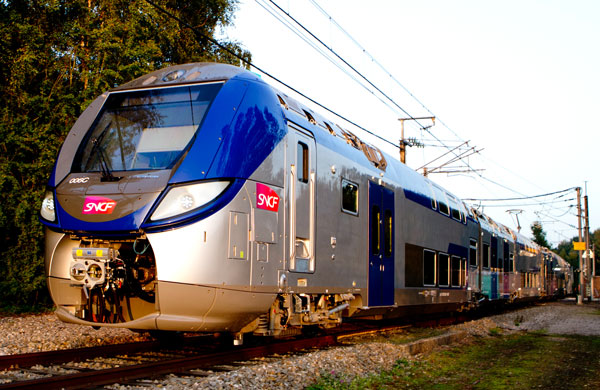 Bombardier Presents its New OMNEO Double-deck Platform in France: the Regio 2N
Rail technology leader Bombardier Transportation today presented the first OMNEO train to the vice presidents for transportation of various French regions and Guillaume Pepy, Chief Executive Officer of SNCF, at Bombardier's site in Crespin in Northern France. This new double-deck train, named Regio 2N by the French regions, is wider than conventional EMUs. It offers a new level of passenger comfort through more onboard space, maximum seating, large access platforms with two wide doors, and quiet cars for long journeys. The Regio 2N platform is available in various configurations, from six to 10 cars, with a total length of between 81 m and 135 m. It is capable of travelling at speeds of between 160 km/h and 200 km/h.
Representatives of the Transport Ministry and the Ministry of Industrial Renewal were also present, as well as Lutz Bertling, President of Bombardier Transportation.
Bombardier has built nine test trains to allow the thousands of tests required for homologation to be conducted simultaneously. The fully-fitted Regio 2N train on show is the eighth of these special trains. While waiting for certification, several trains will run test journeys from January 2014 to allow SNCF's staff to operate them and to check operational reliability before full commissioning.
At Bombardier's site near Valenciennes, the Regio 2N project teams are ready to ensure production and delivery of all 129 trains within only two years.
To date, the regions Aquitaine, Brittany, Centre, Nord-Pas de Calais, Provence-Alpes-Cote d'Azur and Rhone-Alpes have placed firm orders for 129 Regio 2N trains. The contract allows for a maximum of 860 trains.
"The increasing use of regional trains in France reflects the Regions' successful efforts to facilitate sustainable and comfortable mobility of their populations," said Lutz Bertling, President of Bombardier Transportation. "This train is the right choice to meet the future needs of regional transportation not only because of its large capacity, passenger comfort and high performance but also thanks to the many configurations available, such as the InterCity V200 version. Bombardier's Crespin teams have met an outstanding technical challenge by delivering a completely new industrial product as complex as this one, and in such a short time-frame."
OMNEO is the latest product of the Bombardier double-deck EMU portfolio. Offering high capacity in densely populated areas and fast speed on intercity rail links, double-deck trains are central to an eco-friendly and comfortable rail transportation, moving millions of people every day. Bombardier's portfolio is well positioned to meet the demand of market growth in this sector. UNIFE research shows that demand for regional trains should remain high, reaching 4,000 cars per year in the period 2014 to 2016. France, Germany and the UK are forecast to represent more than half of the world's regional train market. In the regional segment, the share of double-deck trains is increasing due to the constant need for increased capacity.