Bombardier to supply 30 additional Regio 2N double-deck EMUs in France
Order is part of the Regio 2N contract with the French Railways (SNCF) on behalf of the French Regions…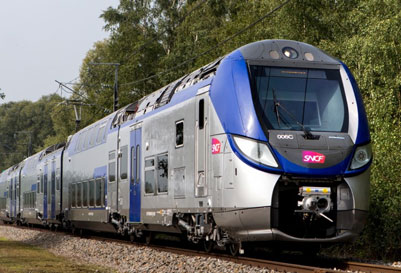 Regio 2N double-deck EMU
Rail technology leader Bombardier Transportation announced today that SNCF has exercised an option for 30 additional Regio 2N double-deck electric multiple units. The order, which will be financed by the Regions, is valued at approximately 277 million euro ($379 million US). It is part of a 2010 contract with SNCF for up to 860 trains for the French Regions.
Including this option, nine Regions have ordered a total of 159 Regio 2N EMUs. The delivery of the additional trains will take place from June 2016 until April 2017.
"The Regions and SNCF are confirming their trust in the innovative Regio 2N train with this order," said Jean Berge, President of Bombardier Transportation France. "Regio 2N is a technical platform of double-deck trains that is able to meet the needs of intercity, regional and commuter services. It offers both exceptional capacity and increased passenger comfort compared to conventional rail vehicles, encouraging a shift from individual car to rail travel."
The train with an extra-wide carbody offers improved accessibility thanks to wide doors, gangways and corridors, large vestibules and step-free entrances from platform heights of 550 mm.
This train features technical innovations in terms of reliability, availabililty, and sustainability, while generating economic benefits, like reduced energy consumption. With this new order, Regio 2N will be available in a 200 km/h version as well as in an extra-long 10-car version.
The Regio 2N double-deck EMUs were created by Bombardier teams in Crespin, in the Nord-Pas de Calais Region. Bombardier also designs, builds and tests the vehicles at the site. As the largest industrial rail site in France and a partner of the Nord-Pas de Calais Rail Competitivity Cluster, the Crespin site employs 2,000 people, including 500 engineers and managers. It relies upon a wide network of local suppliers and sub-contractors. Several suppliers have decided to set up their operations next to Bombardier, in the Trans Avenir industrial park, strengthening local employment opportunities and the regional economy.