The first Polish train for Deutsche Bahn
The first train to be supplied to Deutsche Bahn by the Polish manufacturer PESA was presented at InnoTrans 2014 by Heike Hanagarth, member of the Technical Board of DB, and the Head of PESA, Tomasz Zabolicki…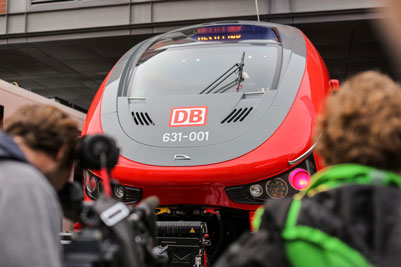 The first train to be supplied to Deutsche Bahn (DB) by the Polish manufacturer PESA was presented at InnoTrans 2014
The first train to be supplied to Deutsche Bahn (DB) by the Polish manufacturer PESA was presented at InnoTrans 2014 by Heike Hanagarth, member of the Technical Board of DB, and the Head of PESA, Tomasz Zabolicki.
The LINK single-unit diesel railcar with its characteristic, shark-like front end, forms part of a framework agreement signed at InnoTrans 2012 for the supply of a total of 470 trains. They are being manufactured as either single, two- or three-unit sets and, depending on their equipment and interior fittings, have between 50 and 160 seats.
At the same time the two partners signed an agreement for the delivery of 26 LINK trains for service in Bavaria, with a value of around €100 million. The three-unit trains will be deployed by DB on the Allgäu diesel network beginning at the end of 2017.
InnoTrans 2014 Location: Outdoor Display Area G1/1
Contact Hartmut Sommer, telephone: +49 (0) 30 -29762109, email: [email protected]
This news is courtesy of InnoTrans 2014.