New report examines rail links in the Midlands and North
Journey times between the UK cities of Leeds and Manchester could be cut in almost half under proposals published today by Sir David Higgins, Chairman of High Speed Two (HS2) Ltd…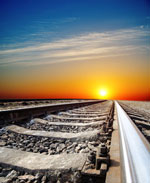 Journey times between the UK cities of Leeds and Manchester could be cut in almost half under proposals published today by Sir David Higgins, Chairman of High Speed Two (HS2) Ltd. This, he says, would be as important to the North as Crossrail is for London, but should only be one step in an overall strategy to improve transport as a whole from Liverpool to Hull.
His report also suggests that the journeys between Leeds and Birmingham, Leeds and Sheffield Meadowhall, York and Birmingham, and Nottingham to Birmingham could also be reduced by a half or more, and many more journeys across the country substantially shortened.
"Improving connectivity is vital if Britain is to compete in the knowledge economy in which this country has a competitive advantage, but in which ease of travel is an essential element.  Knowledge based companies whether they are in high-tech manufacturing, the creative industries, finance or the law, have to be close, or feel close to the talent, skills base, support network, knowledge pools, collaborators and clients necessary to create the 'hot-house atmosphere' in which they thrive. That is why reducing the journey times between and within our cities isn't just desirable for both passengers and freight. It is a strategic necessity."
Sir David's comments and recommendations are contained in his second report on the future of HS2. Rebalancing Britain: from HS2 towards a national transport strategy found here: http://www.hs2.org.uk/news-resources/chairmans-reports – looks at the prospects for improving connectivity across the North of England and the Midlands.
The four main proposals are:
Need to take forward both legs of the proposed HS2 Y-network– the alternatives will not bring the same capacity, connectivity and economic benefits.
Improve the rail services between east and west– sharply reducing journey times between Liverpool, Manchester, Leeds, Sheffield and Hull will stimulate local economies.  Sir David says the journey from Leeds to Manchester could be cut from today's average of over 55 minutes to somewhere between 26 and 35 minutes, depending on which option is chosen, and the number of trains could be doubled.
Northern cities should speak with one voice– local authorities from five key cities should join together to form a new body.  Sir David suggests calling the group Transport for the North.
Set out a timetable to develop a new transport strategy – building on the One North report to decide on an approach for improving rail and road connectivity across and within the region north of Birmingham.
In addition to these recommendations the report sets out a series of conclusions from Sir David's review of the proposals for Phase Two of HS2. These include:
To continue with the planned route intoManchester city centre via the airport – keeping open the option to add a new airport station.
Need to review the best station solution forLeeds to include provision for increased east-west services through the city.
The line should be extended toCrewe by 2027 – six years earlier than originally proposed.
A new station atSheffield Meadowhall remains the best way to serve the wider South Yorkshire region, though Sir David recognises Sheffield continues to argue for Sheffield Victoria.
That theEast Midlands hub should be near the proposed site at Toton but that its precise location needs further work.
The report has now been submitted to Government and any final decision on the recommendations made by Sir David will be made by Ministers. An announcement on Phase Two is expected from the Transport Secretary before the end of 2014.
Related topics
Related people