Network Rail publish half-year financial results
Network Rail has published its half-year financial results for the six months ending 30 September 2014…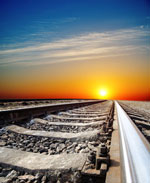 Network Rail has published its half-year financial results for the six months ending 30 September 2014.
These results are the first results of the company's new five-year funding period (CP5:2014 to 2019) set by the Office of Rail Regulation. The results represent a steady start to an important period in the history of the railway network.
They show record levels of investment – almost £3 billion for the period – and train performance that is struggling to climb back to the record levels seen a few years ago as congestion (record numbers of trains and passengers), asset reliability and managing the knock-on delays of incidents, takes its toll.
The full financial results can be found on the Network Rail website: www.networkrail.co.uk