Safety Researchers Strengthen RSSB Strategic Partnership
The strategic partnership between RSSB and Institute of Railway Research (IRR) at the University of Huddersfield has set up a new team dedicated to enhancing rail safety and risk modelling…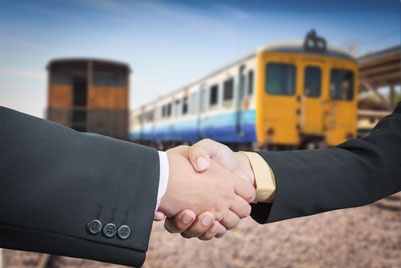 The strategic partnership between RSSB and Institute of Railway Research (IRR) at the University of Huddersfield has set up a new team dedicated to enhancing rail safety and risk modelling. The team will work with RSSB on a range of projects to develop the next generation of risk models that exploit modern information infrastructures.
The new team combines safety and risk experience from railways abroad and from other risk-industries. Dr Coen van Gulijk, previously of TU Delft, will lead the research programme for the Strategic Partnership and is joined by Dr Miguel Esteban from the University of Valencia and Peter Hughes who has 20-years experience in the Australian railway industry.
Dr Van Gulijk comments, "Risk-based decision making is imperative to the efficient use of the railways, especially at a time when the industry is seeing such significant growth. The mainline railway in Britain is amongst the safest in Europe and we hope that our research will help RSSB maintain its position as a world-class provider of safety and risk knowledge for the industry".
IRR Assistant Director Julian Stow adds, "This is an exciting time to be launching our research programme. The availability of massive volumes of data, both in structured form from within the industry and unstructured data from sources such as social media will transform the landscape in which risk prediction is carried out."
The research programme, which is initially planned to last for five years, will work on a range of projects. These include shorter term research to allow the industry to make better use of currently available data to long term projects which will help RSSB to maintain its world-leading position in risk-based decision-making and safety solutions.
The Strategic Partnership between RSSB and the University of Huddersfield provides a unique platform for cooperation. RSSB provides an enormous depth of experience of risk modelling for GB railways, whilst the IRR provides an international team of academic safety researchers. This combination will ensure that research and education in railway safety and risk will receive a significant boost to face the future challenges in railway safety.