Alstom Pendolino high speed train achieves 1 million kilometres in Poland
Pendolino, Alstom's high speed train, has successfully covered one million kilometres in Poland. Since the start of its operation, mid-December 2014, Alstom has secured a 100% availability of the train fleet which has made around 2,000 journeys, connecting the main cities of Warsaw, Gdansk, Gdynia, Krakow, Katowice and Wroclaw…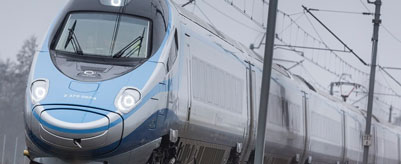 Image: Alstom
Pendolino, Alstom's high speed train, has successfully covered one million kilometres in Poland. Since the start of its operation, mid-December 2014, Alstom has secured a 100% availability of the train fleet which has made around 2,000 journeys, connecting the main cities of Warsaw, Gdansk, Gdynia, Krakow, Katowice and Wroclaw.
With Pendolino trains, Alstom has opened a new era for railway journeys in Poland, offering passengers enhanced comfort, safety, reliability, new standards and shorter travel time between the northern and the southern parts of the country.
The trains are maintained at Alstom's Train Technical Service Centre, located in Olszynka Grochowska (Warsaw), which is equipped with the most high-tech trains servicing tools in this part of Europe. Alstom has set up a new team for maintenance services, creating over 100 jobs.
"Alstom is glad that PKP1's IC Pendolino fleet has successfully reached 1 million km in just two months without any major problems. This confirms Alstom's expertise in the high-speed train sector as well as its maintenance capabilities", said Valerie Chardon, Managing Director Alstom Transport for Central and Eastern Europe.
More than 500 Pendolino trainsets have been sold worldwide, covering over 700 million kilometres in commercial service. Today, Pendolino crosses seven European borders and operates in 14 countries worldwide: Italy, Austria, Germany, China, Czech Republic, Finland, Portugal, Russia, Spain, Slovakia, Slovenia, Switzerland, United Kingdom and Poland.
PKP Intercity is the Polish national operator in charge of long-distance passenger transport.