Custom House Crossrail station complete
The structure of the new Custom House Crossrail station comprising of 825 station components has been completed in a year and a day. The components were manufactured at the Laing O'Rourke facility in Steetley, near Sheffield, then transported 130 miles to the Royal Docks in east London and assembled on site with a purpose-built 35 […]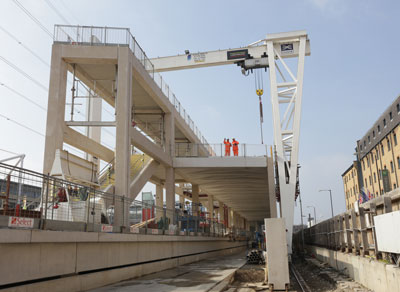 The structure of the new Custom House Crossrail station comprising of 825 station components has been completed in a year and a day.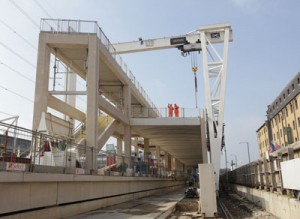 The components were manufactured at the Laing O'Rourke facility in Steetley, near Sheffield, then transported 130 miles to the Royal Docks in east London and assembled on site with a purpose-built 35 tonne gantry crane.
The process of manufacturing large sections of the station off site in pre-cast concrete significantly simplified the process of building the station, saving time, reducing disruption, improving quality and making the process safer.
Crossrail Project Manager at Custom House, Mujahid Khalid, said: "Piecing together the 825 sections that make up the station's structure has been a bit like a giant jigsaw puzzle. It's been impressive to see the building go up so quickly and efficiently and a lot of hard work has gone in from everyone on the project.
"Now the structure is complete, the focus will turn to fitting out the building with escalators, lifts and everything else to turn it into a fully operating station."
Custom House Crossrail station is due to open in 2018. Journey times between Custom House and Bond Street will be reduced to 17 minutes while journeys to Heathrow could take as little as 45 minutes.
Timelapse footage of Custom House Crossrail station station being constructed: