The first 5-Band Repeater Solution – reliable and cost-effective
COMLAB is proud to offer the highly flexible and modular multiband digital repeater system MUD/RUD(19)-5…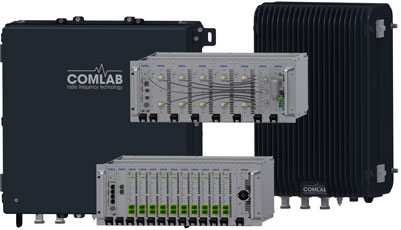 COMLAB is proud to offer the highly flexible and modular multiband digital repeater system MUD/RUD(19)-5 (pictured). The devices supports up to five independent frequency bands and have been designed to extend radio coverage in various radio networks. It supports all kinds of services such as CDMA, TDMA, OFDMA, GSM, UMTS and LTE.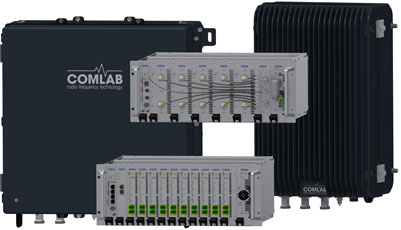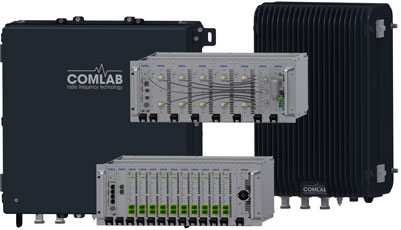 The RUD(19)-5 is available in an outdoor and in an 19'' housing. It comes in two different configurations as a digital fibre fed remote or a radio repeater unit and supports 25dBm and 40dBm output power per band.
It is intended to be used for on-board applications such as in-train, outdoor coverage extension, in-building and in-tunnel applications. Due to its digital filtering it can operate in channel selective or band selective mode.
COMLAB coverage products are easily monitored via COMLAB COSweb interface. It allows to remote control and supervise a large number of network elements from anywhere in the world. Due to its browser-based functionality it only requires to be installed once in a network and can be used by any authenticated user from anywhere without additional software configuration or installation. The responsive web interface is always up-to-date and notifies events and alarms automatically.
According to Lukas Hunziker, CEO at COMLAB: "High quality, reliability and cost-effectiveness are features of our products. Our customers are impressed with the performance ability, flexibility and ease of use of our products. Our repeaters are future-proof, so there is no need for users to change or upgrade our devices for coming technologies."
COMLAB is a leading Swiss supplier of radio frequency technology, with all core competencies in-house. COMLAB has advanced comprehensive expertise knowledge ahead of other providers. Clients experience an individually tailored solution with optimal support from A to Z delivered with true Swiss quality and service.
Related topics
Related organisations