Passengers to benefit from step-free access at Leyland station
Network Rail has revealed plans to provide government funded step-free access at Leyland station, Lancashire. The £4.5 million development project, funded by the government's Access for All (AfA) scheme, will provide three new passenger lifts, a new footbridge, three new staircases and an access ramp to improve access to the rail network for passengers with […]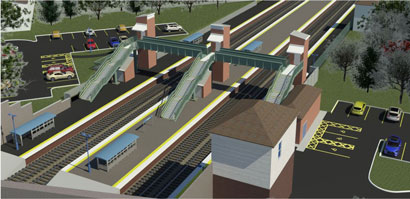 Artist's impression of Leyland staton
Network Rail has revealed plans to provide government funded step-free access at Leyland station, Lancashire.
The £4.5 million development project, funded by the government's Access for All (AfA) scheme, will provide three new passenger lifts, a new footbridge, three new staircases and an access ramp to improve access to the rail network for passengers with disabilities, heavy luggage or pushchairs.
Terry Strickland, area director for Network Rail, said: "Access for All is a significant investment which helps to make using the railway even easier for the millions of passengers who travel by train every year. Leyland station will have step-free access for the first time and the new bridge and lifts will be a valuable addition to the station's facilities."
Councillor Margaret Smith, leader of South Ribble Borough Council, added: "As well as giving wheelchair users and those with limited mobility equal access to rail services in our borough, the start of these much-needed improvements will also be welcomed by local businesses and those looking to invest, who have told us they're looking forward to the boost this will bring to the area. While previous additions have been extremely welcome, the provision of lifts is the crucial measure that we have been pressing for since 2008, so I'm delighted that Leyland has been included in the first year of Network Rail's schedule. It means this essential transport hub's central platforms will be made fully accessible to everyone, so for me it's the most significant step so far on this seven-year journey to bring the station up to standard.
"Businesses already thrive in South Ribble thanks to our excellent links to the motorway network and nearby ports, and we must ensure that sustainable and integrated public transport is in place to further support our economic growth. I can't wait until the work is completed and Leyland station is a gateway to South Ribble of which we can all be proud."
Construction work is due to begin on the 05 August 2015 with completion expected in summer 2016.
Related topics
Related organisations