Tunnel boring moves north-west railway electrification a step closer
A nine metre tunnel-boring machine has begun work to reconstruct the Farnworth Tunnel, part of a railway electrification project between Manchester and Preston. 'Fillie' the Farnworth tunnel boring machine, is part of Network Rail's £1 billion railway electrification project to improve rail services on one of north-west England's busiest rail routes. At  nine metres in […]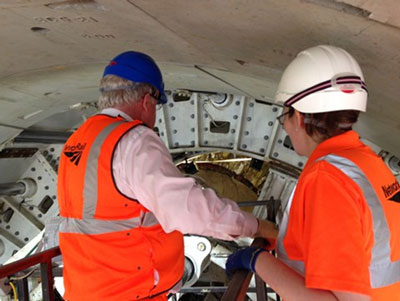 Patrick McLoughlin and Bethan Dale inside Farnworth Tunnel
A nine metre tunnel-boring machine has begun work to reconstruct the Farnworth Tunnel, part of a railway electrification project between Manchester and Preston.
'Fillie' the Farnworth tunnel boring machine, is part of Network Rail's £1 billion railway electrification project to improve rail services on one of north-west England's busiest rail routes. At  nine metres in diameter at its cutter head, 'Fillie' is bigger than the machines used to build London's Crossrail (7.1m), the Thames Tideway 'super sewer' (8m) and even the Channel Tunnel (8.8m)
Farnworth Tunnel has posed an engineering challenge in its reconstruction, as the twin tunnels which carry the railway under the main A666 Manchester to Bolton road aren't big enough to accommodate the overhead lines which will power a new fleet of electric trains in future.
To rectify the matter, one of the 270m-long tunnels will remain open to trains while the other, approximately 1.5 metres away, is pumped full of 7,500m3 of foam concrete before a completely new tunnel, big enough for two tracks and their overhead power lines, is re-bored by the tunnelling machine.
Nick Spall, from Network Rail, said: "The work we're doing at Farnworth is part of a major upgrade to electrify one of the region's busiest commuter routes. It will mean faster trains with more seats, giving passengers better journeys and boosting the economy.
"This is a once-in-a-lifetime opportunity to work on a project that is technically challenging but will also deliver big benefits for local people."
On 11 August, Secretary of State for Transport, Patrick McLoughlin, visited Farnworth Tunnel to view progress made by the tunnel- boring machine, he said: "This one nation government is determined to close the economic gap between north and south. Investing in transport – something that successive governments have failed to do sufficiently – is vital to making that happen.
"We had a choice – building the infrastructure our country needs, or letting our transport system become a brake on growth and opportunity. We have chosen to invest for the future.
"Across the north, that investment is already having a huge impact, with programmes – like the impressive work at Farnworth – underway to upgrade our railways and our roads. We are determined to keep the momentum going."
Nick Donovan, managing director at First TransPennine Express, commented: "Once this major improvement work is complete, faster electric trains will be able to run between Manchester, Bolton and Preston, bringing many benefits for people travelling through this busy route, such as more seats and quicker journey times. In the meantime, together with Northern Rail and Network Rail, we will continue to keep customers moving and informed while the work is underway."
Alex Hynes, managing director for Northern Rail, added: "Seeing the changes here on site, first-hand just goes to show the enormity of this project. Farnworth Tunnel is an excellent example of what can be achieved by the rail industry working and delivering projects together. Thanks to this investment, we are on course to run better trains, faster trains and electric trains for our customers between the north's growing urban centres."
With 120 people working round-the-clock, the Farnworth Tunnel project remains on course to reopen on 5 October 2015.
Related topics
Related organisations