Work begins on €13.7m Dublin Phoenix Park Tunnel upgrade
Ireland's Minister for Transport, Tourism and Sport, Paschal Donohoe TD, has launched the €13.7 million government funded Phoenix Park Tunnel upgrade. The Department of Transport, Tourism and Sport funded project via the National Transport Authority, will allow commuters on the Kildare to Dublin Heuston line have the option of direct trains to Connolly, Tara Street, […]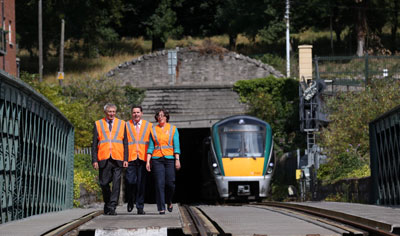 Minister for Transport Paschal Donohoe TD, Anne Graham, Chief Executive of the NTA and David Franks, Chief Executive of Iarnród Éireann.
Ireland's Minister for Transport, Tourism and Sport, Paschal Donohoe TD, has launched the €13.7 million government funded Phoenix Park Tunnel upgrade.
The Department of Transport, Tourism and Sport funded project via the National Transport Authority, will allow commuters on the Kildare to Dublin Heuston line have the option of direct trains to Connolly, Tara Street, Pearse and Grand Canal Dock Stations.
From late 2016, regular commuter trains will gain access to the upgraded Phoenix Park Tunnel and signalling on route to the city centre, increasing the number of train services which can operate on the line between Connolly and Grand Canal Dock.
The project includes cutting stabilisation, drainage and vegetation clearance; renewal of a section of track, points, crossings and components and signal relocation. Tunnelling upgrade work will include cleaning, masonry repairs, lighting, signage and telecoms. In addition, Drumcondra station will receive new ticket gates and Tara Street station will see the implementation of a new southbound lift shaft.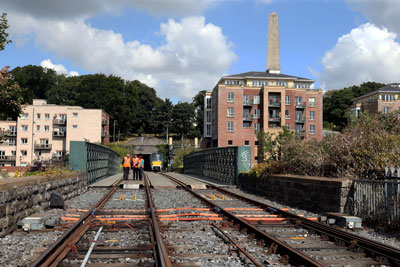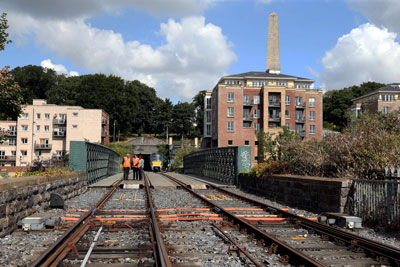 Minister for Transport, Tourism and Sport, Paschal Donohoe TD said: "I very much welcome this innovative new public transport project. For the first time, commuters on the popular Kildare suburban rail line will have frequent services directly into the heart of the city centre business district. This will provide an attractive alternative for private motorists who currently commute into the city along the congested N7 corridor. I would like to congratulate the NTA and Iarnród Éireann on their successful partnership in planning projects such as this, which seek to promote modal shift to more sustainable public transport options."
Anne Graham, Chief Executive of the National Transport Authority said: "the NTA is delighted that the works are now commencing on the Phoenix Park Tunnel, a project that the Authority promoted and funded. Both the Phoenix Park tunnel and the on-going work on the city centre re-signalling will exploit the full potential of existing rail infrastructure at minimal cost and will offer more rail travel options for public transport customers."
David Franks, Chief Executive of operator Iarnród Éireann, said: "we look forward to giving improved connections to new and existing customers through the upgrade of the Phoenix Park Tunnel line.  They will be of particular benefit for those commuting between the Kildare line and the south city area served by Pearse and Grand Canal Dock, offering direct connections which are not currently available by public transport."
Related topics
Related regions