Mechan takes place in flagship Thameslink depot
Equipment produced by Sheffield-based Mechan is helping Siemens Rail Systems UK bring to life its vision for the future of train maintenance.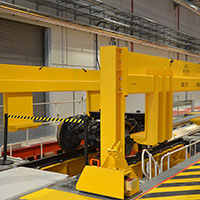 Two Mechan bogie drops have been installed at the new Three Bridges depot in London, which will be used as a role model for Siemens projects worldwide.
Construction of this technically advanced facility in Crawley forms part of the Thameslink upgrades to London's commuter routes. It was opened officially by secretary of state for transport, Patrick McLoughlin, earlier this month and will accommodate 115 electric trains, due to enter service next year.
Mechan's bogie drops are installed within the depot floor, enabling bogies and undercar modules to be removed or exchanged without lifting or splitting carriages. Chief executive, Richard Carr, said: "To see our equipment playing such an integral role in this sophisticated maintenance environment makes us very proud. Reducing servicing times whilst increasing safety is vital for depot operators and our products deliver both of these aims reliably and successfully."
Mechan has supplied a further two bogie drops for the Hornsey depot in Haringey as part of the Thameslink project. This smaller facility is based on the east coast mainline and is due to open in 2016.
For further information about Mechan's bogie drops and its wide range of depot maintenance equipment, telephone +44 (0)114 257 0563, visit www.mechan.co.uk or follow the firm on Twitter, @mechanuk.
Related topics
Related organisations
Related people