Translink NI Railways reveals first refurbished Enterprise train
Translink NI Railways has launched the first refurbished Enterprise train as part of a £12.2 million upgrade funded by the EU's INTERREG IVA Programme. The Enterprise fleet overhaul, supported by the Department for Regional Development and the Department of Transport, Tourism and Sport (DTTAS) in Ireland, will help improve cross-border rail experience for customers travelling […]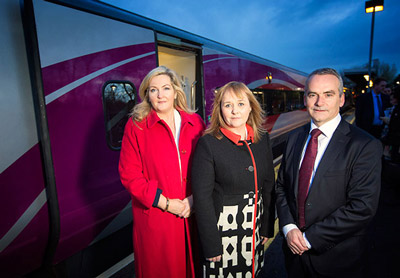 Translink NI Railways has launched the first refurbished Enterprise train as part of a £12.2 million upgrade funded by the EU's INTERREG IVA Programme.
The Enterprise fleet overhaul, supported by the Department for Regional Development and the Department of Transport, Tourism and Sport (DTTAS) in Ireland, will help improve cross-border rail experience for customers travelling between Belfast and Dublin. The refurbishment aims to ensure the long-term reliability of the service for the next 10 years.
Translink NI Railways refurbishment of Enterprise trains will ensure reliability for next 10 years
Viewing the refurbished train, Chris Conway, Translink Group Chief Executive, said:  "Customers will first notice the train's striking modern new look with a stylish purple, red and grey livery. Stepping on board, the transformation is incredible with vibrant, eye-catching new colour schemes and new Enterprise and Enterprise Plus branding on board.
"The carriages boast attractive seating with power sockets, plush carpets, new tables and lighting as well as finer details like new signage and internal fixtures and fittings – we're confident our customers will be very pleased with the stylish interiors and improved passenger features.  Once all trains are completed we will also have our new electronic seat reservation displays operating.
"We're confident our customers will be very pleased with the stylish interiors and improved passenger features"
"Another exciting development is the new Enterprise Menu offering customers an appetising selection of fresh food and drink. Enterprise Class passengers will be able to choose from either a trolley service or visit the new dining car that now includes 'sit-in' table service. There's also a waiter service for Enterprise Plus customers to enjoy delicious meals from the comfort of their seat – a truly unique dining experience!
"We also remain focussed on good value tickets and customers can take advantage of web-fares from as little as £10 day return. We are encouraging business customers to pre-purchase new carnet tickets for savings of up 38 percent compared to the cost of regular single tickets.
 "Whether travelling for business or leisure, Enterprise is the smart move for hassle free journeys letting you catch-up on work, browse the internet taking advantage of free Wi-Fi and power sockets now installed at every seat," said Chris.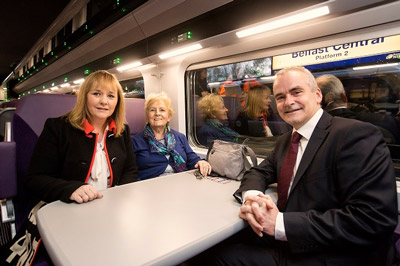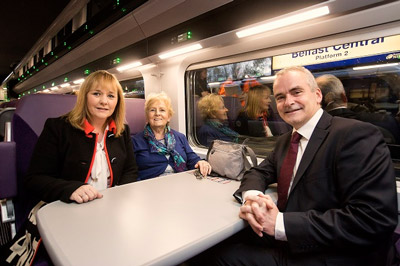 Welcoming completion of the first Enterprise train refurbishment, Gina McIntyre, Chief Executive (Designate) of the Special EU Programmes Body (SEUPB), who managed European funding for the project, said: "The project has made a significant improvement to one of our main infrastructure links and will support economic and social development, on a cross-border basis. This is one of the core objectives of the EU's INTERREG IVA Programme, which was designed to improve the competitiveness of the region and improve the lives of its citizens.
 "I look forward to hearing more about how the newly enhanced rail service will positively impact on trade and tourism on both sides of the border."
Refurbishment of all remaining Enterprise trains is scheduled for completion by the end of 2015.
Further information on the Enterprise train upgrade programme can be found here.