Go-Ahead Deutschland orders 45 FLIRT3 multiple units
Go-Ahead Deutschland has ordered 45 FLIRT3 electric multiple-unit trains from Stadler Pankow GmbH for operation on Stuttgart Network 1…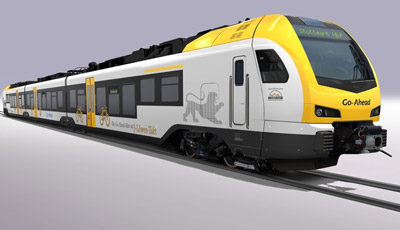 Go-Ahead Deutschland has ordered 45 FLIRT3 electric multiple-unit trains from Stadler Pankow GmbH for operation on Stuttgart Network 1.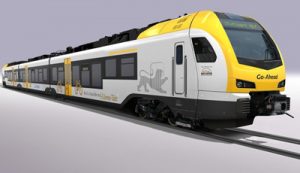 Stadler Pankow GmbH received the order at the end of April following Go-Ahead Verkehrsgesellschaft Deutschland's call for tender across Europe. The 45 electric multiple-unit trains will operate on Stuttgart Network 1, Lot 2 (Rems–Fils) and Lot 3 (Franken–Enz).
The order involves the delivery of 11 three-car and 15 five-car FLIRT3 EMU vehicles for Lot 2, along with 9 four-car and 10 six-car FLIRT3 EMU vehicles for Lot 3.
Ulf Braker, Managing Director of Stadler Pankow GmbH, said: "We are pleased that our new business partner has decided to place their trust in us, and we look forward to working together in the future."
FLIRT3 trains will begin operation in Baden-Württemberg from mid-2019
From June 2019, Go-Ahead will operate the trains on the Stuttgart Network 1 spanning 3.7 million vehicle kilometres for Lot 2 and 4.4 million vehicle kilometres for Lot 3. "We are greatly looking forward to working together with our partner, Stadler, to provide our passengers with a safe and comfortable travelling experience. Creating long-term partnerships in and for the region is an integral component of our company philosophy," says Stefan Krispin, Managing Director of Go-Ahead Verkehrsgesellschaft Deutschland GmbH.
After the timetable change in June 2019, the vehicle fleet will operate on the following routes: Stuttgart–Aalen–Crailsheim, Stuttgart–Ulm, Stuttgart–Aalen, Stuttgart–NBS S-MA–Pforzheim–Karlsruhe, and Stuttgart–Heilbronn–Osterburken–Lauda–Würzburg. Once the Stuttgart 21 rail project is complete, the vehicles will also stop at Stuttgart's new station, thereby helping to connect the routes and enabling passengers to travel through the area without changing trains.
All of the FLIRT3 trains that will be operated on the Stuttgart Network 1 will be equipped in accordance with TSI SRT and fire protection category B. Further, the vehicles in Lot 3 will also be outfitted with an additional train security system (LZB) and will be equipped for installation of the ETCS Level 2 train security system at a later date.
The 3- to 6-car FLIRT vehicles feature a high drive performance and can reach a maximum speed of 160 km/h.