Abellio orders 43 TALENT 2 EMUs for Baden-Württemberg
Abellio Rail Südwest GmbH has placed an order with Bombardier Transportation for 43 TALENT 2 electric multiple units (EMUs) for operation on the Stuttgart regional network in Baden-Württemberg, Germany.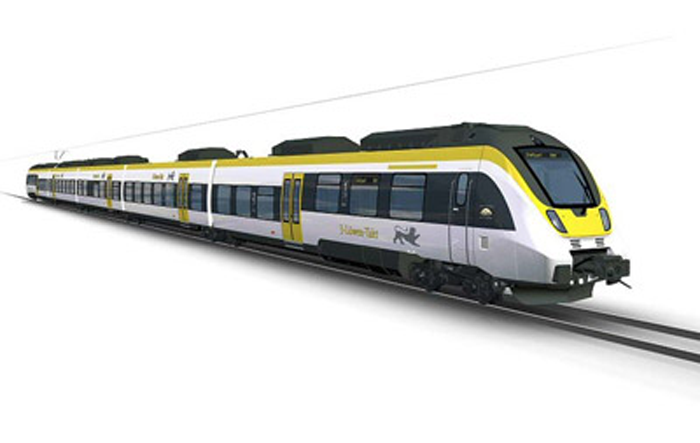 The order, worth approximately €215 million euro ($244 million US), will see 43 Bombardier TALENT 2 EMUs enter service on the Stuttgart regional network in Baden-Württemberg's Neckar Valley region from 2019. The multiple-unit trains will be built at the Bombardier site in Hennigsdorf, Germany and the bogies are to be produced at the Bombardier plant in Siegen, Germany. All 43 trains will be delivered to Abellio by June 2020.
43 TALENT 2 EMUs delivered by 2020
"Abellio has already established a long-standing successful collaboration with Bombardier, which we will now continue in the Neckar Valley region network. We consider the company a reliable partner and together with them we will happily provide our passengers with a comfortable and safe travel experience on the way to their destination," said Abellio CEO Stephan Krenz at an event to mark the contract signing. "With these new vehicles, we also want to set new standards in Baden-Württemberg that attain the same quality of leadership as we have achieved on the North Rhine-Westphalia networks," explained Krenz.
"This order is a great achievement for Bombardier's rail business and it also signifies the continuation of our successful and cooperative relationship with Abellio," said Germar Wacker, President of Mainline and Metros, Central/Eastern Europe at Bombardier Transportation. "We are pleased that Abellio relies on our modern TALENT 2 trains to further expand its mobility offering in Germany. These vehicles feature a high degree of passenger comfort and score points with their strong performance in terms of energy efficiency and reliability."
All trains to be equipped with Wi-Fi
The new trains will be configured into 24 three-car and 16 five-car train sets, each with 163 or 273 seats respectively. East vehicle will be accessible for travellers with reduced mobility and include space for either 24 or 39 bicycles. The TALENT 2 will also be equipped with Wi-Fi.