New rail links improve connections for Port of Zeebrugge
The private rail operator Lineas provides daily rail links between 3 terminals in the Port of Zeebrugge and the European Green Xpress Network, enabling the port and Lineas to work together towards the implementation of a modal shift to rail…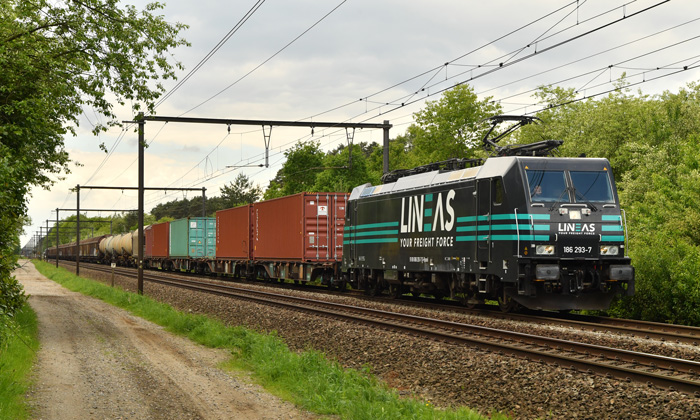 From the Seaport of Bruges (Zeebrugge) many goods have to travel from the port to the European hinterland, in countries such as Italy, Switzerland, Germany and France. To relieve pressure and meet the different demands on the market, goods are now being transported by rail instead of road. To coordinate the rail offering better, between the port and the most important European destinations, Lineas and the Port of Zeebrugge have joined forces, turning Zeebrugge into a rail destination.
Because the Port of Zeebrugge is directly connected to the Green Xpress Network, cargo from Zeebrugge can reach its European destination (and vice-versa) with the shortest transit times. Daily service makes the goods transport via rail more attractive and more cost-effective than by road.
Joachim Coens, CEO Port of Zeebrugge/MBZ said: "For the Seaport of Bruges, this rail link means strengthening our intermodal offers deep into Europe. This intermodal transport is our strength."
Zeebrugge is now linked with Switzerland, Austria, Slovakia, Germany, Italy, Spain, Czech Republic, Sweden and the ports of Rotterdam and Le Havre. Lineas runs a departure and arrival service on every working day to and from 3 terminals in Zeebrugge so that cargos can be on their way to the international destinations on the same day; providing a fast connection to industrial hubs.
Sam Bruynseels, Managing Director, Lineas Intermodal stated: "The new link addresses the demand from many customers and the port and we have noted that our Green Xpress Network appeals to the market. We hope that we can convince Zeebrugge logistics service providers who do not yet use rail that the rail solution is at least as attractive and more reliable than road transport."
Lineas continues to focus on the further expansion of the Green Xpress Network and a number of new European destinations will be introduced at the beginning of next year.
Related topics
Related organisations
Related people