Mitsubishi Electric to supply French National Railways prototype traction transformers
The Z2N commuter train operating in Paris will have prototype traction transformers from first Japanese company certified by SNCF…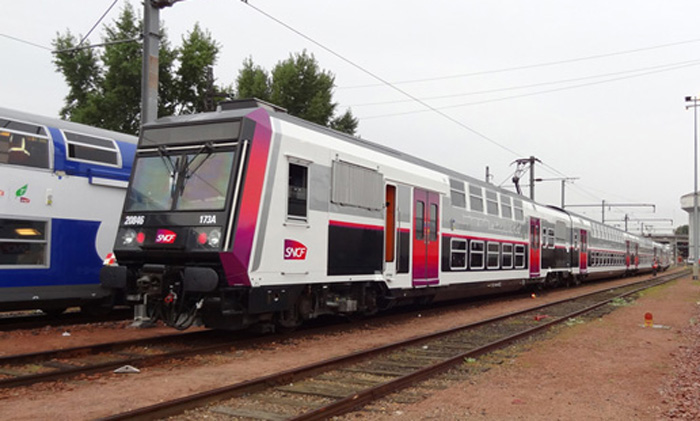 Mitsubishi Electric Corporation will be the first Japanese company to supply the French National Railways (SNCF) with prototype traction transformers for the Z2N commuter train and T4 tram trains operating in Paris and suburbs. Effective immediately, Mitsubishi Electric became the first Japanese company to be certified by SNCF as a propulsion systems supplier.
Traction Transformer for Z2N
Aluminium winding cables reduce the weight of the prototype traction transformer by 400kg compared to the Z2N's existing product and the conversion efficiency is the same or better than the currently installed equipment. Owing to an identical interface design with that of the existing equipment, the refurbishing will not require any modification to the train car.
Traction Transformer for T4
This is the first application of a natural running air cooling traction transformer; placed on the vehicle's roof, it reduces noise by around 13dB compared to the electric cooling fan. Electricity loss savings of 50 per cent are also achieved compared to the previous equipment, resulting in significant energy efficiency improvements. Fully hermetic constant-pressure bellow seals will eliminate the need to periodically replace the insulator oil, which will remain in a sealed system and not deteriorate. As a result, overall maintenance costs will be reduced.
SNCF, in addition to procuring new high-speed and commuter trains, is also actively refurbishing its existing train sets. Retaining a car's body and only renewing components as required helps to lower the railway's environmental impact and make effective use of existing assets. Mitsubishi Electric was awarded the orders after being certified as an official supplier following SNCF's favourable evaluation of its technological capabilities and long record of developing and producing high-quality traction transformers. With these orders confirmed the traction transformers for the Z2N and T4 will be delivered in February and December 2018.
The transformers will be installed and then evaluated over a one-year period. If all goes well, SNCF will establish mass-production specifications for both traction transformers. Mitsubishi Electric aims to receive the mass-production orders from the ensuing tenders for both products. The company will consider supplying other products to SNCF, one of the biggest rail operators in Europe, as the starting point for expanding its business in this market.
Related topics
Related organisations