Hong Kong's high-speed line enters final preparation phase
MTR Corporation, the operator of the future Elizabeth Line, has moved one step closer to completing work on a nine-year, high-speed rail project in Hong Kong…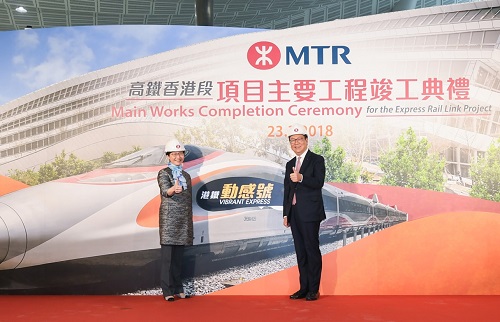 Professor Frederick Ma, Chairman of the MTR Corporation and Mrs Carrie Lam, Chief Executive of the HKSAR
MTR has announced the commencement of trial operations on the 26km, £7.67 billion Hong Kong Express Rail Link (XRL) that connects Hong Kong with the high-speed rail network in Mainland China.
Jeremy Long, CEO European Business, MTR Corporation, said: "The completion of the XRL will represent a major achievement. Responsibility for design, strategic planning and construction of new stations, overhead power lines, tunnels and bridges have all fallen under MTR Corporation's management during this process and the experience we have gained from this project can readily be applied to similar projects in international markets."
XRL is now over 99 per cent complete and services will commence on the high-speed rail line later in 2018. Overseeing the project from start to finish, MTR has used its expertise in infrastructure delivery to integrate the new track into the existing Chinese high-speed network as well as the introduction of new rolling stock to the line.
Including XRL, MTR has simultaneously been constructing five major rail infrastructure projects in Hong Kong.
Professor Frederick Ma, Chairman of the MTR Corporation, said: "We are thrilled to see this project coming to fruition. The construction of this cross-boundary railway connection has never been an easy feat. We have overcome various challenges during the past few years and it is exciting to see that the railway is ready to proceed to its trial operations. In the coming months, we will continue to make our best endeavours to get ready for commissioning the rail service this September."