Near misses on railways across Wales have quadrupled in one year
New figures released by Network Rail revealed that last year there were 25 near misses on railways across Wales compared to six the previous year.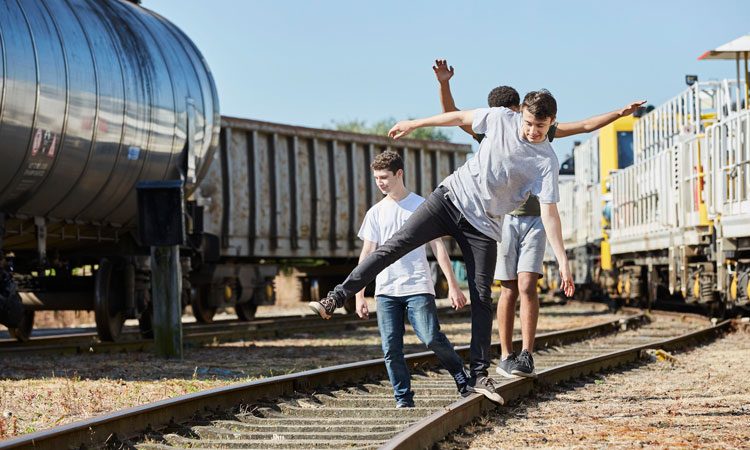 The new figures also highlighted the top five high risk trespass locations on the route last year; Bridgend, Llanelli, Hereford, Abergele and Pensarn and Pyle. The number of incidents recorded at these locations has increased compared to the previous year's figures. Bridgend topped the list with 15 trespass incidents recorded during the last year, followed by Llanelli with 12 incidents.
Network Rail, Transport for Wales and the British Transport Police (BTP) are working collaboratively to tackle trespass incidents in Wales, including joint patrols, providing rail safety sessions to schools at these hotspot locations and locating a BTP inspector at the Network Rail Wales Railway Operating Centre.
Network Rail and BTP will also be hosting a joint stand at this year's Urdd National Eisteddfod held in Cardiff Bay next week, from Monday 27 May to Saturday 1 June, to raise awareness of this important rail safety message.
Tracey Messner, Community Safety Manager, at Network Rail Wales and Borders, said: "Children, and adults alike, continue to risk their lives by going onto the track and it has to stop. Every near miss could be a potential catastrophe leading to life-changing injuries or even death. As the railway gets busier we must continue to work even harder to keep young people safe by making them aware of the dangers that exist. We are really looking forward to raising awareness of this important rail safety message at this year's Urdd National Eisteddfod alongside our partners BTP."
A British Transport Police spokesperson, said: "The consequences of trespassing on the railway cannot be overstated. Each year, officers from BTP are called to tragic incidents where children have lost their lives, or have been seriously injured, because of stepping onto the tracks. Throughout the summer, we'll be working hard with Network Rail and our rail operators to prevent youngsters from trespassing, but also to educate them on the hidden risks. Please stay safe this summer and do not take any unnecessary risks by trespassing onto the railway. Our officers will continue to carry out high visibility patrols throughout Wales to help prevent a tragedy on the railway."
Network Rail and BTP also launched a new partnership earlier this month with the English Football League Trust (EFL Trust) and StreetGames to help tackle the increasing number of people risking their lives on the railway.
As well as reaching children and teens via The EFL Trust and StreetGames, community engagement managers from across Network Rail, BTP and Train Operating Companies will be out teaching thousands of children about railway safety.
A new film highlighting the hidden dangers of the railway was launched telling the story of Tom – a young boy who suffered life-changing injuries in 2014 when he was electrocuted by the overhead power cables – and his family, to illustrate the life-changing impact that the accident has had on them.