New agreement will see the creation of a rolling stock engineering centre
Russian Railways, the Sinara Group and Siemens Mobility GmbH have signed an agreement for the creation of an engineering centre which will focus on high-speed rolling stock,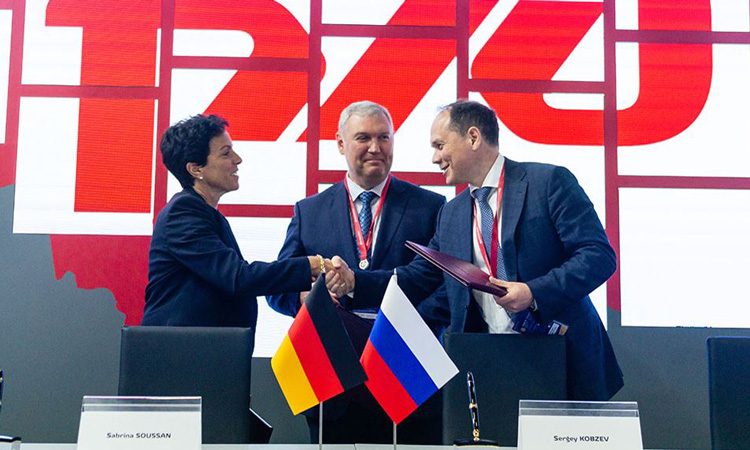 Deputy Director General - Chief Engineer of Russian Railways OJSC Sergey Kobzev, Director General of Siemens Mobility GmbH Sabrina Susson and Vice President of JSC Sinara Group Evgeny Gritsenko
The agreement will see Russian Railways and the Sinara Group create an engineering centre for innovative technical and technological solutions. Siemens Mobility GmbH will act as a technology partner for this project. The purpose of creating an engineering centre is to consolidate existing and acquire new competencies in the design and production of railway rolling stock in Russia. The first project the centre is due to work on will deal with high-speed trains.
The engineering centre which will be focused on developing innovative railway rolling stock for use throughout Russia, including high-speed electric trains with speeds up to 400 km/h. The centre will bring together engineering consultants, pre-design and design services, developments in design, maintenance and repair documentation for the creation of the rolling stock.
The creation of an engineering centre will also create a workforce of highly qualified engineers, specialists, industrial designers, as well as integrating the processes of interaction between manufacturers and scientific organisations. The tasks of the centre will also include the development of documentation for rolling stock and infrastructure, ranging from technical requirements to obtaining design documentation.
Vice-President of the Sinara Group, Evgeny Gritsenko, said: "Ural Locomotives are the only manufacturer in the Russian Federation that has competencies in the design and production of high-speed trains. Together, engineering potential and experience allows us to proceed with the design work and organise the production of high-speed rolling stock. I am confident that the joint efforts of the founders of the centre and the technology partner will be productive and will allow Russia to join the countries that have their own technologies for designing and producing high-speed trains."