GBRf's refurbished Class 92 to enter Caledonian sleeper service
The GB Railfreight Locomotive 92006 has been completely re-built and painted in Caledonian Sleeper livery in a £2 million refurbishment.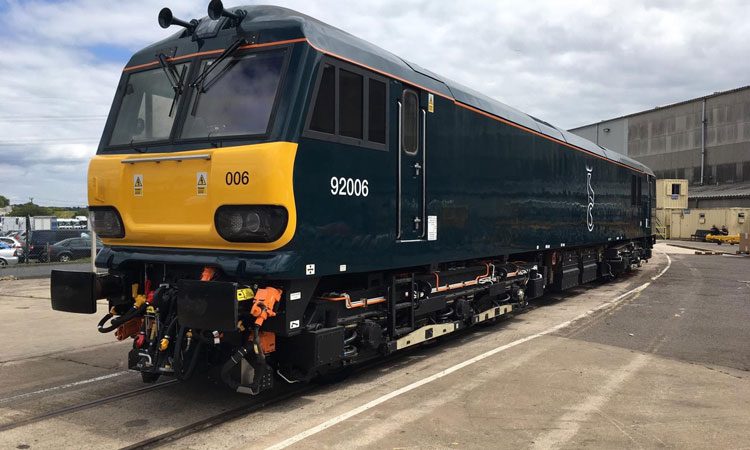 The GB Railfreight Locomotive 92006 has re-entered service following a £2 million refurbishment at Wabtec's Brush Traction facility in Loughborough.
The Class 92 will be used on the Caledonian Sleeper route once it has completed testing.
Originally completed in 1996, the Class 92 last ran in 2006 before being placed into storage in France. The full overhaul and re-instatement of this locomotive is the last in a series of successful programmes of work developed jointly with Brush Traction, part of the Wabtec Group.
With the introduction of Mark 5 Coaches on the Caledonian Sleeper, GBRf have fully rebuilt 92006 to haul the Coaches on both the Lowlander Caledonian Sleeper route between Euston and Edinburgh and Glasgow, and in due course the Highlander Caledonian Sleeper routes to Fort William, Aberdeen and Inverness.
The Class 92 has been fitted with special Dellner couplings, providing additional safety measures, improved communication equipment, and power upgrades to operate the more intensive services offered on this route.
The locomotive has been painted in Caledonian Sleeper Livery and will now undergo test runs before entering traffic. 
"Our investment in the refurbishment of Class 92s for the new Caledonian Sleeper service means that customers will experience a reliable, state of the art, modern locomotive on their journey from London to Scotland," commented John Smith, Managing Director of GBRf.
"We are delighted with the work Wabtec has carried out on the 92006 and we look forward to continuing our partnership to meet the growing demands in the rail freight sector."
Related organisations
Related regions