Sat Nav technology to help drive down level crossing incidents
Network Rail and Garmin aim to improve awareness of level crossings and encourage safer driving…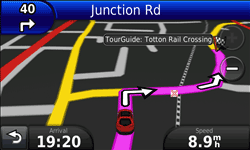 A free downloadable application which alerts drivers with a cheery train whistle sound that they are approaching a level crossing has been developed by Network Rail and leading satellite navigation provider Garmin.
Britain's motorists are set to benefit from a world first in sat nav technology which will improve awareness of level crossings and encourage safer driving. A free downloadable application which alerts drivers with a cheery train whistle sound that they are approaching a level crossing has been developed by Network Rail and leading satellite navigation provider Garmin.
It is hoped the new technology will encourage safer motoring and reduce the number of incidents which cause damage, disruption and a number of deaths each year. The news comes as the rail company is supporting international level crossing awareness day where around 40 countries are organising activities to promote safety at level crossings.
The free application can be downloaded onto Garmin nüvi or nüLink sat navs from its website. Similar to choosing options that alert you to approaching speed cameras, the device whistles like a train and an 'X' appears on the screen with the name of the level crossing so motorists can approach and cross with care*. The companies are also looking into developing an intelligent version where motorists can choose to set a journey to avoid level crossings. They also want to develop the application so the sat nav would alter your route to avoid a level crossing where the barriers are down for a significant period of time, if the alternative was quicker.
Network Rail director of operational services Dyan Crowther said: "Motorists that jump the lights or smash into barriers as they try and beat them coming down can cause great disruption and cost to the network, so we're always looking at new ways to reduce the risk of incidents at level crossings.
"Sat nav technology has proved to be a great help to motorists in alerting them to what's ahead on the road, so developing an app around level crossings seemed a smart idea and we hope it will be a useful aid to motorists as the roads and the railway get even busier."
Anthony Chmarny, Garmin head of communications said, "The development of this free level crossing application shows the ongoing commitment we have to ensure our sat nav customers have the very best travel information at the tip of their fingers. We believe this will help to save time, money and most importantly improve drivers' safety during their journey."
Chief Superintendent Eamonn Carroll (Territorial Policing) British Transport Police said:"This innovative sat nav technology will be a useful additional tool in helping reduce level crossing misuse across the country. Our officers remain committed to not only detecting offenders but working closely with Network Rail to reinforce the safety message and continue our educational approach, in order to change driver behaviour. The roll-out of the camera equipped level crossing vans also provides an ideal opportunity to affect driver behaviour and attitude when approaching level crossings."
More technology
Another of Network Rail's recent technology-driven deterrents to reduce incidents, its purpose-built marked police van equipped with license plate recognition camera technology, has lifted the lid on the scale of the problem in the south of England.
In three months in operation, British Transport Police officers, who operate the van, have caught and prosecuted 1,131 people, despite the van having a very visible presence close to the crossings to act as a deterrent:
In addition, these incidents have been recorded across Britain (January to 30 April 2011):
31 near misses where vehicles have narrowly avoided being struck by a train
77 pedestrians also had near misses with trains and were lucky not to lose their lives
58 incidents where vehicles have struck barriers and two vehicles which were also struck by trains.
One person has died at a level crossing this year (excluding suicides).
Commenting on this, Dyan Crowther added: "The camera van has proved what we always believed, that far too many people are misusing level crossings, which has to stop. It's a little too early to see a confirmed trend but we have seen initial reductions at some crossings which is encouraging. Our aim is to improve safety not get prosecutions. We hope those caught will change their behaviour and this along with other activities we're running we can see a reduced impact on passenger services and the cost of these crimes on the running of the railway."
Rail & Public Transport Safety & Security conference 2011
12-13 October 2011, London
Remain aware of cutting edge safety & security advances, learn how to elevate security to the board room and examine specific safety issues and how best to address them.
Related topics
Related organisations