Will the COVID-19 crisis help to reshape rail in the United States?
Rail must become a much more integral part of the U.S. transportation system as the country moves through and beyond the COVID-19 crisis, states the High Speed Rail Alliance.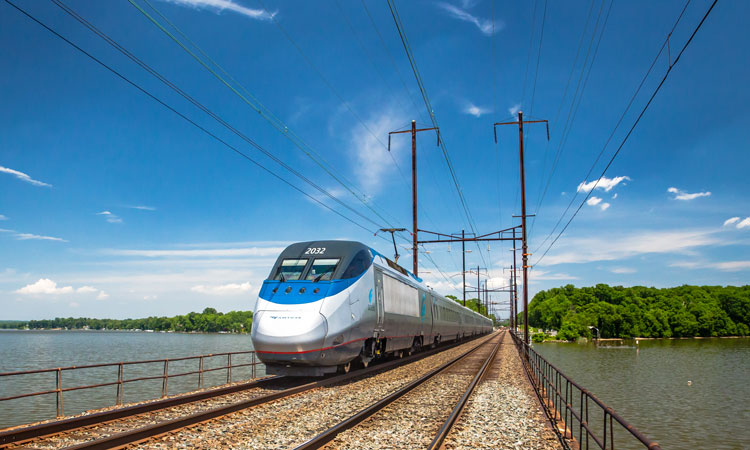 Credit: Amtrak
With much of the United States on lockdown through the spring, ridership on rail systems has plummeted. Commuter rail trains in Chicago are nearly empty, for example. Ridership has fallen by as much as 97 per cent from pre-pandemic levels.
Yet there is hope. This crisis will reshape the U.S. in ways that are impossible to imagine or predict, but it's clear that more – and better – rail service will help solve many economic and environmental predicaments. It must become a much more integral part of the U.S. transportation system as the country moves through and beyond this crisis.
Passengers
First, passengers need to feel (and be) safe again. The International Union of Railways (UIC) has addressed that challenge with a set of measures to increase confidence in rail transport in the wake of the pandemic. Social distancing, the report noted, "must be combined with other measures . . . to mitigate risk." The other measures include screening staff and passengers for a fever before they enter stations and trains; requiring masks; making sanitizer gel easily and widely available; and regularly cleaning the filters on ventilation systems. These and other measures should be combined with an aggressive communications campaign promoting the risk-reduction policies.
What about transformative change?
Safe trains are the bare minimum for getting people back on board, of course. But what about transformative change? What are the prospects for not just a rebound in ridership but a new golden era of rail transportation?
City Lab recently noted that the possibility that "a whole new set of riders could board trains in the future, if the service could be adapted to their needs." The author, David Zipper, points to Boston as a case study in doing it right. Last fall, its regional transit agency, MBTA, voted to increase the frequency of train service – in both directions, to and from the suburbs – to every 15 minutes. It was "a paradigm shift for a network that was designed to fulfil the more modest goal of bringing suburban commuters into the city in the morning and back out again in the evening."
Like all rail systems, MBTA has suffered dramatic ridership losses. But David notes that until March 2020, commuter rail had been on a roll. Overall passenger trips increased four per cent between 2017 and 2019. And "individual commuter rail networks did even better; those in Long Island, Orlando and Denver attracted at least 10 per cent more riders than in 2019 than they had the year before."
The spikes were driven partly by congested highways – a problem that will return and probably worsen as the economy rebounds. A recent report showed that, from 1993 to 2017, the rate of growth in new freeway-lane miles exceeded population growth by 10 percentage points, 42 to 32 per cent. But congestion increased by 144 per cent in the same timeframe. 
Regain upward trend in ridership
Commuter rail systems can regain riders and continue the upward trend in ridership with some tweaks, according to David. More frequent service is among the most important and effective. But others are easily implemented and less expensive. Plentiful and well-secured bike parking near stations, for example, will make commuter rail attractive to people who live too far from a rail station to easily walk – but could cycle there. That will be especially relevant when things normalise, since bike sales have skyrocketed during the pandemic. 
Federal policies needed
In the bigger picture, federal policies could dramatically improve the frequency and quality of rail service of all kinds in the U.S. And there are hopeful signs on this front. Congressman Jim Costa (D-CA) has introduced a bill that would authorise $32 billion in annual spending on high-speed rail through 2024, with a focus on electrified trains. There will likely be more stimulus spending by Congress, with the possibility of massive infrastructure spending. And the federal transportation programme – the Fast Act Reauthorization – must be renewed soon. It sets federal spending levels and priorities for transportation.
In all of this, Congress should take a page from France, which recently made a relief package to Air France conditional on the airline not competing with rail service. Specifically, it stipulated that Air France cannot offer flights under 150 minutes if there is a rail alternative to the route.
Different policy mechanisms will be needed for the U.S. context. But policies that incentivise rail travel over flying are long overdue, given that Congress has bailed out the airlines many times over the past two decades – and much of the relief has been used to boost their stock prices. 
For all the uncertainty of our situation, in other words, everything points to the same truth: This is a ripe moment for a total transformation of how the U.S. does transportation.
NOTE: The original version of this article was supplied by the High Speed Rail Alliance, membership-supported organisation working to build strong communities across the United States by advocating for networks of fast, frequent and affordable trains that will broaden access to economic opportunities and slash carbon emissions. The Alliance is the nation's largest and most seasoned high-speed rail advocacy organisation, and since its founding in 1993, has been a driving force behind numerous policy and funding achievements.
Related organisations
Related regions