Train vs plane: Is rail the more appealing option?
The Community of European Railway and Infrastructure Companies (CER) colleagues Libor Lochman (Executive Director) and Ulrich Fikar (Senior Policy Adviser – Passenger), explore how high-speed rail's environmental credentials and the sector's continual investments into modern technology are crucial ingredients for passengers when choosing to take the train over the plane.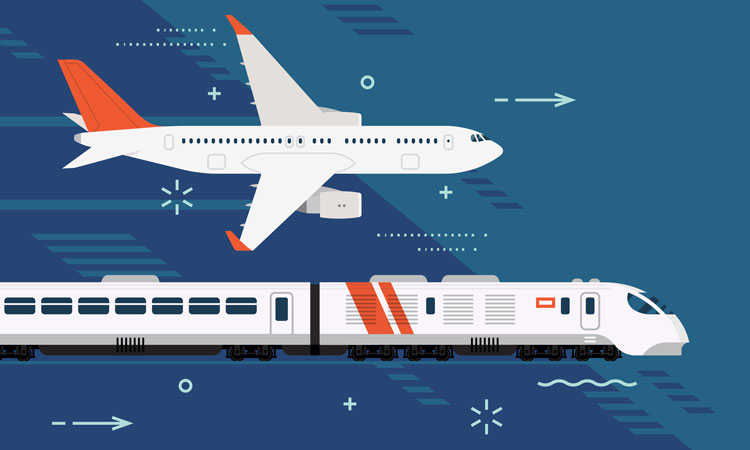 On track to reduce transport emissions
Transport emissions account for one quarter of the EU's greenhouse gas emissions, and their levels are still rising. 2019 saw increasing societal pressure on politics and transport businesses to combat climate change and act ambitiously to reduce emissions.
The Community of European Railway and Infrastructure Companies (CER) and its members are committed to helping address the challenges that mobility is facing. Using the technology they operate every day, railways are ready to respond to the climate emergency.
High-speed rail, in particular, plays a crucial role in the transition towards sustainable transport by offering a viable replacement for short-haul flights and long car journeys on a wide number of origin-destination pairs. According to a recent European Commission (EC) study, high-speed rail even 'over-pays' to society for its average variable external and infrastructure costs. Therefore, it is a very efficient investment to significantly reduce the negative impacts of transportation on society.
Rail is well placed to help implement the European Green Deal
The European Green Deal is an initiative of unprecedented ambition than that on any other continent of the globe: with it, the Ursula von der Leyen Commission proves its firmest commitment to change pace on the path towards full decarbonisation. The CER has welcomed the Green Deal, which explicitly recognises the role of rail in delivering the target of reducing transport greenhouse gas emissions by 90 per cent by 2050.
Rail is the greenest and safest mode of motorised transport and already contributes to achieving the EU's environmental goals.
High-capacity high-speed rail not only delivers very efficient land use (compared to road, high-speed lines use, on average, three times less land than motorways), it also provides an environmentally friendly option to meet the constantly increasing demand for long-distance travel.
Recent examples, such as the Berlin–Munich connection inaugurated in 2017, show that high-speed rail is successfully competing with air transportation on such journeys. One year after its opening, 46 per cent of all travellers preferred this rail connection over other means of travel between the cities, beating air travel (30 per cent), as well as road transport (24 per cent).
High-speed rail is also helping to alleviate capacity issues at Europe's airports caused by the continued growth of long-haul flights. Replacing intra-EU short-haul flights with high-speed rail connections between European cities relieves the pressure on big airports, with mutual benefits for both the air and rail sector. Additionally, a range of air-rail products are already available, where railway undertakings and airlines cooperate to bring their customers home from long-haul flights or to their next overseas adventure in a smooth and safe way.
How can rail become more competitive?
Transport is a highly competitive business, and European railways are aware that much work needs to be done to attract more passengers to choose the train over the plane or car.
Firstly, European railways have made tremendous investments to further decrease their carbon footprint. As a result, by 2018, the sector had reduced its total CO2 emissions from rail traction by half, compared to 1990.
Rail is the only mode of transport to have reduced its emissions while increasing passenger and freight volumes. The sector is continuing to invest in energy-efficiency and cutting down other emissions, such as noise.
Secondly, the sector is investing heavily in modernising its infrastructure, rolling stock and service delivery. In particular, railway undertakings are embracing the digital revolution and its consequences, in terms of technological transition: booking systems, sales services, ticket distribution systems, traffic information, train driving, rolling stock, infrastructure assets and traffic management are all being looked at to improve overall performance and quality.
Railways are committed to better meeting the needs of the individual customer by developing seamless door-to-door services. They are extending international city-to-city journeys over longer distances, whilst through-ticket systems are progressively being deployed for customers who are planning journeys using transport services from multiple operators.
Long-distance travellers should be able to hop between city centres and, on arrival, use the train station as a hub for the last mile. Cooperation with other modes of transport is one of the many positive spill-overs.
Customers are responding well to these investments. For example, international train ticket sales in the Netherlands saw an increase of 13 per cent in 2019 compared to the previous year, with passengers travelling longer distances by rail.
How can policy-makers help?
Over the last decade, policy-makers have been working with the European railway sector to make it fit for the future and fulfil the requirements for a Single European Rail Area (SERA). By June 2020, the full implementation of the technical pillar of the EU's Fourth Railway Package will ensure that remaining administrative barriers are significantly reduced. It means a stable regulatory framework is finally in place for European railways, on which basis they can operate and do business.
However, to boost rail passenger services further and reap more of its environmental benefits, a committed European policy promoting decarbonisation of transport and environment‑friendly mobility is needed. With the 90 per cent decarbonisation goal for the transport sector set in the European Green Deal, the CER is hoping that the EU will quickly set the right policies and framework conditions to progressively reduce the greenhouse gas emissions from transport to net‑zero.
Rail can greatly help in making transport greener thanks to very low externalities, a high proportion of electrification and an increasingly zero-carbon operation – a lot can be achieved by stimulating a shift to rail, particularly in the case of passenger travel of up to 1,000km (up to four hours of travel time).
Marginal social-cost pricing should be promoted in transport, i.e. through implementing the principles of 'polluter pays' and 'user pays'.
Policy-makers should put in place robust carbon pricing for transport across the EU, allowing rail to compete with other transport modes on an equal footing. Specifically, policies should allow taxing energy used in international aviation or maritime shipping and end subsidies for flying. Moreover, road charging needs to be made more comprehensive.
Obviously, the European high-speed rail network must be made more coherent and interlinked. National decision-makers must discuss with their counterparts across the border about how to close the gaps in the pan-European rail network.
The investment in high-speed infrastructure should not, however, come at the cost of the development and maintenance of the conventional railway network, which is a feeder system for high‑speed, as well as the cornerstone for local and regional passenger traffic and for the transport of goods and materials by rail.
The new Connecting Europe Facility (CEF) is, therefore, an essential tool to facilitate the building of new high-speed lines and their connections, to be complemented by national funding, which remains crucial.
On track to reduce transport emissions?
Active citizens across the world are standing up and asking for climate action. The younger generation, in particular, is seeking climate-friendly transport options. To deliver this, political will is needed for greater cross-border collaboration amongst European governments in order to create a truly European rail network, with attractive high-speed connections.
For our part, we pledge to continue delivering the most climate-friendly mode of transport. And by further innovating and improving our services, as well as increasing the efficiency of the network, we aim to make rail even better – for higher customer satisfaction and for the benefit of society.

Libor Lochman has been Executive Director of the CER since 1 January 2012. Libor graduated at the Transport University in Zilina and has a doctorate in electronics from the West-Bohemian University Plzen. He has an extensive background in control-command and signalling systems, and was previously the Director of the Railway Test Centre – a facility for testing European rolling stock, infrastructure and signalling components in Prague. Libor joined the Advisory Board of Global Railway Review in January 2013 (then known as European Railway Review).

Ulrich Fikar is working as a Senior Policy Adviser – Passenger for the CER. Ulrich has worked for several years in Brussels for the manufacturing sector. Before joining CER, he was EU Public Affairs Manager for Danfoss, a leading technology company, and provided advocacy on energy efficiency and digital policies. For Orgalime, the European Engineering Industries Association, Ulrich was an Adviser on infrastructure policies, including smart cities and intelligent transport systems. He gained first-hand experience in diplomacy as a trainee at the cabinet of the former President of the European Council, Herman Van Rompuy.