Dellner: Thinking global, acting local – reacting to customer requirements
Dellner is reacting to its customers' and national requirements for localisation by establishing local workshops in order to provide an efficient locals-with-locals model.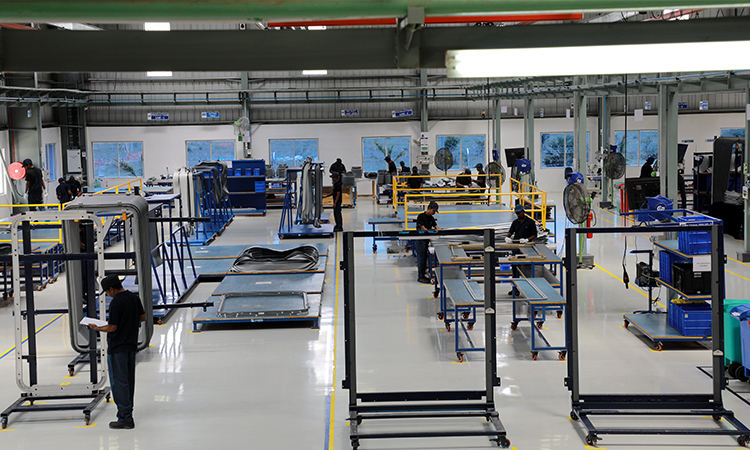 The company puts a strong focus on being close to the customers, becoming their strategic partner in providing services for train connection systems and supporting local needs with increased availability and responsiveness.
The Asian market is one of the fast-growing regions for public transport and an excellent local service for trains and its sub-components is mandatory to ensure availability and reliability. For many years, Dellner has been present in this region with local service workshops and a professional service team to support our customers in their daily work, to perform the maintenance and overhaul work in our local facilities and to have localisation wherever viable to be more competitive.
Dellner in India
It all started in 2009 when Dellner established a small manufacturing facility with a final assembly in Chennai. With just few machines on around 400m2 area we performed first couplers assemblies dedicated for the local market. Shortly thereafter, Dellner managed to accomplish the initial IRIS Certification in 2011 which proved the quality of products, services and business processes performed on the Indian market.
In 2014, Dellner opened a Service Center in Noida/New Delhi for coupler and gangway overhaul for DMRC and in 2015 we built a completely new facility in Chennai including a 3,360m2 production hall which became a starting point of further rapid development of Dellner in India. The localisation of the coupler and gangway production, fast reactions and short lead times were extremely important for our customers. As a consequence of an increased demand we expended the production facility in 2018 to 6,446m2 and the offices to 1,380m2. The site is now a state-of-the-art modern factory for couplers and gangway production for local needs as well as for the global market. We combine local engineering creativity with available resources to serve European and Asian projects whereby the Indian market itself is one of the most interesting and fastest growing areas in Dellner's gangway strategy.
Over the last four years, Dellner India has doubled the number of employees as well as its turnover. The strength of the Indian facility lies also in our professional employees and the constant development of their competences. They work both on the local as well as on global levels as Project Manager, in Human Resources, Sales, Sales Engineer, RAMS/LCC, Quality Manager, Procurement Manager, Engineering, etc.
Throughout the years Dellner has worked hard to become the leader in supplying couplers and gangways for the Indian market. Nowadays we can be proud to have approximately 50 per cent in market share. We are working closely with the main train manufacturers in India such as Alstom, BEML, Bombardier, CRRC, and Hitachi, as well as with the operators India Railways and Delhi Metro. For the Delhi Metro, we are performing the major overhauls of couplers and gangways. And to the train we supply couplers, gangways and crash absorbers.
All over the world Dellner has been gradually implementing sustainability in all business processes. We are aware of the importance of the environmental concerns in India so we constantly improve our activities to minimise negative environmental impacts by preventing pollution and improving the efficiency of used resources, including energy, water, packaging and other raw materials. As an example, we installed solar panels on the roof of the Dellner facility in Chennai to reduce air pollution and to mitigate some of the damages as they do not produce any greenhouse gases. Additionally, we installed a modern system for water recycling.
Dellner in China
In order to explore the Chinese and other Asian railway markets, in 2003 Dellner established a subsidiary in Shanghai for coupler production and service works. Throughout the years, in order to better serve the local customers, Dellner opened three more sites in Beijing, Wuhan, and Changchun. Each site has a different focus: the Wuhan workshop is responsible mainly for new projects and for the local service, especially for Wuhan Metro where Dellner has 90 per cent of market share, the Beijing workshop is dedicated for local service, especially for the Beijing Metro and EMU Trains and the Changchun workshop is focused on service for EMU Trains.
Dellner became one the most important supplier in the local railway industry. Our couplers are widely accepted by Chinese customers due to their high quality, reliability, our good delivery performance, competitive prices and exceptional services. Today, after 17 years there are over 1,000 metro trains (e.g. in Beijing, Shanghai, Wuhan, Tianjin, Shenyang, Kunming, Changsha, Hongkong etc.) and China has the largest network for high-speed trains.
Dellner China cooperates with most of the car builders including CRRC Changchun, CRRC Qingdao Sifang, CRRC Zhuzhou, CRRC Tangshan, CRRC Nanjing Puzhen, CRRC Dalian, CBRC, SATCO etc. for local Chinese train projects. Moreover, the company provides couplers for overseas projects in countries such as Argentina, Malaysia, Singapore, Turkey, Israel, India.
Dellner understands that in today's fast-moving world, time is an important asset. Time in terms of stock availability which relates to efficient service as well as time in terms of delivery of new products.
Dellner understands these needs and one of the solutions is our modular approach of our products: all coupler sections such as the coupler head, the coupler shank including the energy absorbing features, the electrical coupler and the pivot anchor with the interface to the car body, are based on modular engineering principles. This approach means that Dellner can offer shorter lead-times, arranging delivery as soon as the order is placed, and can therefore support our customers' own production.
The Chinese subsidiaries play an important role in Dellner's global supply chain. Modules and parts manufactured in China are distributed to other Dellner sites worldwide and support the company's overall competitiveness on the global market.
Dellner takes care of the products in their whole lifecycle. As per customers' requirements and specifications, we offer coupler overhauls, spare parts, upgrades and modernisations, repairs, maintenances of OEM & Non-OEM products as well as technical support and training. Dellner China is proud of many Metro overhaul projects in Beijing, Shanghai and Wuhan and for high-speed trains coupler overhauls of the CRH5 EMU and Guangshengang trains.
Dellner in Malaysia & Singapore
Following the governmental requirements and growing demand, Dellner established a strong presence in Singapore in 2012 and five years later in Malaysia. A Singapore sales office and Malaysian fully-equipped service facility strategically located in the Klang Valley became a success to serve our customers in even better and faster way. By expanding our customer support, Dellner is ready to adapt and respond to changes while mindful to overcome geographic challenges in the dynamic railway business environment.
Our service workshop performs renovations, overhauls, repairs, and upgrades of used couplers, following the highest safety standards.
We communicate on a regular basis with our customers. From these conversations we get a real sense of the requirements and problems they have, and we are able to build and develop products that answer their needs. Being close to our customers has also helped us to shorten the feedback loop which makes us even more invested in improving our products.
We are proud to cooperate with all rail operators in South East Asia such as Singapore, Thailand, Malaysia, Philippines, and many other with responsive, thoughtful and long term technical and after-sales support.