In-Depth Focus: Bogies & Wheelsets
The research and development of solutions to improve the lifecycle of bogies and wheelsets is a continual process. This In-Depth Focus explores the latest studies and progress in developing a carbon fibre bogie, improving suspension components and compact hydraulics, and how Indian Railways is finding solutions to improve LHB coach bogies.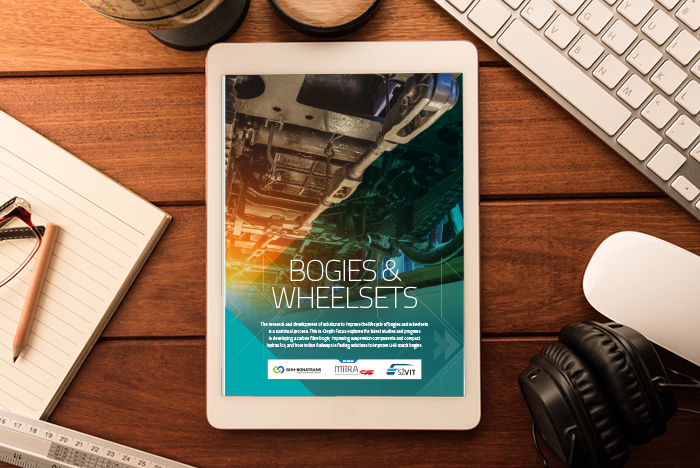 Our NEW In-Depth Focus has been refreshed and updated to enhance the reader experience. The digital version has page-turning software allowing you to "flick" through the pages, and includes many other interactive features to enhance your reading experience:
View Page:
Can be viewed as a single page or double page
Next & Back:
Jumps through pages using forward and back buttons to navigate pages
Start & End:
Progress through the magazine by skipping to the front or back pages
Information:
Enables you to see key navigational features
Printing:
Readers can choose to print certain pages and articles straight from our magazine
Bookmarking:
Allowing readers to create bookmarks within the magazine
Share Pages:
Readers can share via social channels easily
Search:
Allowing readers to search for content within the digital magazine
Zoom: 
Altering size of the page for viewing and efficient online reading. 
Included in this In-Depth Focus:
Developing a carbon fibre railway bogie for passenger trains
Elliot Rothwell

,

David Crosbee

and

Simon Iwnicki

, colleagues from the Institute of Railway Research (IRR) at the University of Huddersfield, discuss the latest findings from the 'CaFiBo project, which seeks to develop a lightweight composite bogie frame that will reduce stresses on rail tracks due to rolling contact fatigue and wear.
Finding the right formula for bogies and wheelsets: 12 months on
Neil Dinmore

, Principal Engineer of Structures and Material at RSSB, outlines how RSSB is continuing to support innovative solutions to improve the lifecycles of bogies and wheelsets, funded by the UK's Department for Transport (DfT).
Development of bogies and wheelsets in passenger coaches of Indian Railways
Samir Lohani

, Executive Director (Standards)/Carriage at the Indian Railways' Research Designs and Standards Organisation (RDSO), explains how Indian Railways is working on research projects with the Indian Institutes of Technology at Kanpur and Kharagpur to develop and improve LHB coach bogies.