Trespassing: Every second counts for Metro Trains Melbourne
As trespassing and other illegal activity continues to impact daily services, Metro Trains Melbourne tells Global Railway Review about the range of measures and efforts that have been implemented across its network to deter criminals and limit delays.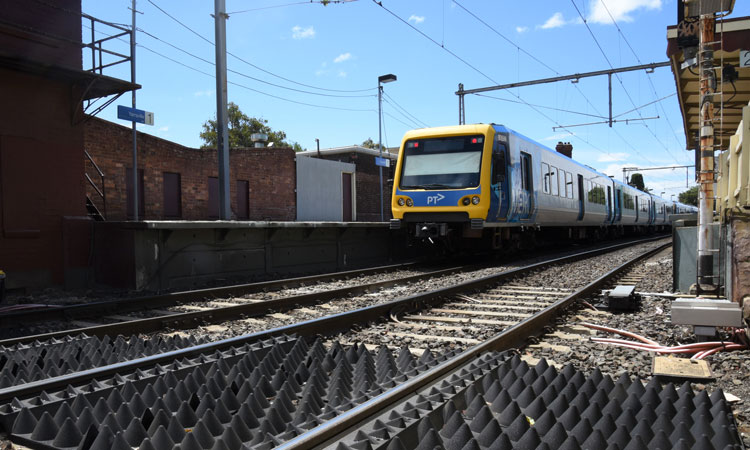 Anti-trespasser ground panels are being trialled at five railway stations across the Metro Trains Melboune network.
More than 83 days – or 120,619 minutes – of train delays: That is the combined impact of trespassing on Metro Trains Melbourne's (Metro) passenger services in the last year.
With a large – and largely open – network, Metro operates trains on more than 1,000km (621 miles) of track, touching all corners of the expansive city.
Trespassing affected more than 25,000 services, or 1.2 per cent of the timetable, during the last 12 months – inconveniencing millions of passengers.
Therefore, it is little wonder that the rail operator employs a suite of measures to reduce the impact of trespassing – some home-grown, and others inspired from railways around the globe.
Anti-trespasser ground panels
New anti-trespasser ground panels are being trialled at five railway stations across the network to improve safety and curb the number of incidents that delay passengers. The innovative panels – both a physical and visual deterrent – discourage pedestrians from taking illegal shortcuts at their local station, improving the reliability of services for all passengers. They feature raised rubber pyramids to create an unstable surface, making it difficult for pedestrians to get around them and onto the rail corridor.
CEO of Metro, Raymond O'Flaherty, said that trespassing incidents cause lasting trauma for rail employees, as well as their families, other passengers and members of the public who witness them. "Trespassing on the railway is incredibly dangerous and can stop trains in their tracks – causing significant and unnecessary disruption to our passengers. These new anti-trespasser panels have proven to be effective on railways around the world, providing both a physical and visual deterrent to illegal behaviour," Raymond explained.
The Network Security and Surveillance (NSS) team
Metro also takes proactive steps to disrupt trespassing and other illegal activity on the Melbourne rail network. The operator's dedicated Network Security and Surveillance (NSS) team is a special unit tasked with keeping passengers and Metro workers safe and cracking down on people illegally accessing the network.
Many of the NSS team's deployments occur under the cover of darkness to prevent and disrupt graffiti, vandalism, anti-social behaviour, copper theft, train surfing, wilful damage of rail assets and other crimes in and around the network.
NSS officers use Metro's 9,000-strong CCTV camera network – which includes cameras at stations and inside trains – as well as state-of-the-art surveillance equipment – such as drones – a purpose-built mobile CCTV trailer and thermal-imaging cameras.
During Melbourne's major cultural events, drones and helicopters monitor the network to prevent trespassing and limit disruptions when the city relies on its trains the most.
A mobile CCTV trailer – Metro's latest weapon in the fight against crime – was first deployed in October 2019 during the world-famous Melbourne Cup Carnival at Flemington Racecourse. Complementing the use of drones, the trailer reduces the impacts of trespassers and vandals on the hundreds of thousands of racegoers who travel by train. The trailer includes a six-metre mast, which carries a zoomable camera, as well as thermal imaging technology, providing clear vision at night and in areas beyond Metro's fixed CCTV camera network.
From train stabling yards to the Melbourne Underground Rail Loop – Metro's NSS team works everywhere.
It can be challenging and sometimes dangerous work, with officers donning stab-proof vests and night-vision goggles when out in the field.
All intelligence, including surveillance images and CCTV, is provided to Victoria Police to support investigations, and bring criminals to justice through the courts.
Officers also patrol railway sidings in an effort to prevent vandalism and graffiti on trains and infrastructure.
Metro's Head of Security Operations, David Defrancesco, said that the NSS is seeing significant and ongoing success, with a 49 per cent reduction in graffiti murals year on year.
"The NSS is incredibly proud of its efforts to keep our network safe from crime. The men and women in this special unit are committed to reducing criminal incidents and ensuring we hold vandals to account," emphasised David.
Metro spends $10 million annually to tackle graffiti and vandalism across the network. Over the last six months, Metro crews have cleaned an average of more than 23,000m2 of graffiti each month, including tags on stations, rail bridges and other rail assets.
The scale of the challenge is great – but, by taking the approach that every second counts to keep Melbourne moving, Metro is creating a safer and more reliable network for its passengers every day.