TOCs Management Series: Q&A with Alex Hynes, Managing Director, Scotland's Railway
In the next instalment of our TOCs Management Series, Alex Hynes, Managing Director of Scotland's Railway, explains the importance of punctuality and reliability, as well as the ways in which the operator has had to adapt during COVID-19.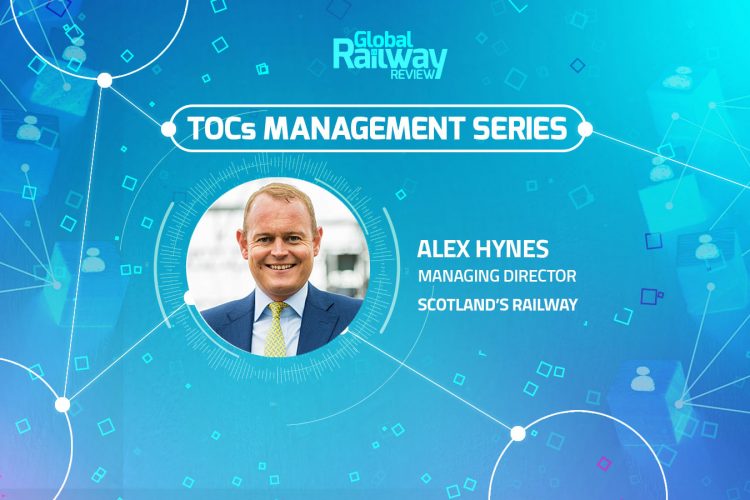 What would you say has been your toughest challenge since starting your current position at Scotland's Railway, and how did you overcome it?
Since I arrived in Scotland, the biggest challenge has been the delivery of our improvements because of the scale and timeframe in which they were delivered. When I joined Scotland's Railway, we were in the middle of our programme of nearly £2 billion worth of improvements, consisting of £1.5 billion for infrastructure from Network Rail Scotland and £475 million in new and upgraded trains by Abellio.
The scale of that investment can't be overstated. It has taken large parts of our network out of the Victorian age and delivered fantastic benefits for our customers, with improved reliability and faster journey times, as well as brand new trains, our Class 385 Hitachi electric fleet, which is currently the most reliable new train in Britain. There were many bumps in the road, but we delivered by working as 'Team Scotland', including ScotRail, Network Rail Scotland, Transport Scotland and our suppliers.
We've learned a lot of lessons from the past few years, so we are now delivering projects on time and on budget as we continue to build the best railway Scotland's ever had.
What are you doing to make sure your passengers are happy with their on-board and overall travel experience?
We've invested billions of pounds in improving infrastructure and delivering new and upgraded trains, which are bringing major benefits to customers. But we know that punctuality and reliability remain the key elements of the railway, as they determine whether customers are satisfied or not.
That's why we're doubling down on punctuality because we know that, like the rest of the UK, we need to improve in this area. We need to build on the improvements we've seen already.
In 2019, we had our best autumn, with track and train working closely together. This delivered 84.4 per cent of ScotRail trains meeting the rail industry standard public performance measure (PPM) – a seven year high for a traditionally difficult period. We were much better prepared for the effects of autumn weather, including Network Rail 'leaf buster' trains treating 20,000 more miles of track than in 2018, having started earlier than in previous years. Ground-breaking technologies were used for the very first time in Scotland to keep railheads clean, and rapid response crews were based at key points across the network to react more quickly to incidents.
How are you working to improve train performance and punctuality in the future?
We face the threat of the climate crisis, which will have a major impact on Scotland's Railway. Extreme weather is now becoming the norm for us and our investment in both track and train needs to reflect that in order to be able to deal with all it throws at us. We're experiencing more rain, in heavier bursts, and we're experiencing hotter summers too. Meanwhile, customers rightly expect their train service to continue to get them from A to B.
It still needs to be said that the climate emergency is a very real and present danger. To reflect this, there's been a 22 per cent increase in Network Rail's operations, maintenance and renewal budget, with eight per cent of that increase to improve reliability for extreme weather alone, and both track and train are working together to ensure that Scotland's Railway is prepared to ensure that punctuality and reliability continues.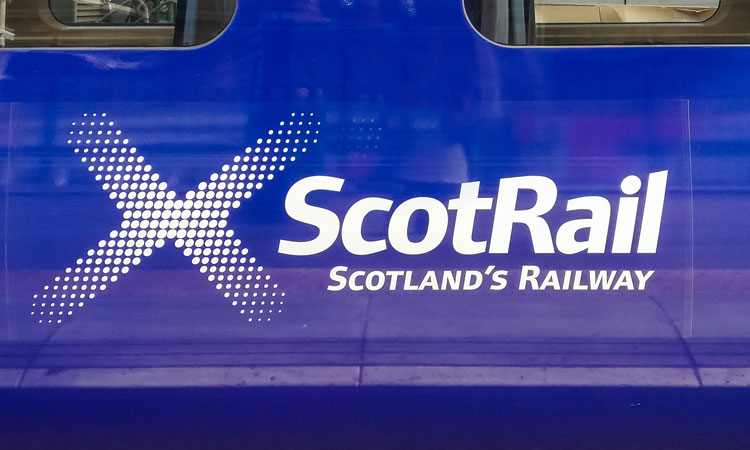 How important is transparency to your organisation; do you think you can do more in this respect?
Transparency is hugely important. It's a key way for trust to be built with our customers and stakeholders and, for me, UK rail must aim to be most transparent transport operator in the world.
Social media can provide that transparency, while at the same time giving us insight into what customers think and expect from the railway. Through it, they can tell us quickly where there are problems, and this can be fed into the business quickly to be dealt with. We can then show customers and stakeholders the improvements we're delivering.
Our wider stakeholders – politicians and business, customer and accessibility groups – rightly want to be kept informed on the work we're doing. To improve that transparency, Scotland's Railway has a Stakeholder Advisory Panel, which is an important body in challenging us and holding us to account. Through it, we can give stakeholders insights into the challenges we face and how we operate.
To what extent would you say Scotland's Railway is a modern and forward-thinking business?
We're thinking about the changes we will need to make to adapt to the changing world, which will be more important than ever as a result of COVID-19. This covers both what we provide to our customers and the changes happening in the industry.
For our customers, a fantastic example are the active travel carriages we're delivering for the most scenic railway in the world – the iconic West Highland Line. Five Class 153 trains are being transformed to carry up to 20 bikes to enhance existing ScotRail services on the West Highland Line initially, providing custom designed racks to accommodate bikes, sporting equipment and large items of luggage, as well as more seats for customers. When these carriages are eventually introduced, it will be a welcome boost for cyclists and those in search of outdoor pursuits along Scotland's most scenic railways.
Internally, we must address the imbalances we see in the workplace, particularly around gender. It's no secret that the railway industry has historically been very male-dominated, but we are working hard to change that. Though it's encouraging to see an increase in number of female drivers and conductors on our trains, with only 21 per cent of our workforce being female, we need to see more women joining the railway.
We're absolutely committed to developing a workforce that is as diverse as the communities it serves. That's why, this year, we'll be running a series of dedicated recruitment programmes to encourage even more women to consider a career with ScotRail – we're aiming to employ two female train drivers from every 10 successful candidates in 2020.
Which other TOC do you personally admire, and why?
We want to learn from other train operators and best practice internationally.
In Autumn 2019, a delegation from Scotland's Railway visited Germany to see Alstom's hydrogen train in operation. This learning will be crucial to greening our mode of transport, and that's why we're incredibly excited to support the Scottish government's ambitious 2035 decarbonisation target.
Our industry needs to look to best practice across Europe – for example, Abellio brings a breadth of expertise, including that of parent company NS who run a fully de-carbonised railway in the Netherlands. We must learn those lessons, so that we get it right on the network here in Scotland. We're working hard alongside Transport Scotland to make decarbonisation a reality, and it's a privilege to have such a committed partner in Transport Scotland.
All TOCs can do better; what would you say your organisation must improve on the most?
I go back to punctuality because it's the main driver of how our customers feel about Scotland's Railway. COVID-19 has changed our railway fundamentally. When the time is right, we'll welcome customers back, but commuting, business and leisure travel patterns will change. The industry will need to be ready to respond to that. But one constant will remain – customers will want a train service which is punctual and reliable.
We can learn several lessons from the performance improvements seen during the lockdown period. We need to take those forward in the coming months to ensure that we continue to deliver a strong performance across Scotland's Railway.
What priorities are you focused on delivering over the coming months?
As you'd expect, we're fully focused on the post-COVID-19 recovery of Scotland's Railway. When the time is right, we'll be ready to welcome customers back to the railway. When they do come back, many parts of it will have changed significantly. For example, the £120 million redevelopment of Glasgow Queen Street station is entering it's final stages, and this will give customers a contemporary and fully accessible building, a bigger concourse, new facilities and longer platforms for longer trains. The physical distancing measures, which could be in place for some time, will also change the experience of a customer's journey, so we need to make sure that they know what to expect and support them through those changes.
Supporting them in having the confidence to return to the railway is so important, because that's what we are about. The railway has such an important role to play in moving people for work, study and leisure. Before COVID-19, people were choosing rail. In Scotland, there were nearly 98 million passenger journeys, a 13 per cent increase compared to half a decade ago.
The work we do – investing in people, growing our economy and connecting communities – should never be underestimated, and we need to ensure we are ready to play our part in the economic recovery of the UK.
While we still await the outcome of UK government's Williams Rail Review, there will, we expect, be changes in who runs the railway and how it is structured. Ultimately, that's for governments to decide. However, the industry must recognise that we will need to change too to ensure that we meet the expectations and needs of the travelling public.